Crave has come a long way since Bell first launched it as "Crave TV" in 2014, and no matter how you access it, its value really depends on what you prefer to watch.
Being a homegrown Canadian endeavour, some might be surprised at how long Crave has lasted. Rogers had launched its own ill-fated streaming service, Shomi, in 2014, only to shut it down two years later. So, why is Bell's streaming video product still alive? It probably has a lot to do with HBO content, but there may be more to it than that.
As of 2021, there are hundreds of TV shows and movies into the thousands. Not as high as other video streamers, but a far bigger library than Crave first started with. Simply visiting the website may surprise you because there's a lot in it, and the level of quality content is refreshingly abundant.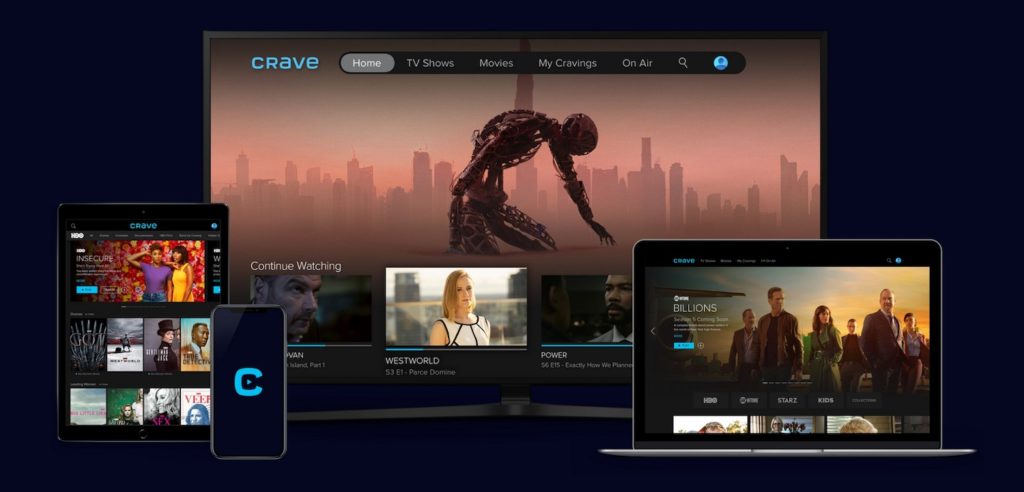 Devices Crave works with
It helps to get that content out by supporting as many devices as possible, and the gamut is pretty wide here. Crave has apps for iOS and Android on the mobile side, along with browser-based streaming on Windows and macOS, while ChromeOS has its own standalone app.
On set top boxes and TVs, there's better access than there used to be. Roku added a Crave app not so long ago, and there already is one for the Nvidia Shield and Apple TV. Chromecast has it, including the newer Google TV by Chromecast interface as well. Any TV using Android TV (particularly Sony) has the app, as well as Samsung smart TVs with Samsung Smart Hub from 2015-21.
For game consoles, the PlayStation 4 and 5, plus the Xbox One, can run Crave. And naturally, you can get it on select Bell devices, including the Streamer and TV set top boxes by going to a specific channel (it may be different depending on your region). And, believe it or not, you can get Crave through your Rogers, Telus or Shaw subscription.
What you get for free
Crave used to offer a 7-day free trial, but no longer offers that. There was a 30-day free period in 2020 in the wake of the COVID-19 pandemic, but that's about it. If you want to watch anything on here, you will have to start subscribing right away. You can, however, cancel at any time.

What you get as a subscriber
There are two ways you can join up. One is to do it through your TV provider, who might be able to throw you a promo or deal to get you onboard. Or you could sign up directly through Crave like you would any other streaming service.
The base subscription starts at $9.99/month and includes all Crave Originals and Showtime content, plus a mix of TV shows, including from HBO. When you double that to the "Movies + HBO" subscription for $19.98/month, you get more shows and movies, plus current HBO shows and six live channels on demand. Push it up to $25.97/month and you get Starz content on top of everything else. Those looking for French content can add the Super Ecran package for $9.99/month.
As a subscriber, you can download content to view offline, so you don't have to stream everything. However, the service is geo-blocked, so if you're outside of Canada, you won't be able to watch anything. You could always try a VPN to get around that, but your success will likely vary.
Crave allows up to five registered devices at one time, with 10 allowed in total per month. That does make it possible to share a subscription with friends and family members, though this kind of device registration will require using the same devices over time. When you want to add one, and your list is full, you will need to remove one to make room.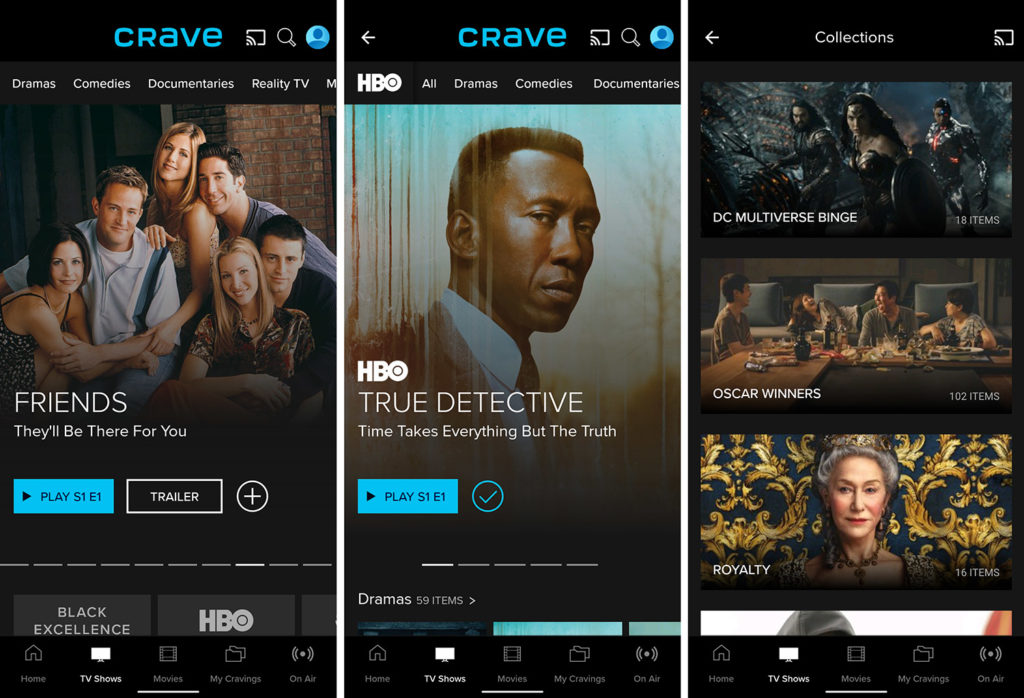 The kind of video quality you can expect
The biggest consideration off the bat is that Crave doesn't offer 4K resolution yet. The highest you can see is 1080p, which may be a bummer on TV, generally, but is also fine on mobile devices. It's not yet clear why it's taking Crave so long to roll that out, but there may be some clues based on performance. There are hiccups related to rewinding and fast-forwarding, among other things.
That does mean you can watch without requiring a higher level of bandwidth for your Internet connection. Except it also means you won't get the level of quality inherent in services, like Netflix, Disney+ and Prime Video.
How much data Crave uses
Craves gives a number of approximations to detail data usage while streaming. You can always adjust quality to better suit your cellular data connection, though would also be useful if your home Wi-Fi is choppy. Here is the basic breakdown:
1080p – 2.6GB/hour (iOS, Android, Chromecast, Apple TV Generation 4, Apple TV Generation 3, Samsung TV and Amazon FireTV only)
720p – 2.5GB/hour
540p – 1.1GB/hour
360p – 800MB/hour
240p – 320MB/hour
If you do want to stick to only Wi-Fi playback, go to Settings>Stream only on Wi-Fi. That will negate any streaming over data, and leave it specifically to Wi-Fi connections.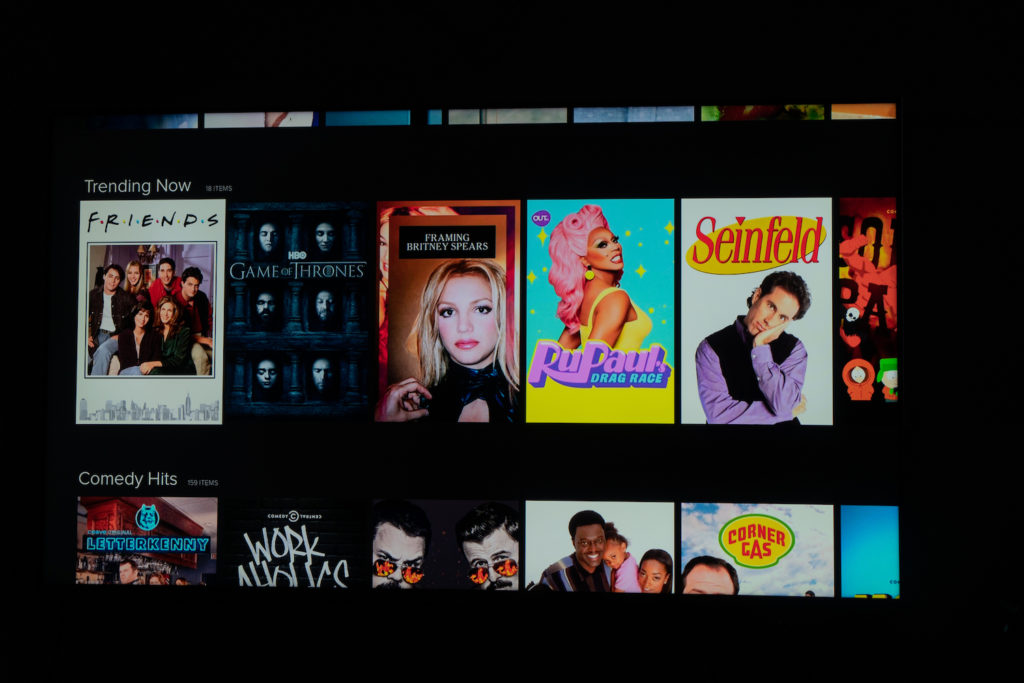 Compared to the competition
Crave gets its share of grief over performance problems, and while I tend to agree with some of that, I will say the content library is quite good. Mind you, I'm the kind of guy who likes documentaries and non-fiction content a lot, so there's plenty to like for someone like me. You may find that there are movies and shows on here that aren't available elsewhere.
That's especially true of HBO, Showtime and Starz shows and movies. If you've never seen classics, like The Wire or The Sopranos before, Crave is your place to binge them. Pay more, and you can watch HBO shows at the same time they come out in the United States. The HBO Max streaming service isn't officially available in Canada because Bell holds the rights. That's how Crave has that connection.
The basic level of service is the most contentious, in my view. It cuts out a fair bit of the library, which probably explains why Crave angles users over to the Movies + HBO tier from the start. Even though Netflix and Disney+ have recently raised prices, Crave is pricey by comparison, especially when there is no 4K or HDR to enjoy. It's HBO that acts as the major pillar here, and that's why so much of it stays behind a separate paywall.
Ultimately, it's the execution that may be the determining factor. If you encounter buffering, freezing or any other performative issue, you may not be willing to stick around for long. If it's smooth sailing, on the other hand, you may be surprised at the gems waiting inside.