Spotify is one of the most popular music streaming apps in the world, with a library of 50 million songs to choose from. Not to mention all the podcasts, comedy shows and ambient sounds available to stream on the platform.
It is built on a "freemium" model that comes in both a free ad-supported tier, and paid subscription tiers under the Premium moniker that remove restrictions and add useful features. It offers one of the best user experiences of any music app, but here's what you need to know about how Premium works.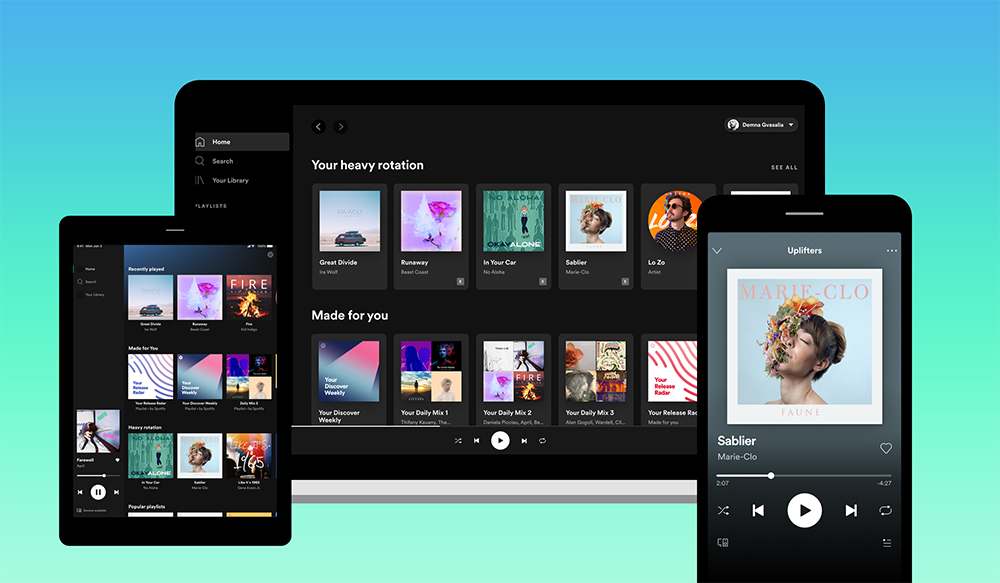 Devices Spotify works with
It's hard to find a device that doesn't offer Spotify, or at least work with it in some capacity. On the mobile side, there are apps on iOS and Android (as well as Amazon Fire tablets). You can also get it on a Windows PC or Mac, either by downloading the desktop app or running it on a web browser from the Spotify website. Support also extends from the mobile app to Apple CarPlay and Android Auto for playback in vehicles and aftermarket head units supporting those platforms.
Create an account using an email address, or go through your Google or Facebook accounts to do it. It's free to set up an account, and you don't have to commit to subscribing to Premium when you do.
What you get for free
Spotify's free tier is particularly generous compared to competing services. You can listen to music on demand from the vast library, though there are some key contrasts to note. For example, use it on a computer and you can play whatever song you want, create playlists and tap into the service's Discovery playlists to find more tunes suiting your taste. There will be ads interspersed between tracks at intervals of between 3-5 songs, but that's about it.
The mobile apps, however, are considerably tighter. You can't just browse and select a specific track or create playlists. You have to listen to shuffled albums and playlists, with skipping tracks limited to a mere six per hour.
The free tier also limits fidelity to a bitrate of 160kbps, or "High" as the peak, with 96kbps (Normal) and 24kbps (Low) as the other options. You also can't download tracks for offline listening.
Spotify Lite is another option for Android users. It's a separate app you can use to stream for free, while doing it with reduced data usage and a simpler interface. It lightens the load by removing podcasts, videos and other content, so you can only listen to music. The good thing is you can set a data cap so that you never go over your monthly limit and end up paying extra.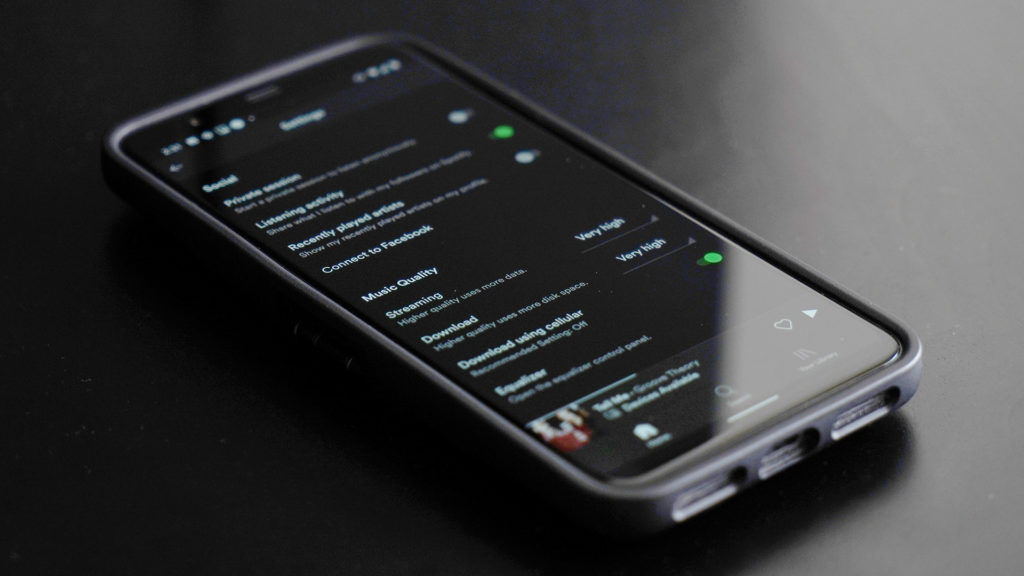 What you get with Premium
Premium removes all the aforementioned restrictions. You play all content without any ads interrupting the flow of playback, and skip tracks to your heart's content. There's full access to the library, no matter the device you're using, letting you create playlists and tap into the ones Spotify creates through its own algorithms.
Then there's the ability to download tracks for offline listening. This is a big one if you're concerned about using too much data on your phone, but they will take up storage space when you save them. And these downloads are tied to your account — cancel and they're gone. They're also cached versions, not music files you can copy over to your computer to keep forever, so you can't really game the system. Spotify also limits you to saving tracks offline on up to five devices.
Audio fidelity gets a boost to 320kbps at the "Very High" level, which is exclusive to Premium subscribers. That also means you can download tracks to play at that bitrate offline, too (though they will take up more space that way).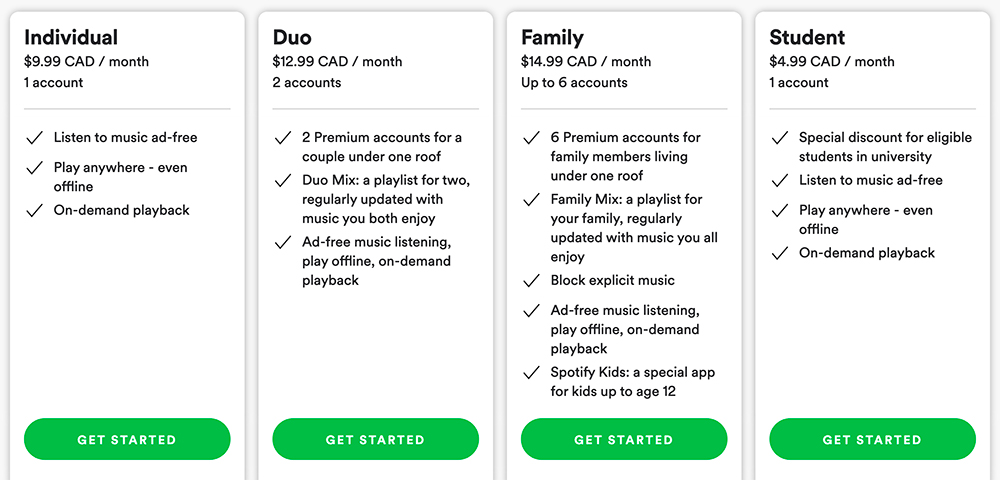 The different Premium subscriptions
The image above spells a lot of this out, including cost, but the newest of them all is the Duo service, which lets two users living together share with two distinct accounts. Both can access the Duo Mix playlist, with Spotify adding track suggestions to it, but otherwise, each user can effectively create their own experience on the service.
Duo was basically a spin-off of the Family subscription, which puts up to six accounts under one subscription, including some parental control and access to Spotify Kids for those 12 and under. Meanwhile, to get the Student subscription, Spotify will want to see proof that you're in a post-secondary institution.
Spotify Connect and voice assistants
Spotify Connect basically lets you stream music via Wi-Fi to a compatible speaker and use your phone as a remote. Initially, you could only do it with a Premium account, but more recently, the service opened up to free users for Bose, Sonos and Amazon Echo speakers. Compatibility doesn't extend to Google Home or Google Assistant, where you need a Premium account to access.
With a Premium account, you can play music by voice through Alexa, Google Assistant and Siri. Tell it which song, artist, album or playlist you want to play, and it will do it. That also includes CarPlay and Android Auto in the car, which is great for hands-free safety.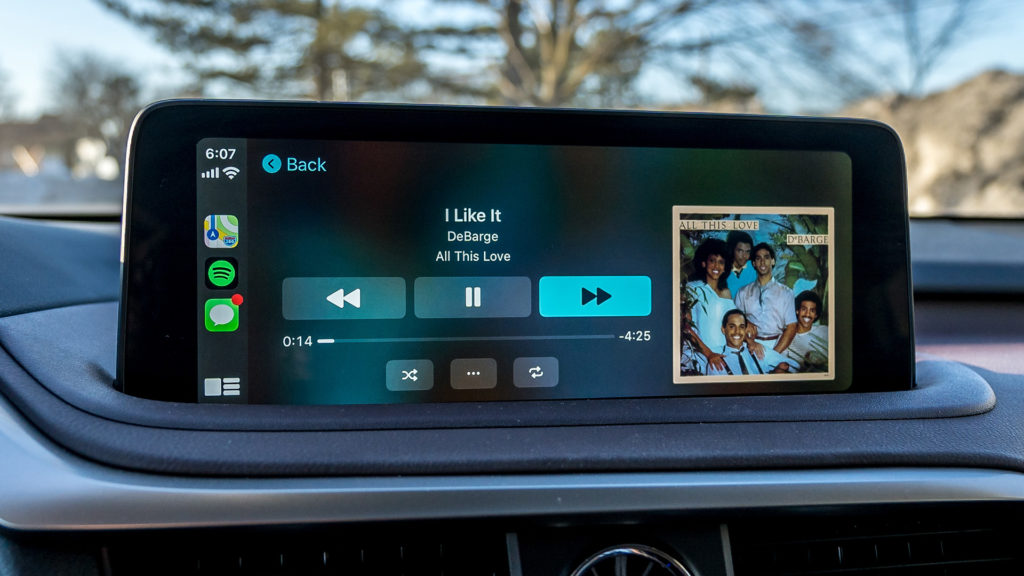 How much data Spotify uses
As a music streaming service, data usage is integral. How much it uses can slightly vary, but at Very High quality, you're looking at about 1GB for every 7-8 hours of playback. You can go double that if you knock it down to High quality. At normal, you can go up to a full 24 hours before hitting 1GB.
Once you start playing videos, however, it goes up exponentially from there. On Android, you can monitor how much data Spotify uses by going to Settings>Network and Internet>Mobile Network>App data usage (the names of each step may vary depending on Android device). On iOS, go to Settings>Cellular and scroll down to Cellular Data to see what Spotify used up.
With Wi-Fi or offline listening, you won't have to worry about data usage.