Sonos goes big and bold with its new sound bar in the Arc, while also adding key features it omitted for years.
Manufacturers continue to make thinner and thinner TVs, and what they cut corners (literally) on to get there is audio quality. It's the one thing that has gotten worse with TV technology over the years, which is why I often suggest that it's worth upgrading the sound when getting a big TV.
Well, the Arc would be a big jump in that regard. This is a $1,000 sound bar, so it doesn't come cheap, yet you do get a fair bit of performance and options for the price. It's big, it's loud and it's scalable when you factor in how to expand it.
Here's a quick video overview:
Design
Without a doubt, this is the largest speaker Sonos has produced to date. It pretty much forces the 2013 Playbar and 2017 Playbase into retirement, which isn't an altogether bad thing. While both are still good by today's standards, they lack a number of things the Arc has going for it. I'll touch on those as I move along here.
The only other comparison I can make within Sonos' product line is the Beam. This was the short and stubby sound bar from 2018 that now looks like a bargain selling at $500. The Beam is still excellent, and well worth it for smaller TVs or rooms, since it offers the same scalability.
For the Arc, you do need to consider the space you have. It's 45-inches long, 3.4-inches tall and 4.5-inches deep. The height and depth aren't that bad, making it all the more possible to wall-mount the sound bar, if you want. You will need Sonos' $89 mounting kit to do it, but if you have an entertainment console long enough to lay it on, you can save yourself the trouble.
Funny enough, mine is actually shorter than the Arc itself, so I had the ends spilling over in a comical way. It never affected performance, but it has given me the impetus to consider something new to gain some extra real estate on top.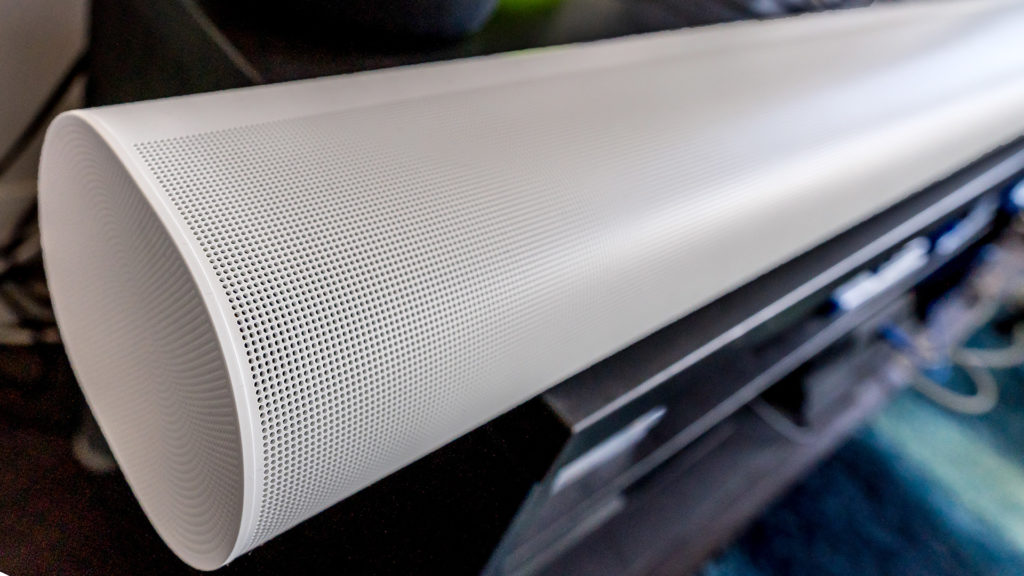 Features and Dolby Atmos
Sonos users who care have long pushed the company to support Dolby Atmos. Engineers heeded the call and included it here, marking the first time you can use it in a Sonos speaker. What is Dolby Atmos, you ask? It's a surround sound format you may have already heard at a movie theatre, yet also adaptable to home theatre. It's best suited to multi-speaker surround setups with a subwoofer, like a 5.1 system, for example, but also works in one speaker, like the Arc in this case.
Part of what makes Atmos so compelling is that it squeezes out detail in ways other Dolby surround formats don't. For instance, the Arc has 11 drivers in total, two of which are upward-firing. Those drivers will bounce sound off the ceiling to emulate what ceiling-mounted speakers already do. It's amazing enveloping sound, and it works with music, too.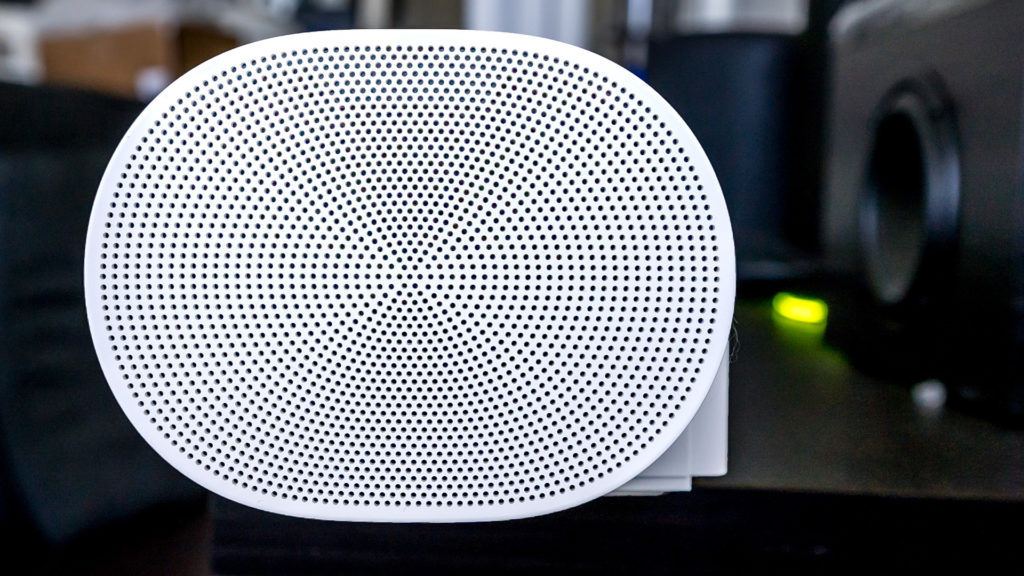 The only caveat is that everything in the chain needs to support it. For example, the content itself needs to be encoded with it. Then the TV or set top box needs to include it. And then finally, the speaker has to have it. If anything along that chain doesn't, you end up with Dolby Digital or Digital Plus. Still good, but not at Atmos' level.
That leads me to another major point. Your TV must have an HDMI ARC or eARC port. The Arc only has one HDMI output, which is ARC, and when plugged into the TV's port, it means the two ends send digital audio and video signals both ways. Sonos chose to make the Arc's port output-only, which leads to another caveat.
If you have an audio receiver, there's no separate HDMI input in the Arc to use as a pass-through. One workaround is to plug the receiver into the TV's ARC port and use the Toslink optical audio-to-HDMI adapter Sonos includes in the box to connect to the TV's optical audio port. The only thing with doing that is you disable Atmos, which can't run through the Toslink connection. It needs ARC.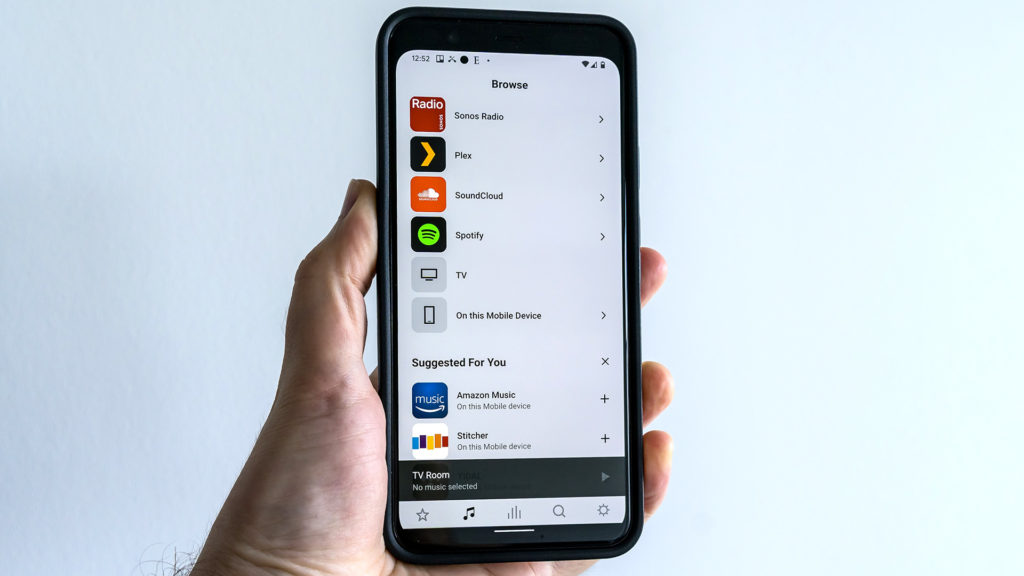 Setting it up for sound
Sonos also dumped its longstanding mobile app in favour of a new one. The legacy app will now be known as "Sonos S1", while the new one is just "Sonos". The newer app cuts loose some of the much older products in the company's lineup, but retains a vast majority of what's come to market in the last 10 years. The S1 app will still work with those legacy devices, but not the current one.
There is a slight visual makeover, but the two otherwise share a lot of the same user interface structure. I would describe it as an attempt to clean things up and modernize the look, but functionally speaking, I didn't feel a major difference.
TruePlay remains Sonos' tuning software, and I used an iPhone to adjust the Arc's acoustics based on my living room's space. Android users can't do this, but can do it if they borrow someone's iPhone, since it's something you only need to do when you first set up or add other Sonos speakers to be the left and right-channel rears.
Another of my favourites was to utilize the AirPlay 2 support on my iPhone to play music from YouTube, which isn't so easily done on an Android device. Sonos supports a wide range of services, and that includes YouTube Music, but if you're just looking to play a queue of songs from YouTube itself, it's easy to do via AirPlay. The only issue is you also have to deal with the ads.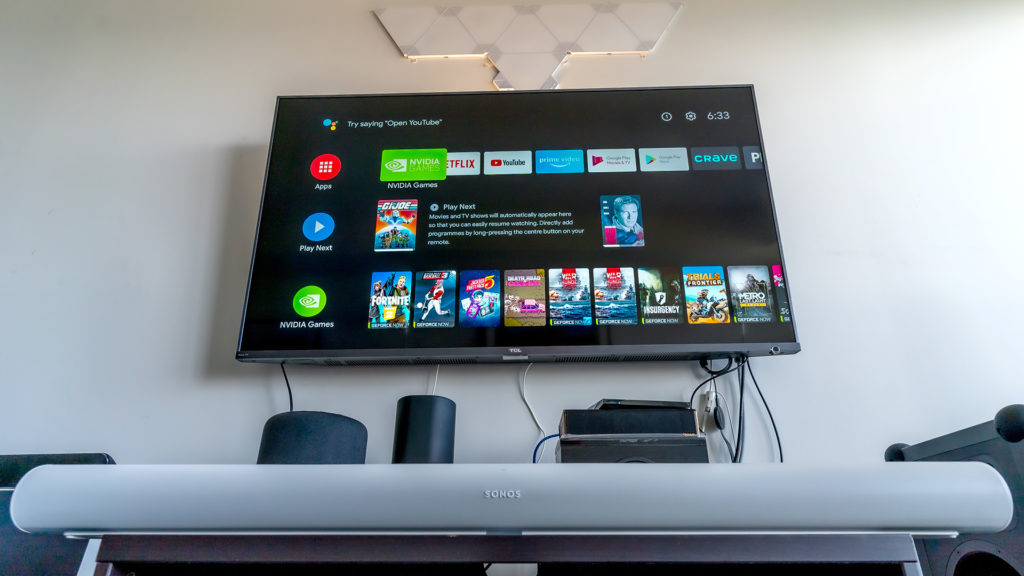 How it sounds
If you're using the Arc to upgrade your TV speakers, the difference will be more than night and day. In fact, there's no comparison. The sheer power in the Arc puts any TV's built-in speakers to shame, but it goes even further than that.
What makes this sound bar so good is its resonance. Among the 11 drivers inside are the two that face out directly on each end. Add the upward-firing drivers, plus all the others, and you get spatial sound that belies its form factor. In this regard, the Arc's length works in its favour because it essentially spreads out sound over a wider soundstage.
I noticed this early on when I first started raising the volume. Sonos tends to go for balance over skewing things too far on either side of the audio spectrum. However, if you do want more bass or treble, you can always adjust that in the app. TruePlay also makes a difference, which is why you should endeavour to borrow an iPhone when you don't have one.
I watched content on all the major streaming platforms, as well as my own library of movies and shows I have on my Plex server. The wide range included Dolby Atmos (supported through the Nvidia Shield) and on down to older stereo content from older films and shows.
Everything sounded great, but I knew surround would be better. Previous to the Arc, I had the Beam, which I paired with two Sonos Ones to create the surround setup. It makes a huge difference, in my opinion. The way sounds cascade from one direction to another, including the after effects of explosions or sudden movements adds to a movie or show's appeal. If you do go with the Arc, consider adding two rear speakers at some point.
I felt the same way playing video games. The Arc's superb performance, notwithstanding, knowing an enemy was coming up from behind or to the left or right, is one of the reasons surround setups feel so good to the ears.
For music, the results were much the same, though the surround speakers aren't as important there. Again, Sonos' penchant for balance and neutrality means practically any genre is going to sound great. Sound is highly subjective, and I can see how some genres might not reach the same levels others do. The Arc isn't perfect in that regard, where heavy instrumentation — think of big band or something orchestral — might be missing some of that intricate detail.
I admit, I'm nitpicking a little, but this is a $1,000 sound bar, after all.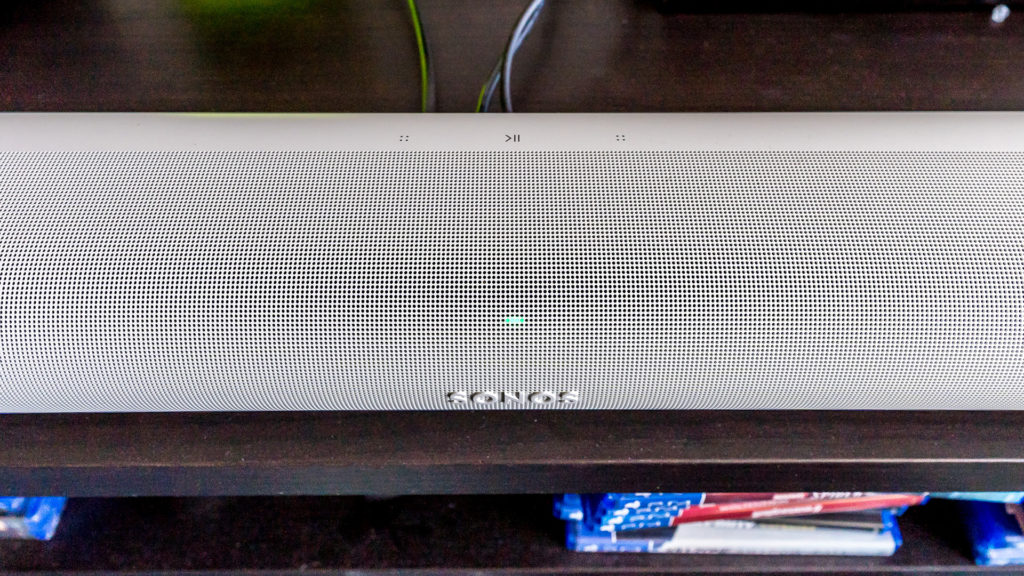 Talking to the Arc
Like the Beam and some other Sonos speakers, you can talk to it via Amazon Alexa or Google Assistant. You can only choose one through the app, but either one works really well. I've used both and find them really convenient for controlling volume and smart home devices, like smart lights at home. I also used it all the time to play music on Spotify, which works beautifully with either voice assistant.
Great sound at a price
It's easy to enjoy a sound bar like this. Big sound in a package with plenty of support behind it. Not to mention the ability to scale it up with rear speakers and the Sonos Sub. Granted, if you do add those extra elements, you're looking at an expensive setup above $2,000, but the fact you can do it at anytime after getting the Arc is part of the overall appeal.
Still, as is, the Arc is highly capable on its own. Even if you are upgrading from a lower-end sound bar or speakers, you will notice a demonstrable difference here. Is it better than a comparable sound bar in the same price range? Hard to say, but it's safe to say the Arc won't disappoint you, no matter the content you're watching or listening to.