Amazon's Echo speakers have largely focused on bringing Alexa into the home, but the Echo Studio marks the first time audio quality stands out on its own.
In short, if you've ever been skeptical of how good an Echo speaker can sound, hear no further than the Studio. This is Amazon's first real attempt at a speaker that can produce sound quality on par with well-known audio brands, and it's about time.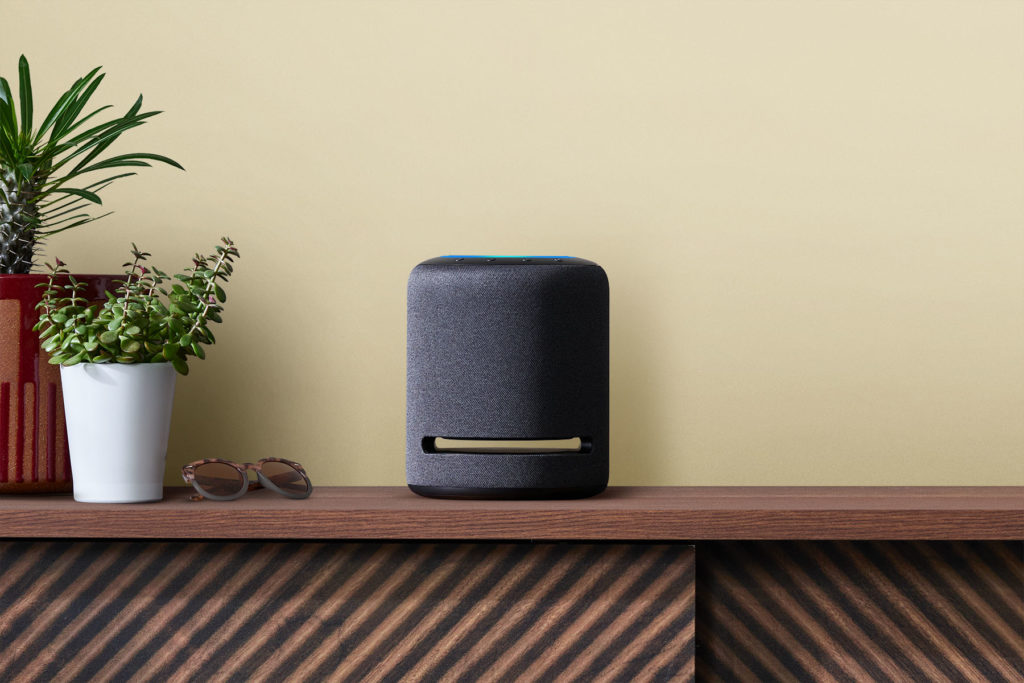 Design and setup
Naturally, the Echo Studio is a smart speaker, so Alexa is a prominent part of the whole package. It sets up like any other Echo speaker through the Alexa mobile app on iOS or Android, albeit with additional features related to audio fidelity.
The speaker maintains the cylindrical form factor Amazon's speakers are known for, complete with wraparound fabric. It is, by far, the biggest speaker the company has made to date, and physically overshadows comparable speakers, like the Sonos One and Apple HomePod, among others.
There's 330W of power inside driving two speakers inside facing left and right, plus an upward-facing speaker, down-facing driver for bass, and a centre tweeter to balance it all out.
The reason for this type of setup is to take advantage of two things: Dolby Atmos Music and 3D Reality Audio. Both are competing standards designed to do the same thing, which is playback audio in a way that feels like it's coming from multiple directions. I'll get to that later.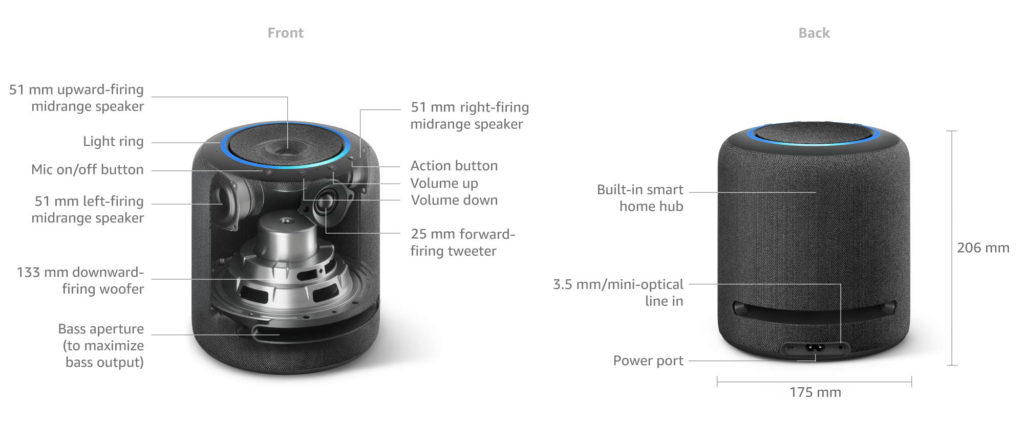 The rest of the speaker is a familiar layout. Volume buttons, plus the Alexa and mute buttons, are arrayed at the top. On the back, there is the power plug, along with USB-C and Aux-In/optical audio port.
This is a wireless speaker, first and foremost, which works on your Wi-Fi network, and is capable of controlling smart home devices, setting timers, reminders, alarms, making phone calls and answering general queries about people, places and things.
Preparing for audio
Amazon built the Echo Studio to use its onboard mics to always listen to what it's playing, and then making adjustments to better adapt to the room it's playing in. All of this goes on behind the scenes, so you're never truly sure when it's happening, but the end result is supposed to be a more dynamic listening experience.
The speaker tunes itself upon the initial setup, giving itself a base to work with. You'll know it's doing it by the tones it blurts out. The thing about that is if you move the speaker again, it's best to recalibrate it to get the ideal audio conditions.
There is also Amazon-centric integration worth noting. If you get two Echo Studios, you can stereo pair them together so they each act as left and right channels, respectively. The speaker can also wirelessly pair with a Fire TV Cube or Fire TV Stick 4K to take advantage of the Dolby Atmos integration. That setup also works if you have already stereo-paired two of them.
Sound quality
Without question, the Echo Studio offers the most spacious sound of any speaker Amazon has produced to date. Actually, it's not even close.
Before I get to that, here's a key caveat: Amazon Music HD, which offers 360 audio tracks in the United States, isn't available in Canada yet. It's only a matter of time before it goes live in the Great White North, but for now, Tidal is an alternative offering 1,000 songs with Sony's 360 Reality Audio technology (though you do have to be a subscriber to get to them.)
Despite that omission, there's plenty to like about what this speaker can do. Remember the microphone-based adaptive sound feature I mentioned before? It's called Stereo Spatial Enhancement and you can find it under the audio settings in the Alexa app. Amazon keeps it on by default, but I found myself often turning it off and making adjustments with the basic equalizer on the app instead.
It would be nice if Amazon let users save their own EQ presets instead of always having to make adjustments, but clearly, the company prefers listeners use the spatial enhancement feature as a go-to. The issue I had was that music actually sounded like it had less range, especially with treble and vocals. Maybe it was just me, but everything sounded livelier when the setting was off.
And that applies across musical genres. Whether it was classic rock, jazz or hip hop, there was a verve to each track that wasn't always apparent when the feature was on. That's good news because it proved the speaker was already more than capable without all the spatial processing.
As a TV speaker, the Echo Studio is surprisingly good, though I would recommend you do it with the compatible Fire TV products to get the most out of it. If you have two Echo Studios set up in stereo with your TV, expect a nice upgrade in sound quality no matter what you're watching.
The audio quality also has additional benefits in that Alexa and phone calls sound great too. It's easy to hear the popular voice assistant, as well as anyone you call through it.
'Echo, play some music'
In the past, I would have recommended an Echo speaker only for bringing decent sound and Alexa to a smaller space, like a kitchen or bedroom. And even then, I was reluctant when the Sonos One and other speakers were already available.
While the Sonos One is still a more balanced speaker — and offers Google Assistant on top of Alexa — the Echo Studio is a worthy competitor, and worth the price of admission. If you're patient, you can wait a little longer to get one at a cheaper price and set up a stereo pair.
Or you could also opt to get the Echo Sub, and get a real bass boost, since the Studio is compatible. For the first time, Amazon has a speaker that can truly deliver.