Whether you're looking for one or not, there's a good chance you will come across an ad for an Android box offering access to all sorts of content. There are plenty of little-known or pure no-name models out there, but the Nvidia Shield is really the only box worth considering.
There are a number of reasons, as I'll demonstrate in this review, and chief among them is the fact you're getting a product that will get both hardware and software support. The Shield's legitimacy is its strongest asset, and it pays dividends toward the other standout features.
Design
I'll start by noting the difference between the two models. The Shield TV and Shield Pro sport completely different designs (though they do use the same remote) but are far more similar than you might expect. The TV's cylindrical design is unique by any streaming box standard, whereas the Pro maintains the Shield's traditional look.
The TV model has 2GB of RAM, 8GB of internal storage, plus an HDMI port (to plug to the TV). Ethernet and a microSD memory card slot. It also costs less at $200.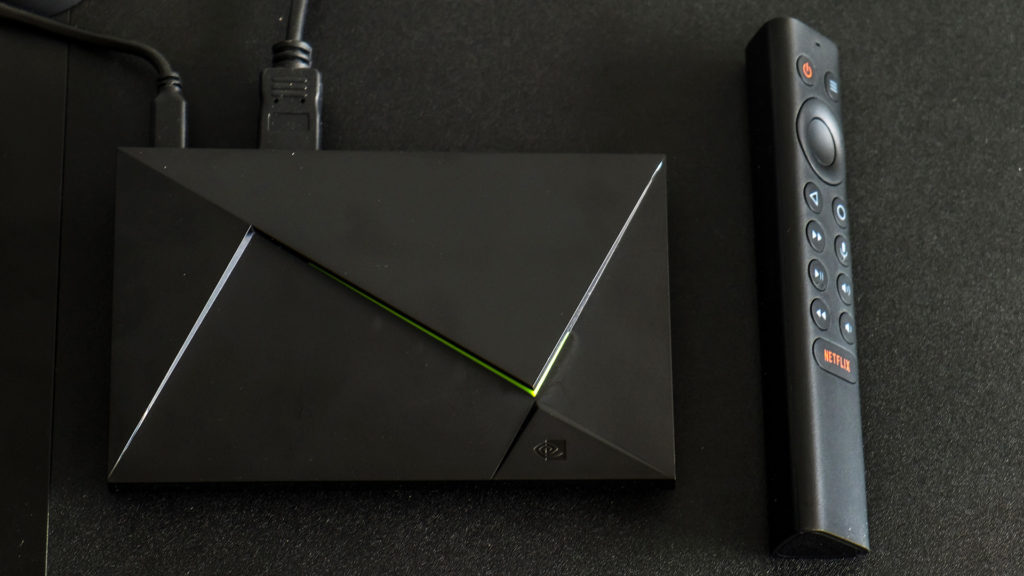 The Pro model has 3GB of RAM, 16GB of storage, HDMI, microSD, Ethernet — and crucially — two USB ports. Those ports mean you can plug in external drives to play content directly without using an Internet connection, or set up a media server you can access away from home through an app like Plex. It also opens up the possibility of using extra peripherals, like a keyboard or third-party game controller. The Pro's extra horsepower under the hood also makes it more adept at handling video games. For all that, you'll have to spend $260.
If you're unfamiliar with the Shield, it is, first and foremost, a streaming box. Maybe you have a smart TV already, but the Shield is on a different level. It runs Android TV, which has had its share of hiccups before, and is finally coming into its own now. Plug it into the TV and you have a smart TV interface that serves up the latest streaming apps, along with some important features to improve the viewing experience.
Setup and features
That either box supports 4K HDR video streams is great on its own, but it's the AI Upscaling that proves to be a cherry on top. Nvidia's Tegra X1+ processor is a key component in that regard because it provides the juice the feature needs to interpret content and upscale it from a lower resolution to something resembling 4K.
While not perfect, it does have its moments. Stream something in 720p or 1080p and you will see some impressive and vivid sharpening that neither looks cheap nor forced. There are three levels (Basic, Enhanced, AI) to choose from when you apply it, giving you a visual indication of what's not enough, or what's too much. I suspect some won't care too much about this, but it may be hard to ignore once you see it. That was my experience, at least.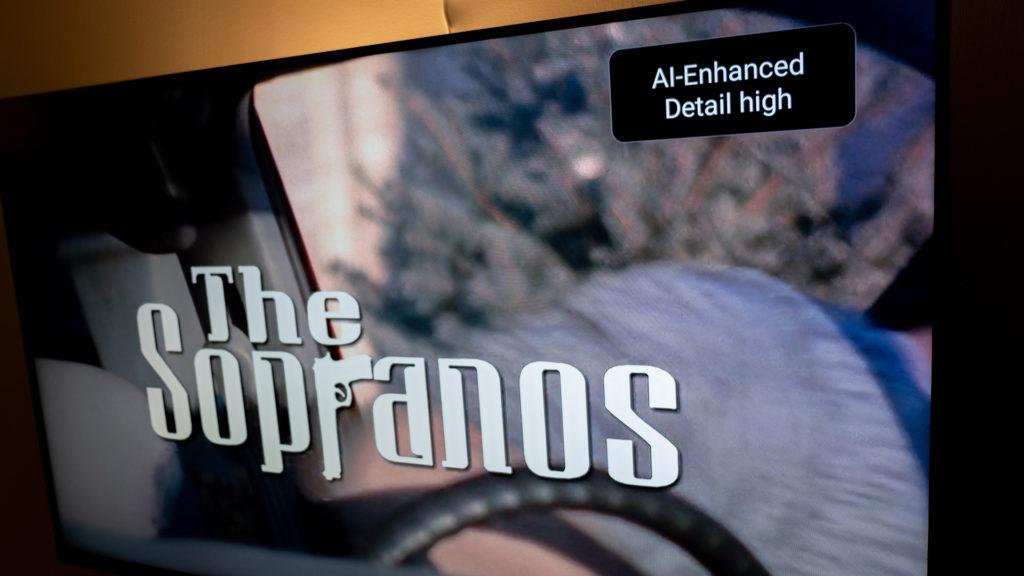 Ironically, when services like Netflix and YouTube downgraded streaming quality during the initial stage of the COVID-19 pandemic, the Shield's upscaling feature was one of the few ways to actually watch something that looked like it was 4K. Now that the 4K streams are back, the feature is more relevant to non-4K content.
There is a bit of a catch, though. The upscaling feature will only work with content up to 30fps. Also, it isn't as effective with standard-definition content, like 480p or DVD quality. Don't expect miracles if you're putting on older clips from YouTube because the results aren't likely to be dramatic. I also noticed this with animated shows from the past, too. Batman: The Animated Series episodes looked awful with the feature turned on, for example.
As good as the upscaling is, so is the Dolby Vision and HDR10 support, ensuring the best visual quality available. Then there's Dolby Digital, Dolby Atmos and surround-sound support to up the audio ante. The Shield's settings has plenty to facilitate some of these connections when you have the components capable of handling them.
And in case you want to put something from your phone, tablet or computer onto the TV, you can utilize the Shield's built-in Chromecast to cast it over. Even Google Assistant is built-in, giving you quick access or to control smart home devices through your TV.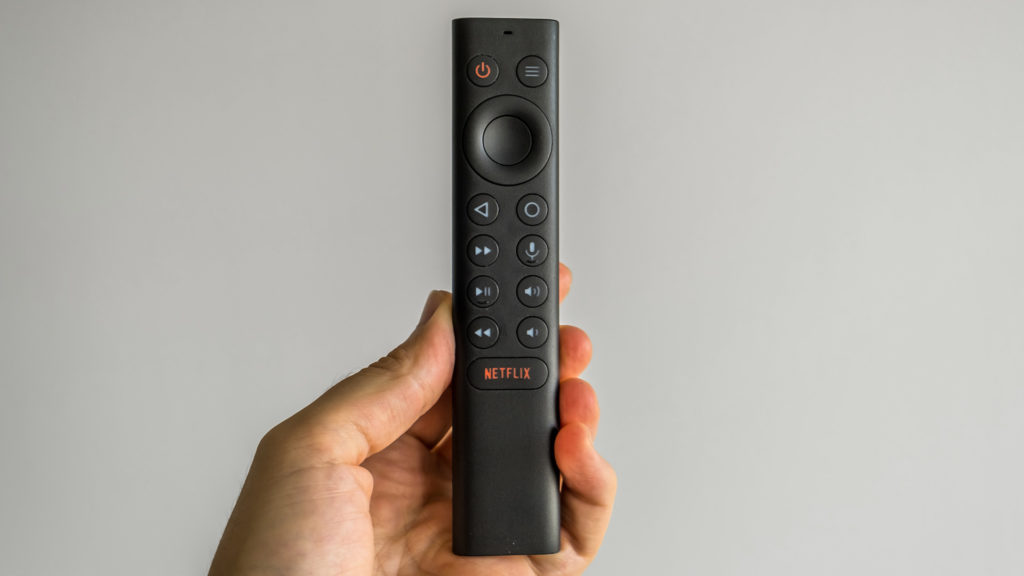 Watching what you want
Netflix, YouTube, Amazon Prime Video, Disney+, Crave, DAZN, NHL Live, HBO Max, Plex, Kodi and so many more are available. The one major omission is Apple TV. If you subscribe to Apple's streaming service, you won't be getting it on here.
One inherent advantage the Shield has over so many of the Android boxes out in the market is that you're guaranteed to get the best quality stream. For instance, Netflix certifies every hardware device seeking access to its HD and 4K streams, which the Shield has. Many other devices don't, and that's partly why vendors selling those boxes don't push Netflix and other streaming apps. The streaming quality is nowhere near the best the services offer.
Not everything Netflix and the other services have is in 4K anyway. There's plenty that's in 1080p HD, offering a great opportunity to add some extra flair to the overall quality. There are instances, however, where you won't need it. Basically anything in Dolby Vision or HDR10 is unlikely to need a helping hand.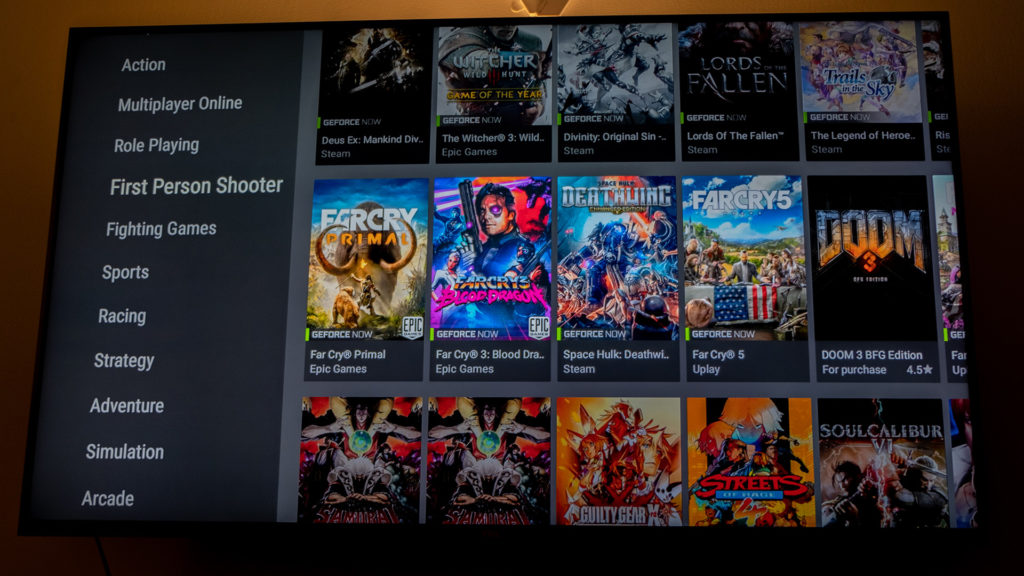 The Shield as a gaming device
This is most relevant to the Shield Pro because it has the hardware chops to handle the gaming options here. Nvidia's GeForce Now service lets you play games while streaming them, albeit with a compatible controller. Search online for hacks to use Xbox One and Sony PlayStation controllers. Or you can use the ones Nvidia has.
Games also come from the Google Play Store (optimized for Android TV) and Steam. The catch is that you will need a computer to help out with the latter. The Shield's gaming element is enough for a review on its own, but in short, it is an interesting device for the discerning gamer looking for a way to play a variety of games on their TV.
The one to beat
Whenever Android boxes come up in conversation with friends, I recommend the Shield as the only real option. Both are pricey, especially when Roku and Amazon Fire TV devices are so much cheaper, but the scalability in the Shield is its trump card. It works well, gets regular updates and has plenty of features to try out.
The Shield TV is the better way to go if you just want a streaming box to handle the basics of playing content you select onscreen. You would go this route if the extras in the Pro don't matter, and you prefer the lower price tag.
The Shield Pro is the better option if you are more of a tinkerer and want to take full advantage of the additional specs and features Nvidia crammed into it.