The Kingston Workflow Station was announced at CES 2021, and it was a product that spoke directly to some of us on the team. Namely Robin, our videographer and editor, and myself, the other videographer and sometimes editor. As content creators, we work with a range of footage, from a drone, GoPro, video, photos to random USB sticks and hard drives with sticky notes attached that say 'please edit.'
With such a range of footage, a solid workflow is essential. The Kingston Workflow Station consolidates the mess of card readers and cables used for ingesting all these types of files into one place. But is it a workflow help or a hindrance?
What Do You Get?
The box we received from Kingston Technology contained the Workflow Station itself and two of their optional Workflow Readers: A dual Micro SD and a dual SD.
Kingston Workflow Station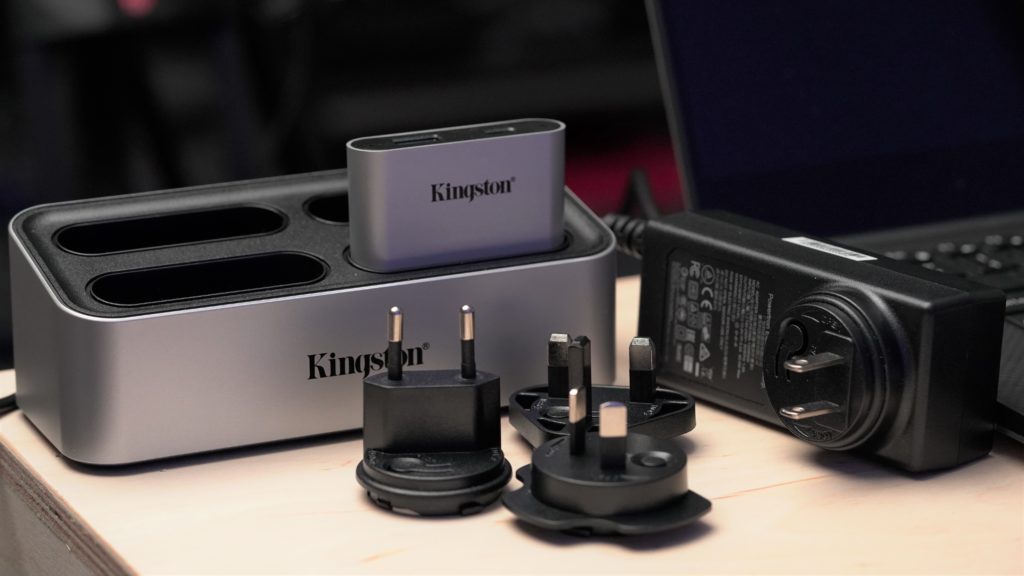 The Workflow Station contains the main unit itself with four spots for expanding with the aforementioned optional Workflow Readers. The Workflow Station does include a Workflow USB Hub which supports USB-A and USB-C connections. Also included is a power supply with four international plugs, a USB-C to USB-C cable and a quick start guide.
Although most newer notebooks that are powerful enough to edit have a USB-C or Thunderbolt 3 port, a USB-C to USB-A adapter would have been nice to find in the box. My Dell XPS 15 9550 laptop does have a USB-C 3.1 Gen 2 port onboard, but my desktop system does not. Adapters are relatively inexpensive on Amazon, however.
I particularly liked that this device is not passive or powered only from a USB port. This is because as devices start to transfer high amounts of data, they do start to pull more current. USB SSDs, sticks, and card readers all require a certain amount of current to remain stable while transferring data. Otherwise, they can disconnect and corrupt the data you are trying to back up. That's no Bueno for content you've shot and need for your projects.
Kingston Workflow Readers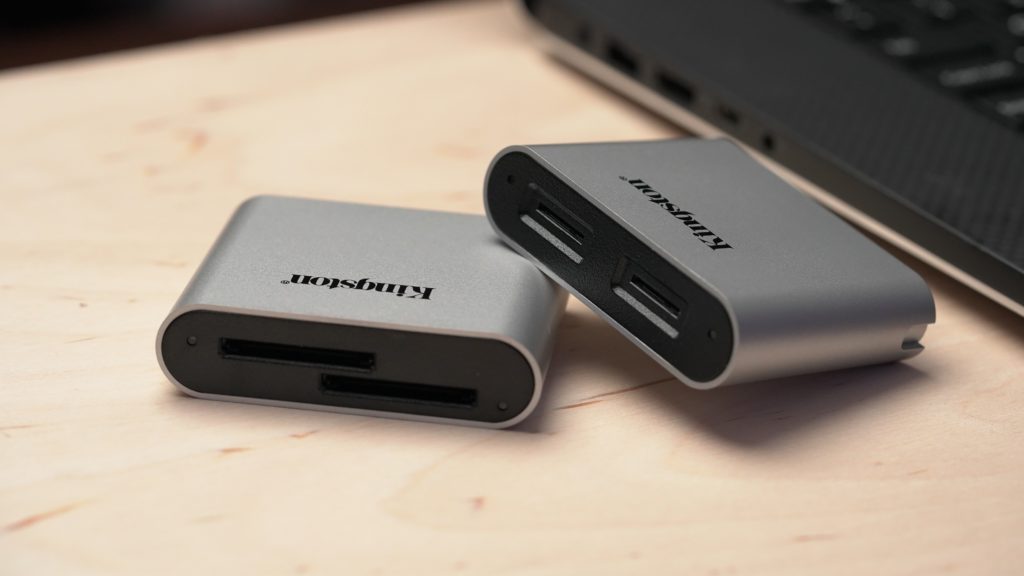 The optional Kingston Workflow Readers come in two flavours, dual Micro SD or SD. Both can be used as standalone readers in the field without the Workflow Station. Each includes a short USB-C to USB-C cable in the package.
Why Just Micro SD and SD?
Kingston has decided to launch the Workflow Station with the two most common standards used by creators. GoPros and drones are very well served by the Workflow Micro SD Reader, while those using the latest mirrorless cameras, like the Sony Alpha or Canon EOS R series, are taken care of by the Workflow SD Reader.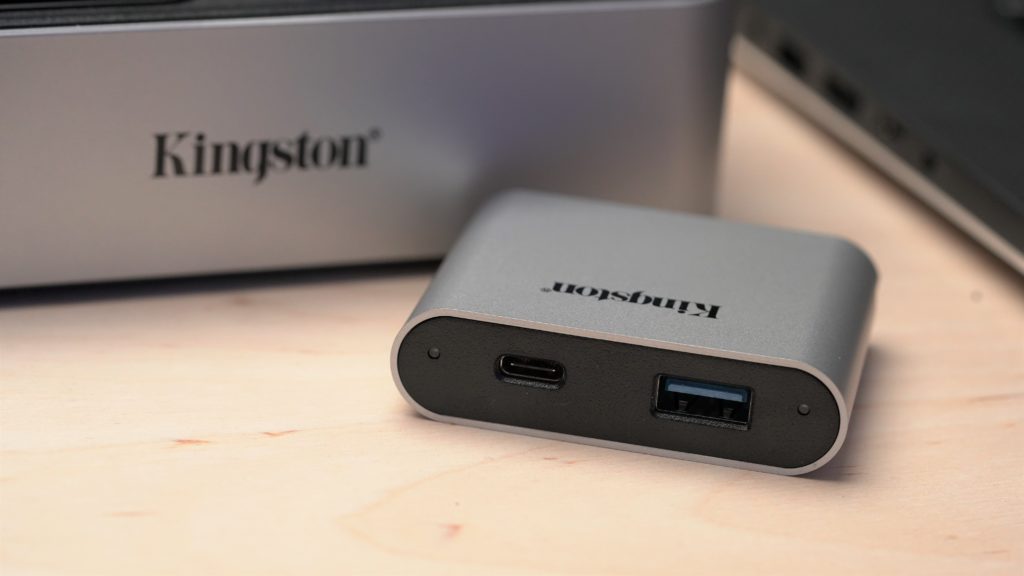 For any other media used in productions like CF Express A/B or ATOMOS recorder SSD readers, the Workflow USB-C/USB-A Hub included in the box allows you to plug them right in.
I did ask Kingston if they would be putting out any other Workflow Readers. They didn't say no, but they listen to the creator community carefully for ideas on what the next one should be.
Build Quality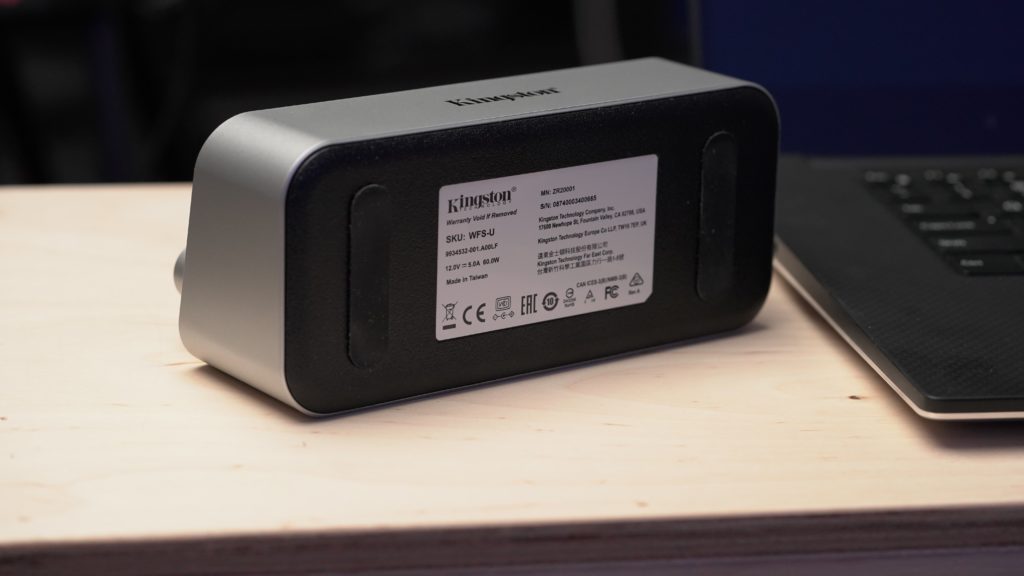 Kingston Workflow Station – I was quite impressed with the overall build quality of the Workflow Station itself. The rubberized strips on the base prevent slippage, and there's a good amount of weight so that it doesn't flop around when connected. I did find the power brick large, though, potentially hindering portability. It is meant to stay put, though.
I didn't love how the Workflow Readers jiggled around in any of the four docking ports of the station. None of them, whether it was the readers or the hub, seemed to seat solidly. I would have loved to have seen some locking mechanism, or, at the very least, a tighter fit. It might be possible to stick a bit of gaffer tape to the Workflow Readers to snug them up.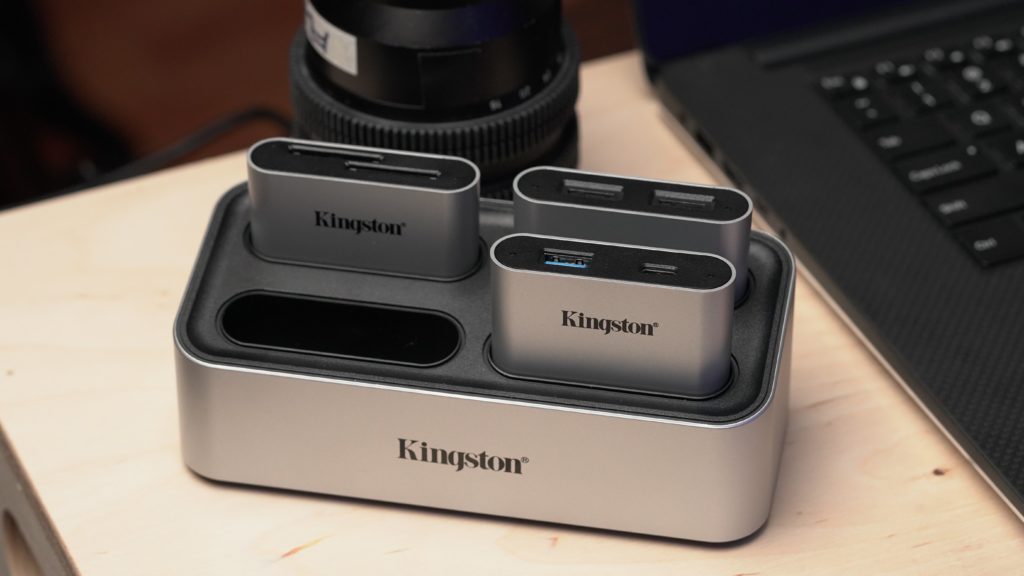 I found that when I needed to remove a USB device from the hub, I had to hold the hub down and then pull the device out. This shouldn't be an issue in regular use, just an annoyance. The instruction manual makes note of this.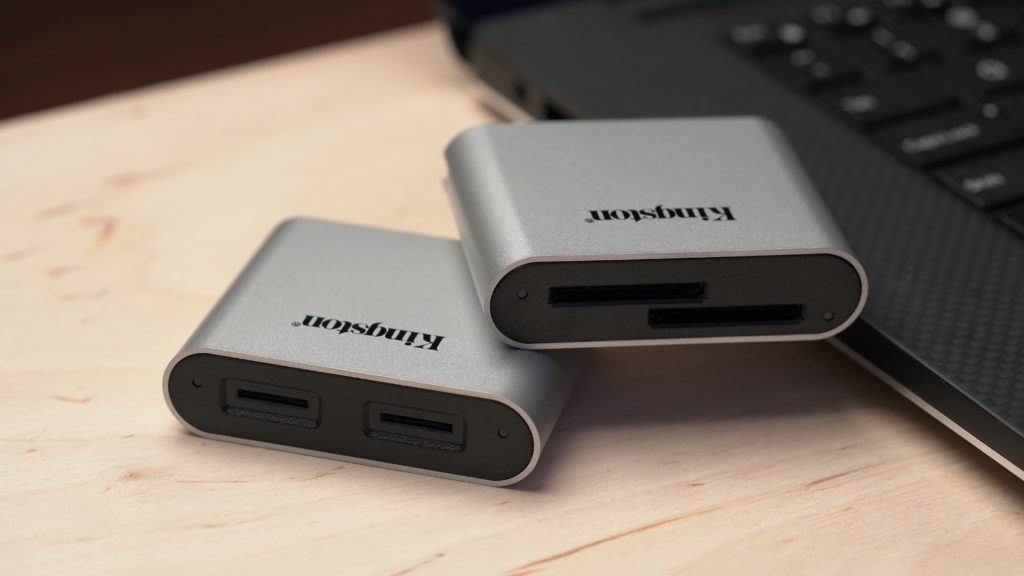 Kingston Workflow Readers – The readers were fairly lightweight, making them less of a burden if you wanted to take one with you into the field. The included USB-C cable fit snugly in the back of each of them. I didn't find the quality questionable at all. All the slots worked well with a range of cables, SD, and Micro SD cards from a range of brands in my collection.
Kingston Workflow Station Tested
The Kingston Workflow Station is designed to be a part of a content creator's day-to-day process of ingesting footage. It supports up to USB-C 3.2 Gen 2, capable of up to 10 Gbps (1250 MB/s) of bandwidth. That means that your computer has to support at least a USB-C 3.1 Gen 2 to get the maximum transfer speeds out of it. Anything that is less, like the more common USB 3.1 or 3.0 on a USB-A connector (adapted with a USB-C plug) will only be able to reach 5 Gbps (625 MB/s). Transfer rates and performance are important to creators.
Workflow SD Reader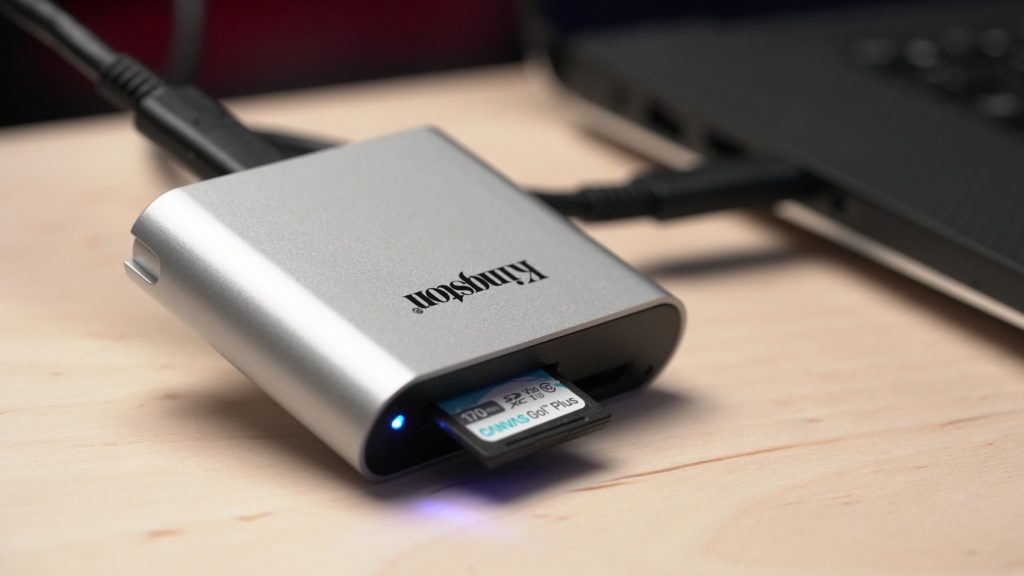 We pay more for the faster cards to offload quickly and reliably so the Workflow SD Reader must be up to the task. I hooked the reader directly to my Dell XPS 15 9550 via the USB-C 3.1 Gen 2 port, capable of up to 10 Gbps (1250 MB/s) transfer rates. We were provided one of Kingston's Canvas React Plus 128GB SD UHS-II cards capable of up to 300 MB/s. I loaded AJA System Test, which is freely available for evaluating media for video production use, and this is what we found out.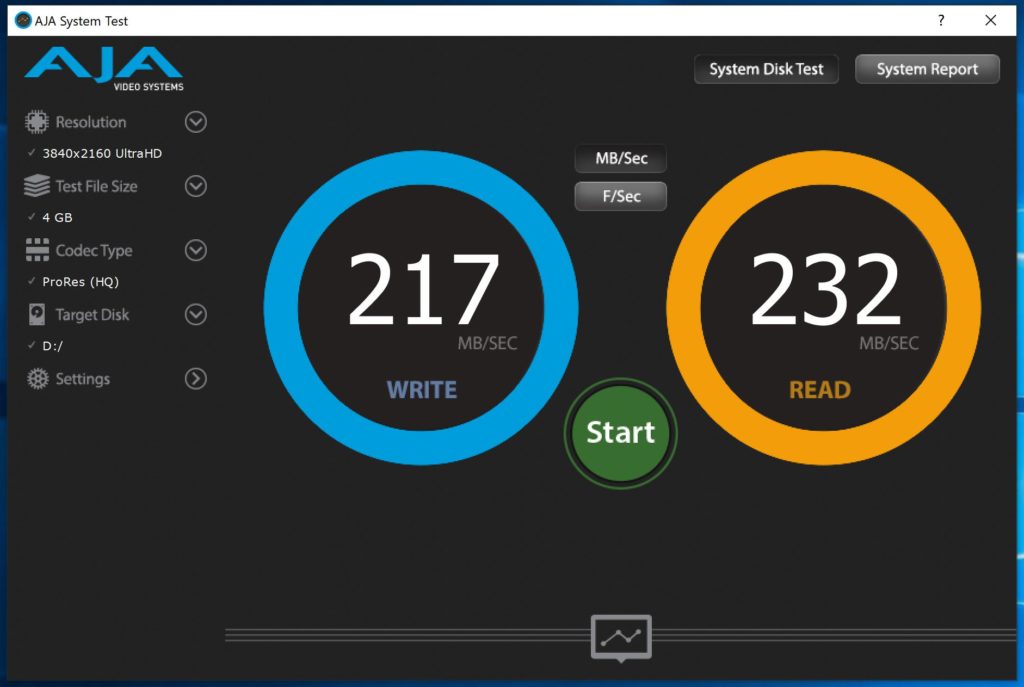 The Workflow SD Reader didn't help the card reach the theoretical maximum, even though it is rated for USB-C 3.2 Gen 1 (5 Gbps / 625 MB/s), but on balance, I've never had a card top out at the max in any reader. As a comparison, I loaded the Kingston Canvas React Plus card into my most trusted ProGrade Dual SD Card Reader for science.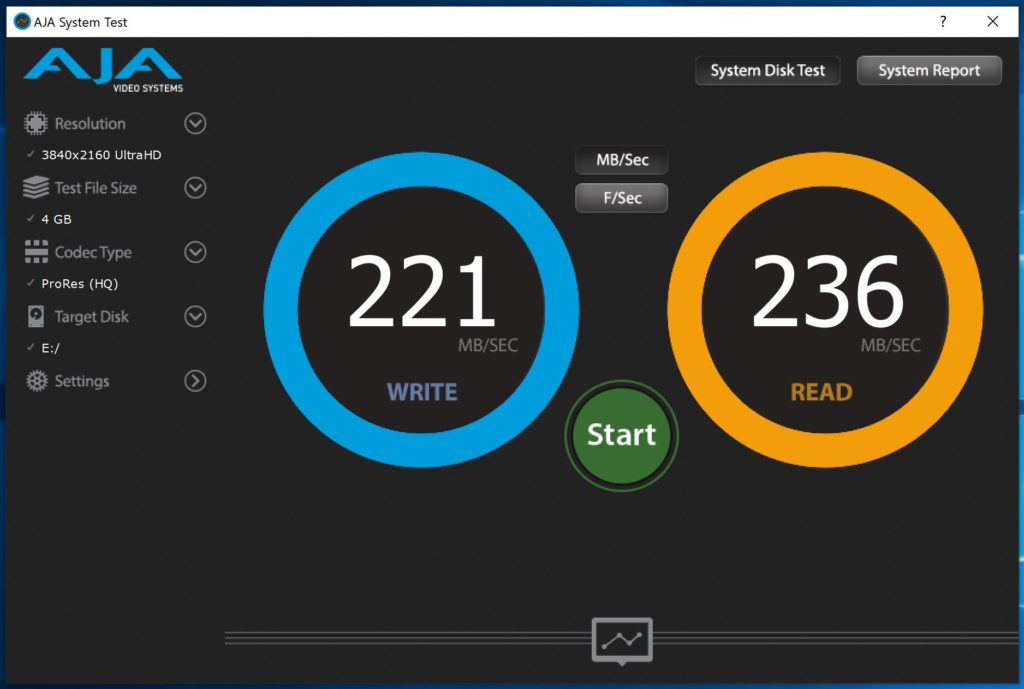 While the Kingston Workflow SD Reader didn't match the ProGrade reader's performance, it's worth noting the price difference. The ProGrade reader retails for $79 USD, while the Kingston Workflow SD Reader is $35 USD.
Workflow Station and Workflow SD Reader
Once the Workflow SD Reader was plugged into one of the Workflow Station ports, we were curious to see what kind of loss in performance there was compared to plugging in directly to our laptop.
Parasitic performance loss was not unexpected in scenarios like this, where we're docking devices together. The controllers on the devices need to negotiate and we would have to say that the losses shown are totally acceptable—less than 3% in reading and write speeds overall.
Workflow USB Hub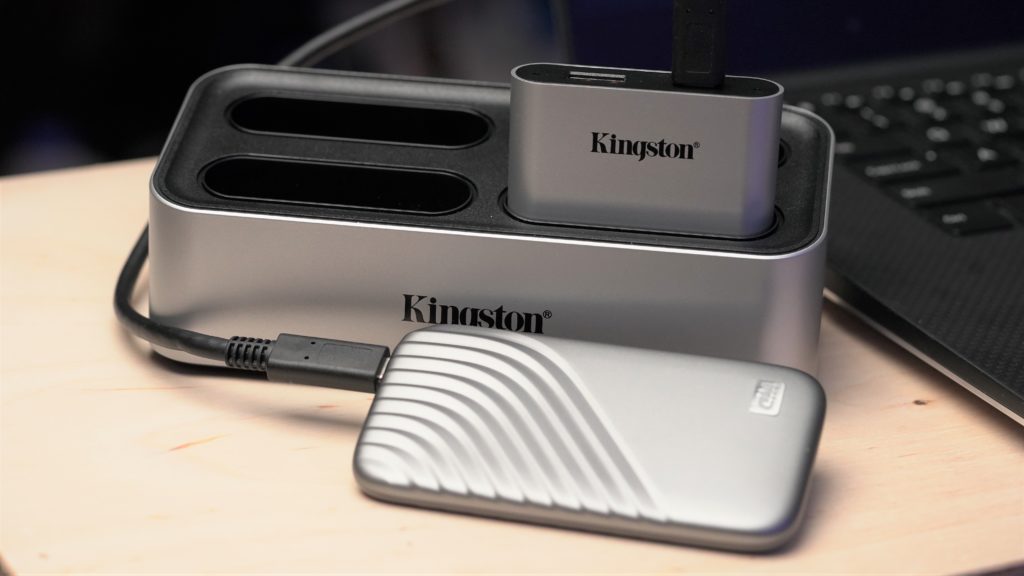 Although Kingston doesn't have all the readers for all media ready to go currently, their Workflow USB Hub is a good interim solution. It supports both USB-A and USB-C connections and USB-C 3.2 Gen 1 for up to 5 Gbps (625 MB/s). Using a WD MyPassport 1TB Portable SSD with rated speeds of up to 1000 MB/s read and write, we plugged it into the USB-C port, and these are the results we got.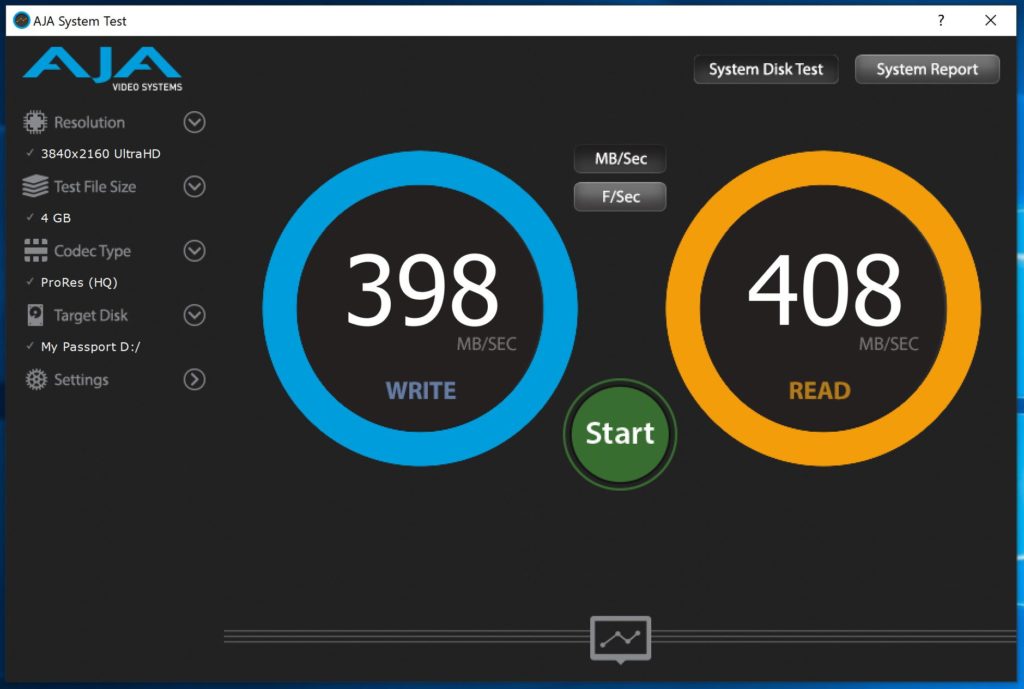 We weren't entirely surprised by these results. The Workflow Hub is limited to 5 Gbps (625 MB/S) whether you used the USB-A or USB-C port. That's a little less than half the performance of the drive when plugged directly into the USB-C 3.1 Gen 2 port on my Dell XPS 15 9550. It normally does read speeds of 898 MB/s and 809 MB/s write. So, if you are expecting to edit video directly attached to the workflow station, just be aware of the limitation.
Workflow Station With Multiple Transfers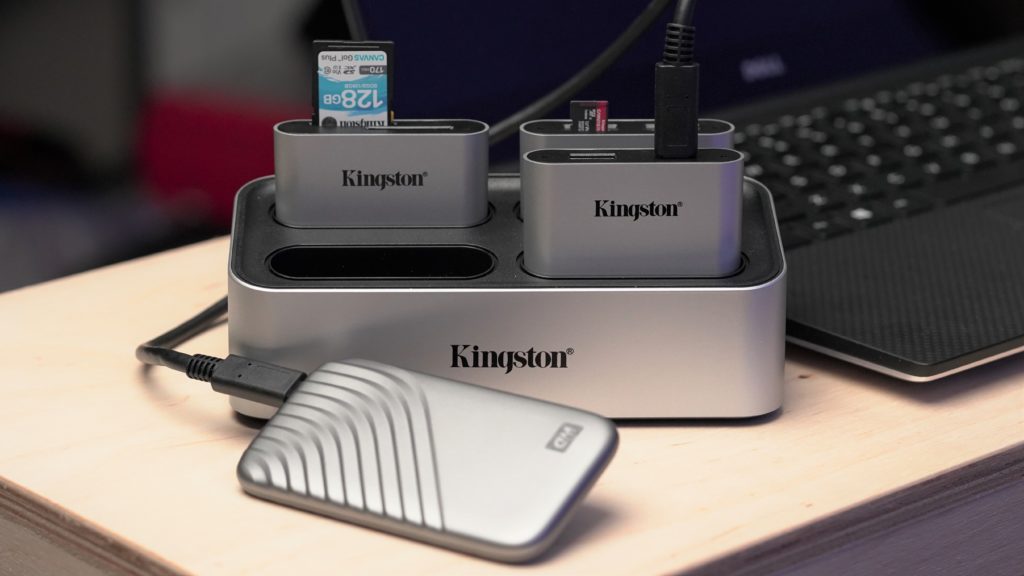 Dealing with media from multiple cameras and devices isn't just a linear affair. It's common for creators to ingest media from multiple streams, limited only by the number of ports. Getting media backed up and getting to the editing process as quickly as possible is important. We wanted to see what would happen if we plugged both Workflow readers in (SD and Micro SD) and the Workflow Hub, attached to media to all of them and ran the benchmark simultaneously.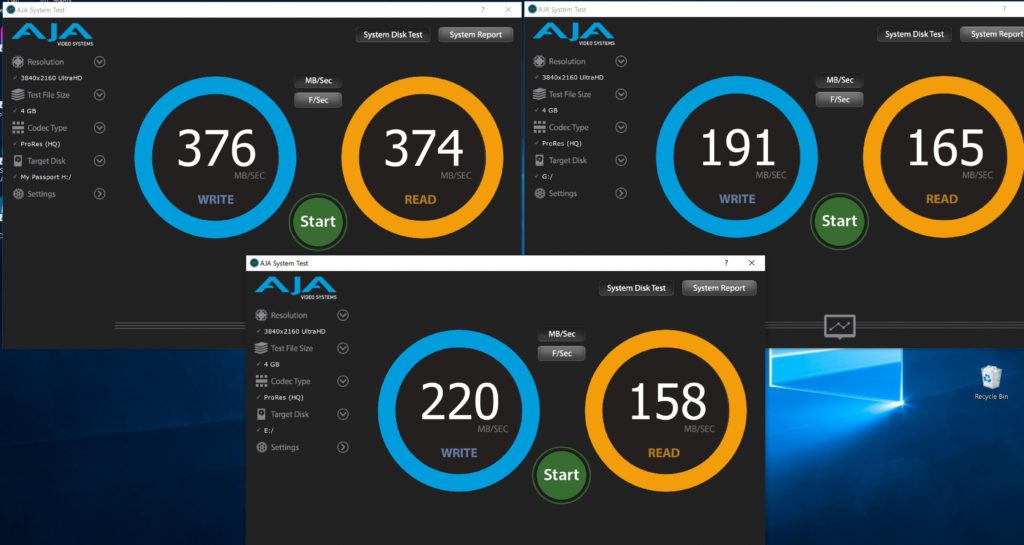 It would seem that Kingston has built the Workflow Station to intelligently provide the maximum amount of bandwidth to each device up to the theoretical 10 Gbps (1250 MB/s) limit of the single USB-C 3.1 Gen 2 port on the laptop. In doing this traffic management, there is a hit in performance as speeds are lower than when each device was tested on its own, but it's actually better than expected. The convenience of being able to offload multiple media at the same time, without a massive speed penalty, is already a huge workflow time saver. Otherwise, we would plug in a different reader into our fastest port, one at a time, waiting for one to finish, before moving on to the next.
Does the Workflow Station Satisfy Creators?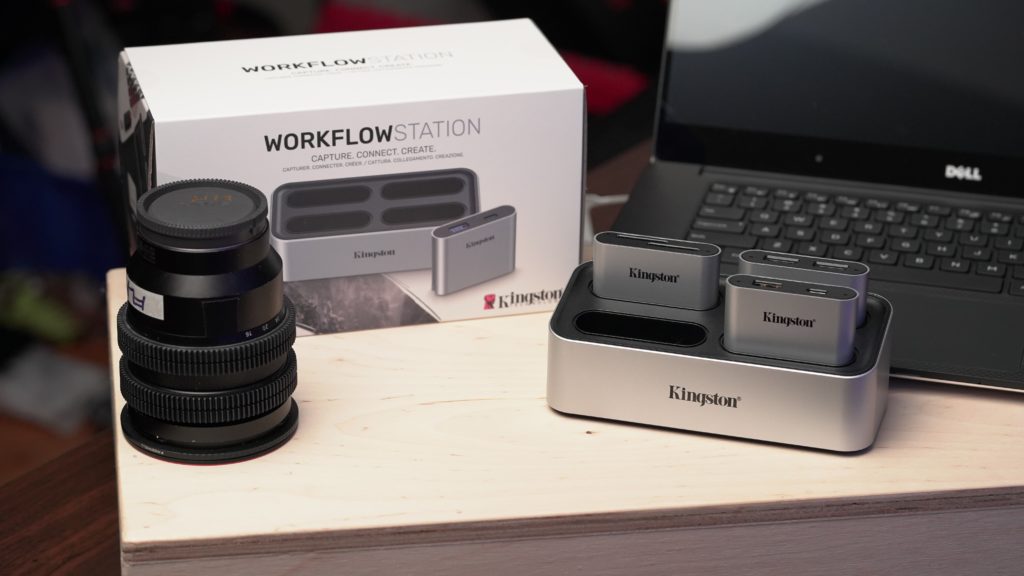 Kingston designed the Workflow Station with careful consideration from the creator community. And as a content creator, it's a product that spoke directly to me. The convenience of the included Workflow Hub with the Workflow Station adds a level of convenience for working with USB-C and USB-A devices and readers.
Kingston was smart to create the Workflow Station as an externally powered device. In the past, when I've tried to pull current for multiple devices through unpowered hubs, or dongles, disconnections, and data corruption, can happen. That's not the experience we want when handling important footage.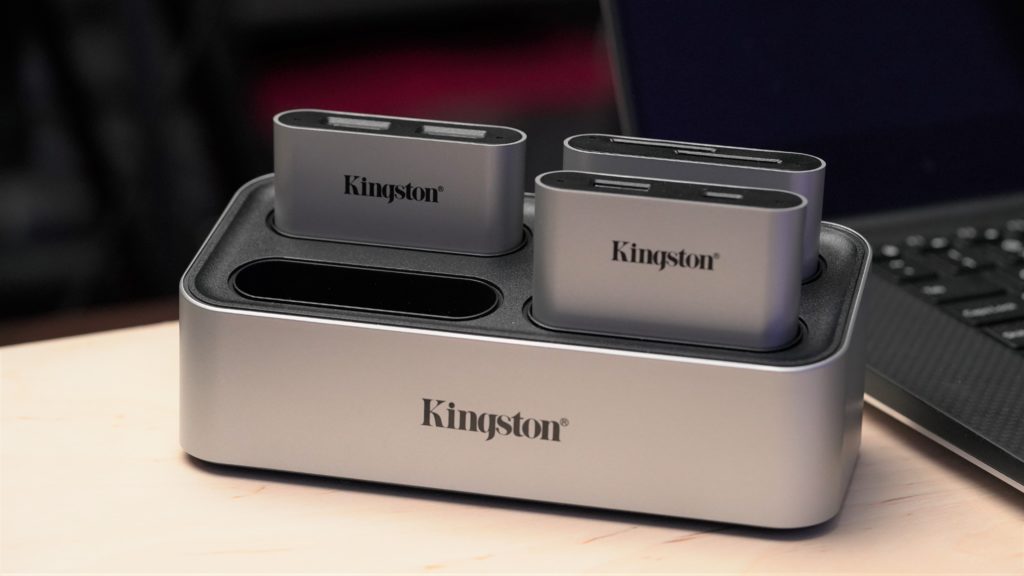 While the Workflow Station does check a ton of boxes for content creators, there are some minor annoyances that we would love for Kingston to address. When they are docked, the 'wiggly' nature of the Workflow Readers and Hub gives less reassurance that my data transfer won't be interrupted by a cat or a Roomba running into my desk.
The Kingston Workflow Station isn't inexpensive, but the time it saves content creators, and the convenience that it provides may be worth the $135 USD. The Workflow Readers, especially the dual SD, punch well about their price point at around $36 USD each, competing against products twice their price. It's not a perfect product. No product ever really is. But if you're a creator punching out content every day, we think this would benefit any production workflow greatly.
What are your thoughts on the Kingston Workflow Station? Join the conversation in the comments below.