In our Wednesday Global News Tech Talk segment today, Mike talks home automation with Sonia. This week, we have a delivery truck full of Amazon gadgets, and a 'brilliant' smart device that claims to make setting up and using your smart home easier than ever.
Here's a rundown of all the products featured on Global News Tech Talk for Wednesday, November 6, 2019.
The Brilliant Smart Controls are devices that take the struggle out of setting up a smart home. We recently had a chance to interview their CEO and Co-Founder, Aaron Emigh, and the origin story is similar to many of our frustrations. There are simply too many apps, and there's no way for anyone else to use those amazing smart devices unless they had an app on their phone too. The Brilliant Smart Controls integrate directly into a standard light socket and once set up, it will give everyone in the home access to all the cool toys. The Brilliant Smart Controls start at $400 CAD and come in a range of configurations. Available directly from their website.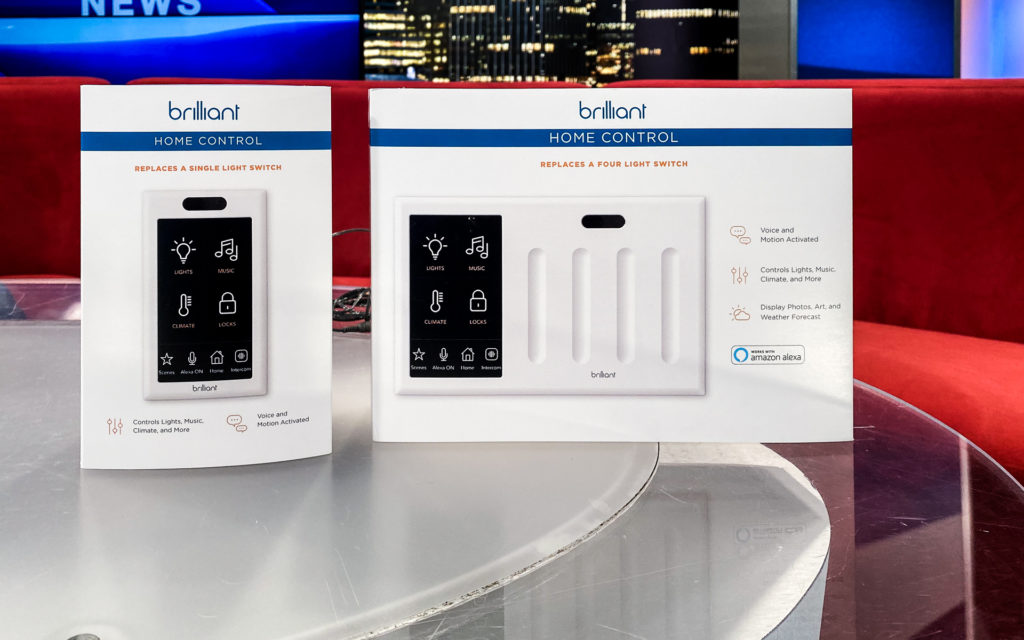 Our favourite shopping destination, Amazon, has released two new Echo devices. The new Amazon Echo Dot with Clock is just as it sounds. It's an Echo Dot with a clock built-in. The compact device does deliver better sound quality, but we are skeptical that there is much they can do in this form factor. The Amazon Echo Dot with Clock retails for $79 CAD.
If audio quality is a higher priority, then you may want to check out the new Amazon Alexa Echo 3rd Generation Smart Speaker. The 3rd generation device adds noticeably improved sound quality and some external design tweaks. It basically resembles an Echo Plus from 2018, but without the ZigBee hub. It'll come in a few more colours this time and retails for $129 CAD, which is just $30 CAD more than the outgoing 2nd generation model. It won't beat Sonos in the sound quality game, but at this price, it's hard to resist.
Finally, we check out the Amazon Fire TV Cube. Unlike previous Fire TV devices, this one is in the shape of a cube, because resistance to subscribing to Amazon Prime is futile. The Fire TV cube assimilates all of the best features of Fire TV, backed by a powerful quad-core ARM-based CPU, and adds ethernet support in the box, for a more stable connection. The Fire TV Cube now integrates microphones, just like an Amazon Echo device, allowing you to yell at the TV and get a response. Those responses could include anything from asking the Fire TV Cube to turn on the TV or look up all the available romantic comedies on the service. With IR extenders in the box, your home theatre just became sentient. The Amazon Fire TV Cube retails for $149 CAD.