Electric massagers aren't new and come in many forms, but the Theragun isn't messing around as a serious soother for all that aches you.
The Theragun G3Pro is the pro model, offering the best of everything Theragun has to offer, which is a fairly customizable massaging experience that can cater to anyone. This device packs significant power to do its job, and it's an expensive proposition, but the results may surprise you.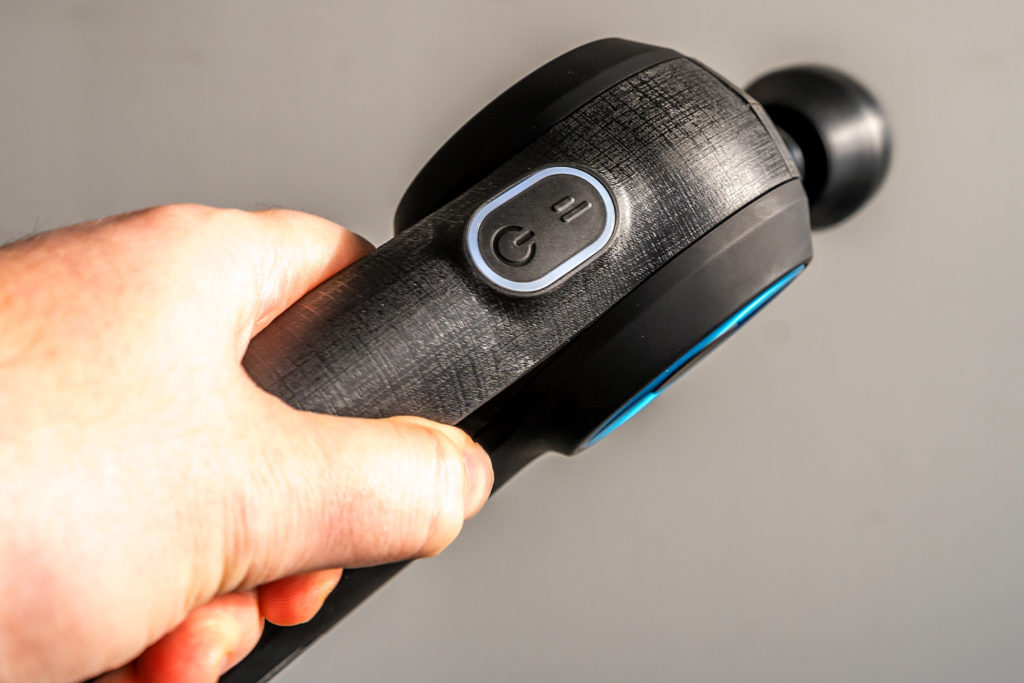 Design and setup
The Theragun G3Pro is like a cross between a power drill and a kitchen mixer. It's not just the design, but also the percussive thrust of the mechanics involved. It has two settings — one slower at 29 percussions per second, and a faster one at 40 per second — with 60 pounds of force pushing the arm forward. Place it on a part of your body and you may feel all of it shake.
There are six attachment tips to go with the device, each of which serves a purpose. Some are more concentrated in hitting a specific area, whereas a couple of others hit a wider space. Switching those tips is easy, and often necessary, depending on what muscle you're trying to hit.
The device's adjustable arm shifts up from 90 to 180-degrees for better angling, though it's the handle that plays an equally large role. The primary handle is fine for most users, except when you fully tilt the arm up for a straighter orientation. At that point, it's easier to grip it on the shorter portion of the handle. In certain situations, the thickest portion also acts as a third grip handle.
There is no connectivity built-in to it, meaning it's not something you need to pair with a phone via Bluetooth or connect to a Wi-Fi network. The G3Pro does come with an extra battery, including a handy slot for it in the carrying case. Each battery can go up to 75 minutes per charge for a combined 150 minutes.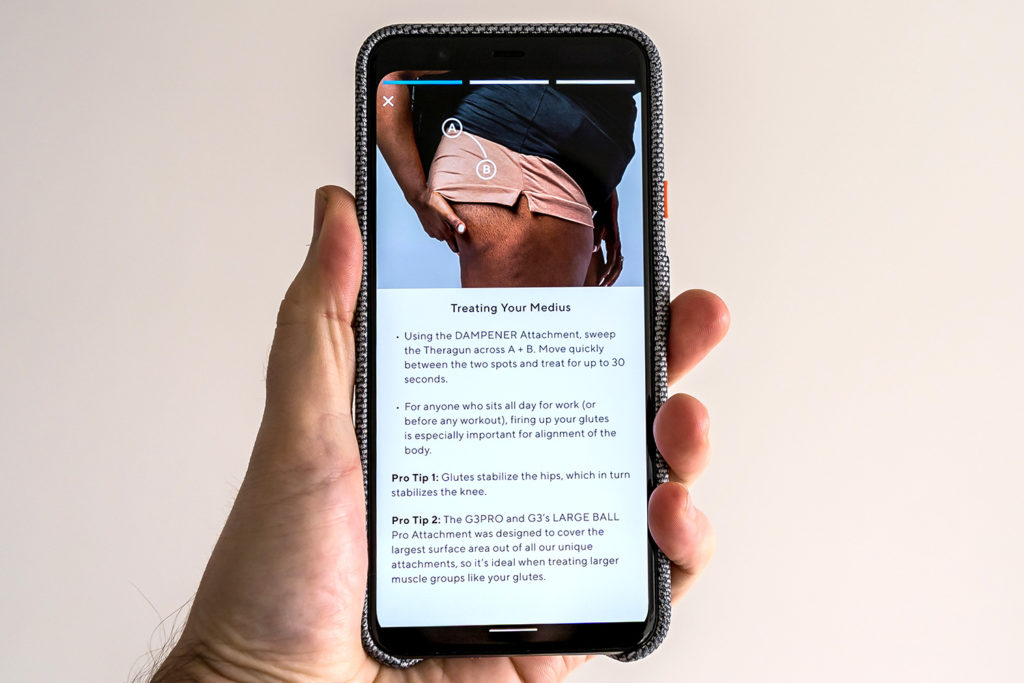 Using the app
Key to using the Theragun G3Pro is the iOS or Android app, which addresses the usability points, complete with helpful photos to illustrate everything. It's a consistent theme throughout and does well to help move things along and teach you how to use it.
There are no videos to follow, but that's not necessarily a bad thing. The photos are numerous, with steps and arrows noting particular details, like how to stretch in advance, and where to massage. There are 18 unique pain points or muscles the app pinpoints in separate sections.
They are the following: lower back, workout, feet, knots, sciatica, sleep, cramps, glutes, tech neck, leg day, carpal tunnel, jet lag, plantar fasciitis, hands, shin splints, shoulders, morning and hip flexors.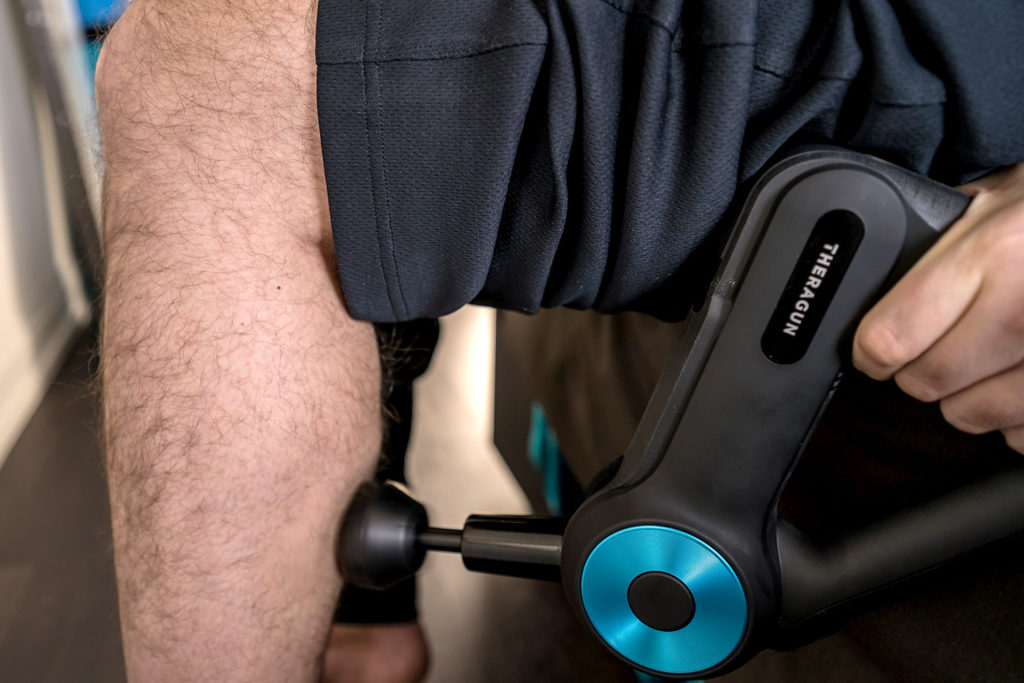 Getting a massage
I first came across the Theragun in an Instagram ad, where slow-motion clips showed muscles flapping like soundwaves upon impact. Social media ads always seem a little too good to be true, but this thing is certainly not a scam.
It's also not a full-on replacement for a physiotherapist, chiropractor or masseuse. The Theragun complements treatments for chronic conditions, but you can look at it as using the device to try reducing the frequency with which you visit a specialist.
However, it then begs the question of whether it's worth paying $759 to do things that can otherwise be done with low-tech alternatives. Foam rolling, ball pressure, deep stretching — all of those don't require expensive equipment, but they do need another increasingly precious currency: time.
This is where the Theragun proved its worth to me. What would've taken over a half an hour of rolling and stretching was done in a third of the time with the device. And I felt good after using it in every routine. Sometimes more than others, yet consistently positive, nonetheless. It was also easy to use before and after a workout.
Theragun also says the device is focused on myofascial release, not deep tissue massage. The effects with the G3Pro are more about dealing with soft tissue, except combining the power with certain attachments made me feel like there wasn't much of a distinction. This thing can dig pretty deep, though I would never say it completely substitutes for a pair of well-trained hands.
It's not just a matter of precision, dexterity matters too. Some areas, especially on one's back, are hard to get to properly, and despite good grip and handling, you're better off having someone take over and do it for you. In addition, the angle and speed of the device do better to target a specific area than, say, a foam roller or ball would.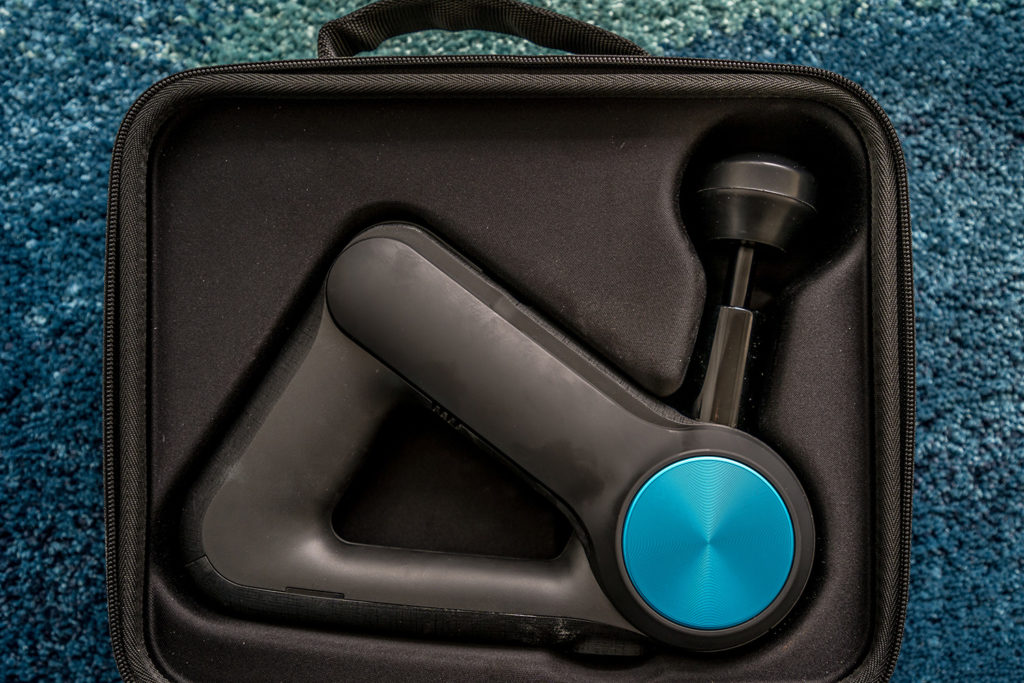 Hitting the right spots
It's all relative because everyone's body is different. Above all, the Theragun isn't a revolutionary product, unless you feel like it is after using it. The technology is familiar, so it's the results that have to speak for themselves. Only it's a challenge to place that kind of trust by spending so much to get it.
For me, as someone with a few injuries under his belt, I like the convenience that goes with the results. I like the fact this is a fairly easy gizmo to travel with, making it easy to keep up with helpful routines or exercises while away from home. I find it appealing that it's something family members can benefit from when I visit and bring it with me.
The G3Pro is top-of-the-line for Theragun, with the premium G3 ($499) and more entry-level liv ($339) offering a good portion of the same experience at a more modest price point.