If you're seeking a way to watch soccer routinely, FuboTV is one platform that devotes a lot of its content to the "beautiful game" for subscribers.
That kind of aggregation makes it compelling from the start, not just because it covers more than one league, but also more than one channel broadcasting those games. It is, in many ways, an alternative to trying to subscribe to these channels via your TV provider. And since it works on various devices, watching it on a TV is really easy.
I should point out that FuboTV isn't exclusively devoted to soccer. Through its channel partnerships, it also streams Major League Baseball, wrestling (Ring of Honor), World Series of Fighting, kickboxing and motocross and rallycross racing. On top of that, you get gameshows courtesy of GameTV, as well as movies and shows from the Paramount Network.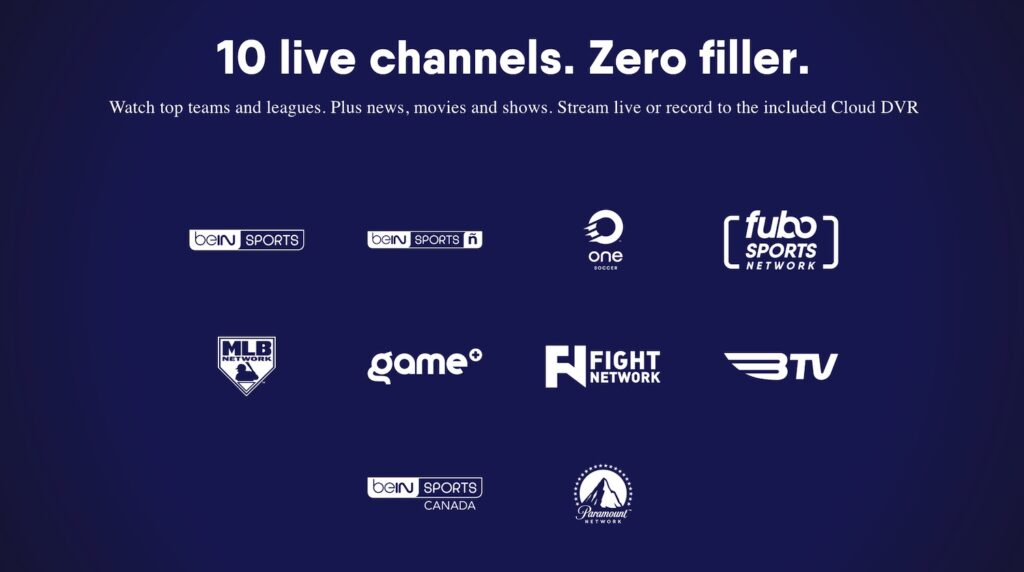 Leagues and channels FuboTV includes in Canada
The big presence here is European soccer, particularly with Ligue 1 from France, Italy's Serie A, the Turkish SüperLig, and all games Benfica plays in Portugal's Primeira Liga. That also includes Coppa Italia, the annual tournament for club teams in Italy, Conmebol Libertadores, an annual tournament in South American club teams, and Conmebol Sudamericana, a similar tournament, though not as prestigious as Libertadores. It also recently added the Canadian Premier League and matches from the Mexican Liga as well.
The bulk of all that soccer content actually comes from Bein Sports and Bein Sports Canada. Incidentally, you can access that through the Bein Sports Connect app, though as I'll demonstrate further down, the cost may not be as economical.
MLB Network does have some live games, but you have no control over which games air. Unlike MLB.TV, which offers all games via streaming, MLB Network is more about shows, highlights and analysis.
Fubo Sports Network is similar in that it does include Serie A and Coppa Italia, but is otherwise filled with various shows and highlight packages. Fight Network has its share of content devoted to pugilistic sporting events. GameTV and Paramount are focused on non-sports, making for an interesting combination. As of November 2021, it also added all the content from Curiosity Stream to the roster.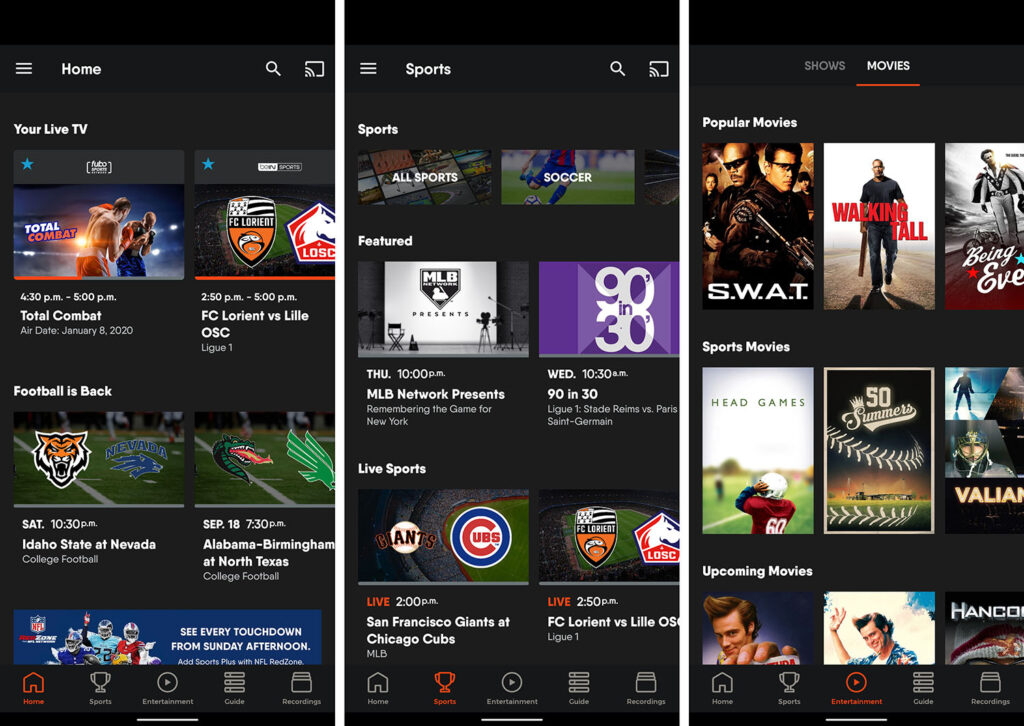 Devices FuboTV works with
The app works with both iOS and Android smartphones and tablets. The Chrome OS app also seems to work smoothly on Chromebooks. You can download the app on TVs and set top boxes running Android or Google TV. That includes certified boxes like the Nvidia Shield, but not necessarily the no-name Android boxes circulating out there. That doesn't mean you can't download the app on those boxes, just that the overall experience may not be as good.
You will also find the app on Roku, Amazon Fire TV and Apple TV devices. , though you can't get it on an Amazon TV device. At least not directly. For that, you would need to download something else, like FuboTV, which has its own subscription.
Compatibility does come with caveats, as noted by this list. The fine print shows that smart TV platforms and Xbox game consoles don't have access in Canada. You can watch on a web browser on a Windows PC or Mac. And with a Chromecast, you can also cast content over to a TV very easily from a Chrome browser or the mobile app.
What you get for free
FuboTV only offers a short 7-day free trial to test it out, though you are also effectively signing up to pay for the subscription once that period ends. The free trial gives you full access, so you can try it all out without any restrictions.
What you get as a subscriber
FuboTV actually doesn't tell you much about what it costs from the website. The $8.33/month figure is actually just breaking down the $100 annual subscription. Go month-to-month and it costs $15.99. Going the annual route is a huge savings, and is obvious why FuboTV highlights it more as the way to go, even if it's not patently obvious on the site.
One interesting aspect to the service is the Cloud DVR. A subscription gives you 250 hours of space in the cloud to record content. Don't want to miss a game? Record it in advance. There's no physical box, but if you've ever used a PVR before, you know how this goes. Anything the platform offers is up for recording, including soccer matches. Recordings never expire, either.
While highlight shows cover games after the fact, they aren't always readily available on demand. Some soccer matches are available in "90 in 30" format from Bein Sports, where you can watch a condensed broadcast of a match — typically one featuring popular teams.
Up to three devices can actively stream the service at once. That's great for families and friends sharing the cost. It's worth taking the time to also peruse what's available because there is a lot of content tucked away. Documentaries, nature shows, and even news and talk is on there. Some have absolutely no connection to sports whatsoever, but are clearly included because of Paramount's presence. Hollywood movies are also easy to find.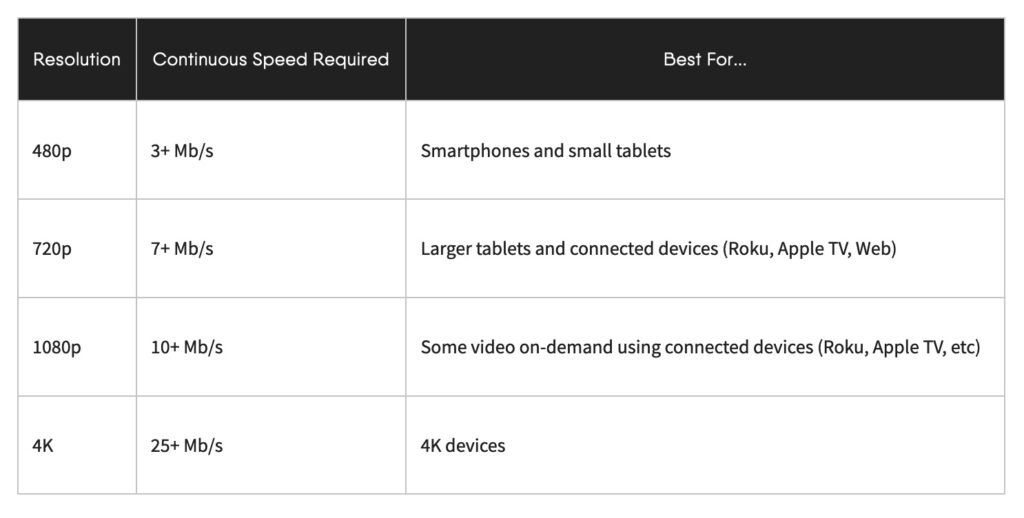 The kind of video quality you can expect
FuboTV streams in HD at 720p or 1080p resolution. There is limited 4K content in beta form, which it shows in a guide here. That content may also include HDR support for even better visuals, though your results may vary depending on connection speed and the screen you're watching on.
How much data Bein Sports Connect uses
FuboTV does chart how much data you can expect to use while streaming. The numbers are approximates for one device, whereas if up to three are doing it, especially from the same Wi-Fi connection, you will need a fatter data pipe to maintain the best quality.
Based on those numbers, you can see that using it on mobile data can add up, but there's no way for you to adjust it as you watch. If you want to stream in 4K on a tablet, for instance, you may not get that. Image quality adjusts based on what kind of speed you have.
To check how much data the app takes up on your iPhone, go to Settings>Cellular and swipe down to FuboTV on the list. For Android phones, go to Settings>Apps>FuboTV to find out.
Compared to the competition
The $15.99/month fee is only $1.00 more than Bein Sports Connect, which doesn't give you as much content. That makes FuboTV look like a bargain, especially when you factor in the breadth of content available, even if you aren't into all of it.
Then there's DAZN, which has the English Premier League, Belgian Pro League, Champions League, Europa League, UEFA Super Cup, Major League Soccer and women's soccer competitions. If you're looking for La Liga, that went over to TSN Direct. That's all on top of NFL Game Pass and the same MLB Network access FuboTV has. Not to mention the various other sporting events it offers. For that, you pay $20/month.
I've found both FuboTV and DAZN to be more consistent than Bein Sports Connect. There are fewer drops and no weird errors. They're not perfect, mind you, but for the most part, they run smoothly. FuboTV's advantage is that it doesn't have to add content so much as it just tries to add channels. Bring in the channels, and the content comes with them. The model works, and it will be interesting to see if it can secure rights to other sports and leagues going forward.