TSN has been synonymous with sports in Canada since the 1980s, and the network has a streaming option, should you want to tune in at your convenience.
The timing couldn't be better with the Euro 2020 tournament finally taking place after being postponed last year amid the pandemic. TSN has long been a staple of cable TV, but the app can bypass all that if you're just looking to stream directly from its broadcast feeds. Since it runs more than one channel, all of those would be at your disposal.
If you've ever streamed from a sports service before, you know how convenient it can be to tune into a game from almost anywhere. DAZN has staked its own place in Canada, thanks to its rights to NFL, MLB, and various soccer leagues. But it doesn't have Euro 2020, nor golf, hockey and other sports, so there may be something appealing here.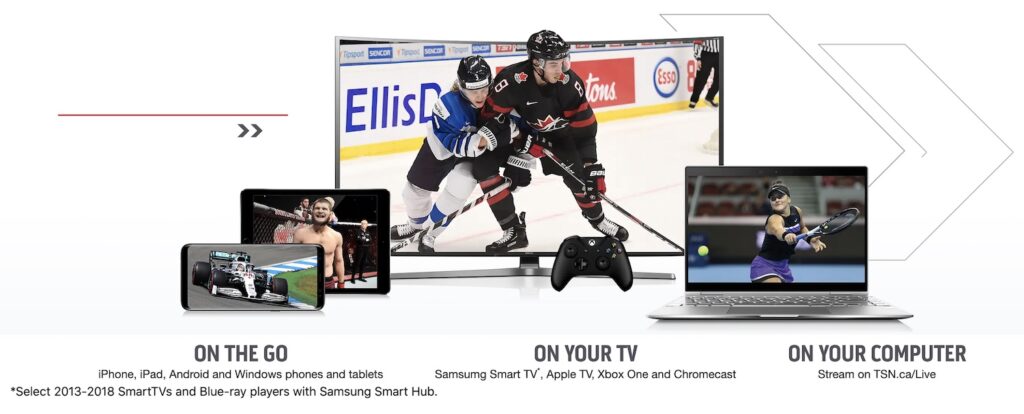 Devices TSN works with
TSN has expanded support over time, and there is a nice mix of devices to use, albeit with some missing. There are apps for iOS and Android on the mobile side, along with browser-based streaming on any computer, be it Windows, macOS or ChromeOS. There is a TSN app on ChromeOS, though it may not be optimized for Chromebook screens, so a browser may be the better bet.
On set top boxes and TVs, Samsung smart TVs have solid access, but things change with other vendors. The main reason why is because TSN (or parent owner, Bell) hasn't developed a proper app for platforms like Roku and Google TV. Apple TV models have it, but in order to push content over from the app to the TV using Android devices, you will need to use a Chromecast to manage that. AirPlay support means you can easily do the same from an iOS device or Mac to an Apple TV.
The Xbox One is the only game console TSN lists as being compatible. None of the Sony PlayStation consoles have a TSN app available.
What you get for free
TSN doesn't offer a free trial to try out the streaming service, so you will have to sign up and commit to paying for however long you've decided to partake. You can cancel anytime, but that would only kick in when your paid subscription period ends. No refunds if you've had a change of heart before that time is up.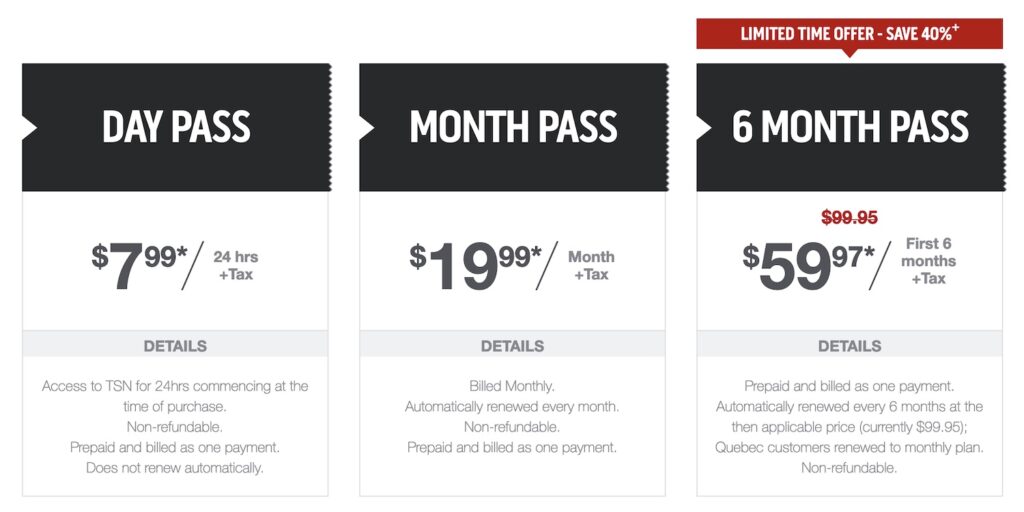 What you get as a subscriber
There are two ways you can join up, and TSN has names for each one. This where things can get confusing because the network does a poor job delineating between them. If you're signing up and gaining access through your TV provider, that's called TSN GO. If you sign up directly from the app — without a TV subscription involved — then that's TSN Direct. Make sense?
As a TV subscriber, you don't pay extra to access TSN GO, as it's included in your monthly bill. As a separate TSN Direct subscriber, you're looking at three different tiers. You could go with a Day Pass for $7.99 to cover a 24-hour period. That would be ideal if you only wanted to tune in to a certain sporting event or big game.
If you wanted to go monthly, you're looking at $19.99 every 30 days. It's a recurring fee that renews each month unless you cancel. You could also pool resources and commit to a longer stretch. That is to pay $59.99 for a six-month pass, effectively lowering the amortized cost to $10/month plus taxes. Bear in mind, this is a promo price because the usual cost is $100 for the six-month period. And the promo is only for the first six months. If it renews at the end of that period, you're on the hook for the full $100.
TSN does use location data on your devices for two reasons. First, it geo-blocks the service outside of Canada, so you won't be able to stream abroad. You can try and see if a VPN can get around that, but I suspect your mileage will vary. Second, regional blackouts apply for certain games. If you're in a region of Ontario or Quebec that falls under the Canadiens, Maple Leafs or Senators, you may not be able to watch that game outside that region. Basically, blackouts apply exactly the same way they do through TV providers.
You're allowed to stream on up to two devices simultaneously. That does not include watching from a TV subscription, only those you're actually streaming from online. TSN GO and Direct are also only in English. RDS runs a French equivalent of the same service for Francophone viewers in Canada.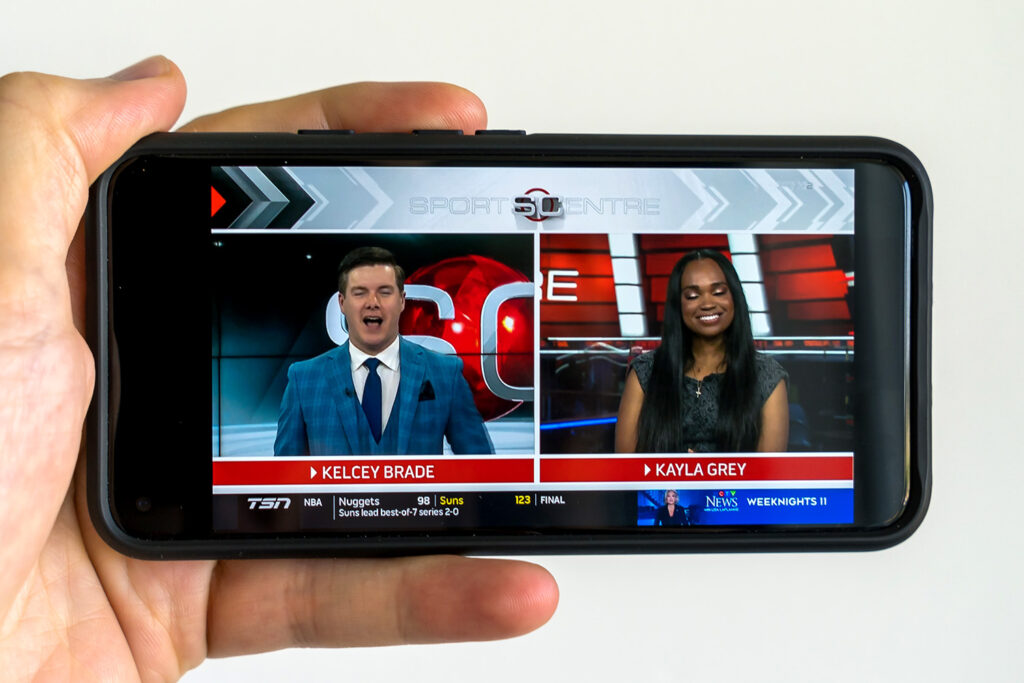 The kind of video quality you can expect
You won't be streaming in 4K here, so let's get that out of the way first. TSN is a bit mum on exactly what quality it offers, but based on what I've seen, I'd say it's either 720p or 1080p. Framerates are pretty steady, and I haven't encountered too many issues with lag or choppiness, so long as my connection was strong.
How much data TSN uses
TSN only provides an estimate of data usage, and to be honest, it feels out of date. It noted bandwidth between 300-900MB per hour, but that was in 2018, so I would err on the side of caution and look at 1GB or higher. Granted, at 720p, the lower numbers may be accurate, but it's hard to tell unless you clock the data usage in the iOS or Android settings on your device.
The challenge is you can't adjust the quality on your own. The only thing you can do is choose whether you want to also stream on your data connection. By default, TSN keeps that option off, leaving it only to Wi-Fi connections, but you do have the choice to stream over data, if you like.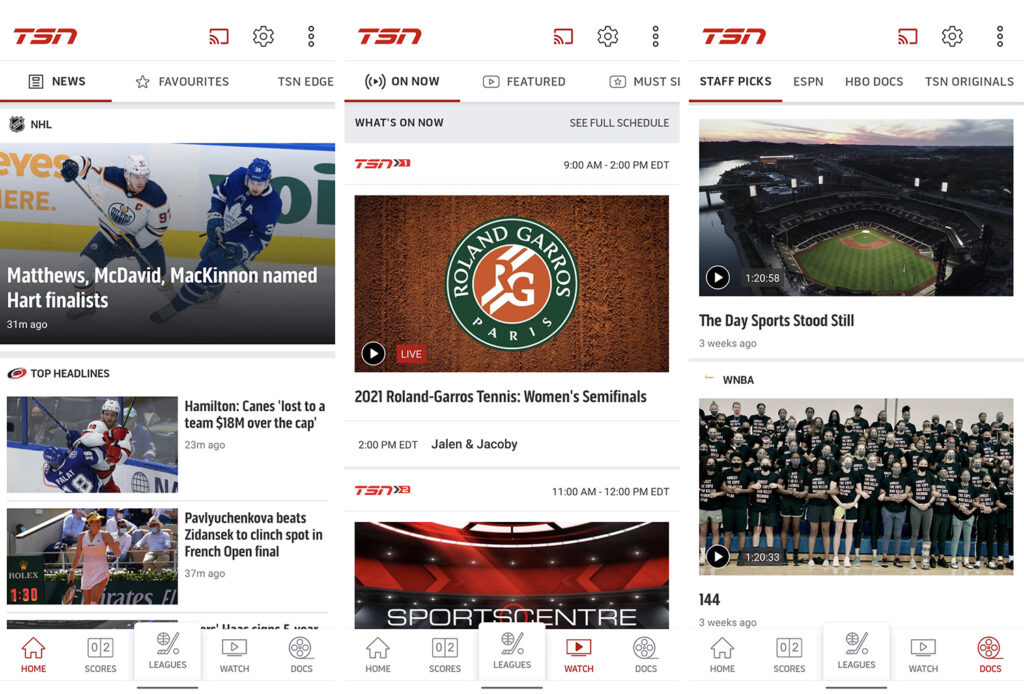 Assessing the value of what you get
TSN GO and Direct are the same product, meaning they show the same content you would otherwise be watching on the TV channels. The on-demand part of it is neat in that you can catch up on an episode of SportsCentre, or check out one of the many documentaries the network has produced over the years.
When it comes to live content, it's all about who's playing and at what time. Sports is the last bastion of appointment-based TV, and that largely applies to streaming games, too. The Euro 2020 tournament is a good example, with two or three games per day for the first two weeks. There's also an abundance of golf and tennis coverage, including big tournaments, like the PGA U.S. Open and Wimbledon.
You would have to be a big fan of a certain league or sport to maintain a steady subscription, which is why the Day Pass and monthly tiers are still there. Otherwise, at regular price, you're looking at $200 plus tax for the year (barring any promos). That's if you sign up for the six-month tier. Depending on which province you live in, it pushes the cost to a range between $15-$19 per month.
Does it make more sense to be selective? Like, paying for one month to catch the whole Euro 2020 tournament? Or to do the same with a tournament or season in another sport? Depends on what you prioritize most, but the fact it's easy to do makes it an enticing way to go.