Is there someone wonderfully techie on your list this holiday season? They're always the most difficult to buy for, aren't they? Thankfully, as a bunch of nerds ourselves, we understand how difficult it must be to get us the right gift. So, we partnered up with Philips Hue to recommend some gift ideas that should help light up the face of any tech lover on the big day!
Our first stop is of course the Philips Hue website. They have all sorts of smart lighting products that fit anywhere in your home. And, when it's time to pull out the credit card, you can purchase from their website or Amazon. You can also head to your favourite local retailers like Home Depot and Best Buy. Just in time for the holidays, and before December 16, 2021, you can save 25% off when you buy two or more products from the Philips Hue Store.
When combined with the Philips Hue Bridge, the possibilities widen, allowing you to integrate with your Spotify music and your home entertainment system.
To help you figure out which Philips Hue products your gadget geek will love, we've created this helpful video.
We have to admit that smart lighting products aren't always on our top ten list. There is so much tech to talk about these days. But, when they come from someone we care about, it's hard not to fall in love with them once you give them a try.
Below are some helpful links to where you can purchase these products and get them under the tree as soon as possible.
Philips Hue White & Colour Ambient Starter Kit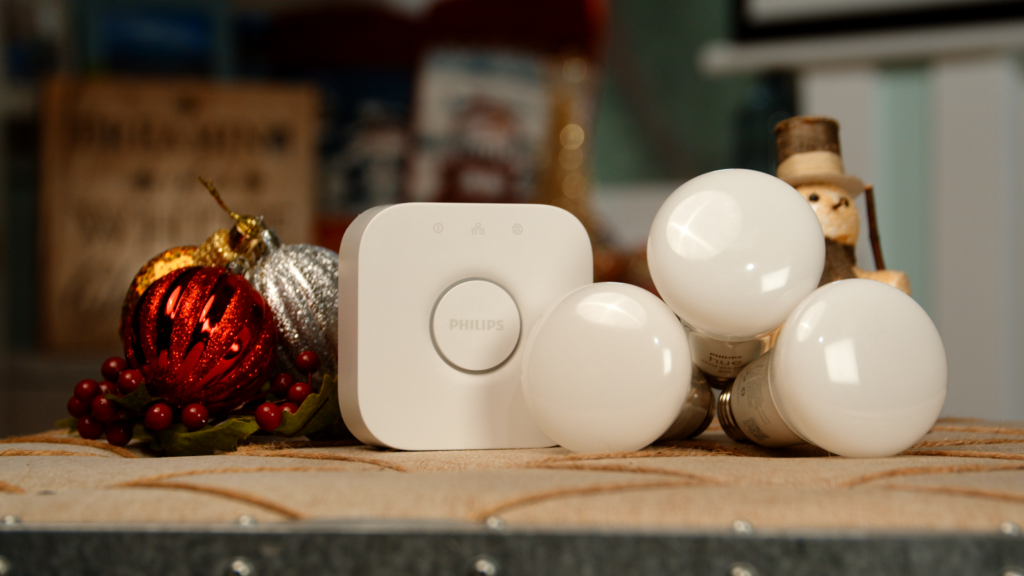 Price: $199 CAD Where to Buy: Philips Hue Store / The Home Depot
Even seasoned techies like ourselves need to start somewhere. The Philips Hue White and Colour Ambient Starter Kit 75W is an absolutely fantastic first step into the world of smart lighting. This kit includes the Philips Hue Bridge along with three colour LED bulbs. That means you can create ambience and atmosphere with any colour you want.
We absolutely adore this kit because it's one of the best values in the Philips Hue product lineup. It's where many of us picked up our smart lighting bug. Imagine how easy it would be to buy for someone if all you needed to do was get them a fun new Philips Hue bulb to play with each year?
Philips Hue Go and Iris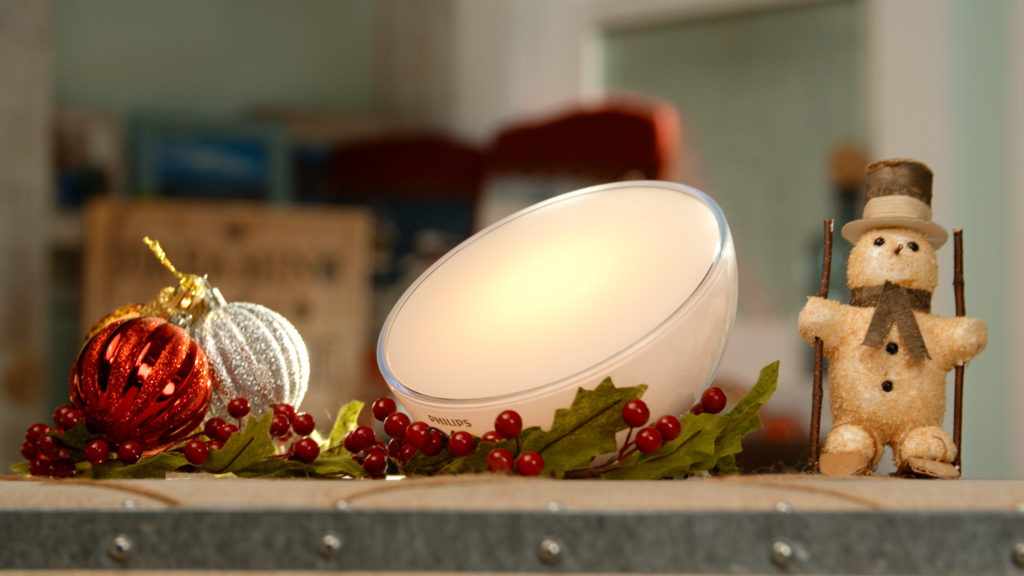 Price (Hue Go): $99 CAD Where to Buy: Philips Hue Store / Amazon / Best Buy / The Home Depot
Price (Hue Iris): $129 CAD Where to Buy: Philips Hue Store / Best Buy
Two of the most interesting smart lights in the Philips Hue lineup are the Go and the Iris. Both are unique LED lamps that add an amazing boost of colour and ambience to almost anywhere in your home.
Starting with the Philips Hue Go, this portable battery-powered device is rechargeable and can be placed in all sorts of places. From the inside of pumpkins, under your couch for mood lighting, to your nightstand. As you can see, you can pretty much put it anywhere, and it's controlled with the Philips Hue App like all the other smart lights. If you're using it as a nightstand lamp, the Hue Go can be set to gently wake you up in the morning.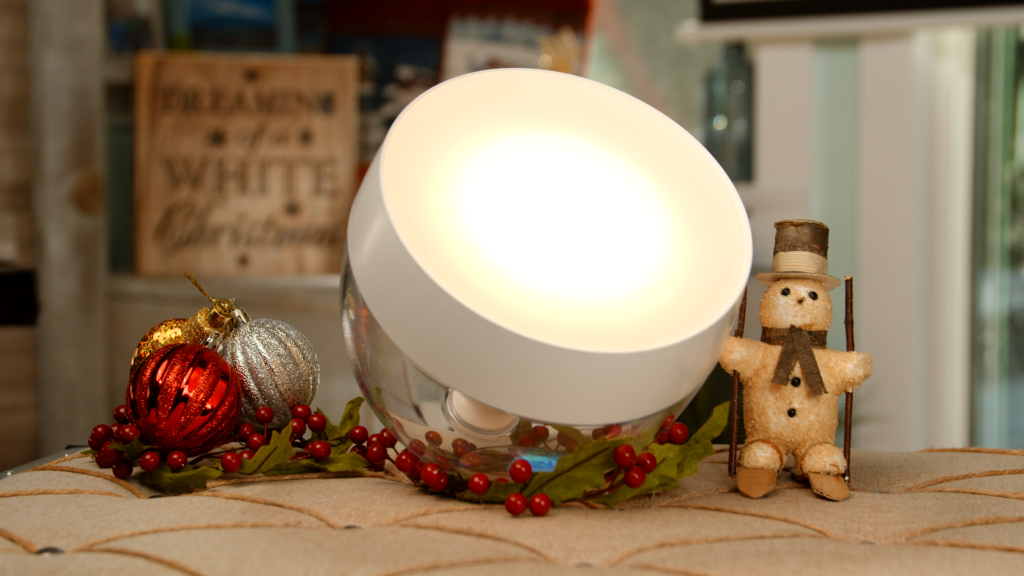 If you're looking for an even greater pop of colour for some extra ambience, the Philips Hue Iris is the one to go for. The unique design works on the floor as well. Once turned on, it offers a much wider and more powerful beam that helps paint the walls of your space in colour.
Both devices work with the Philips Hue Bridge which lets you explore a number of greater lighting possibilities. If you already have one of the Philips Hue starter kits, you probably have a Bridge. Connect them both and use the app to find your favourite colours and effects. They even work with Google and Alexa for more a hands-free operation.
Philips Hue Play HDMI Sync Box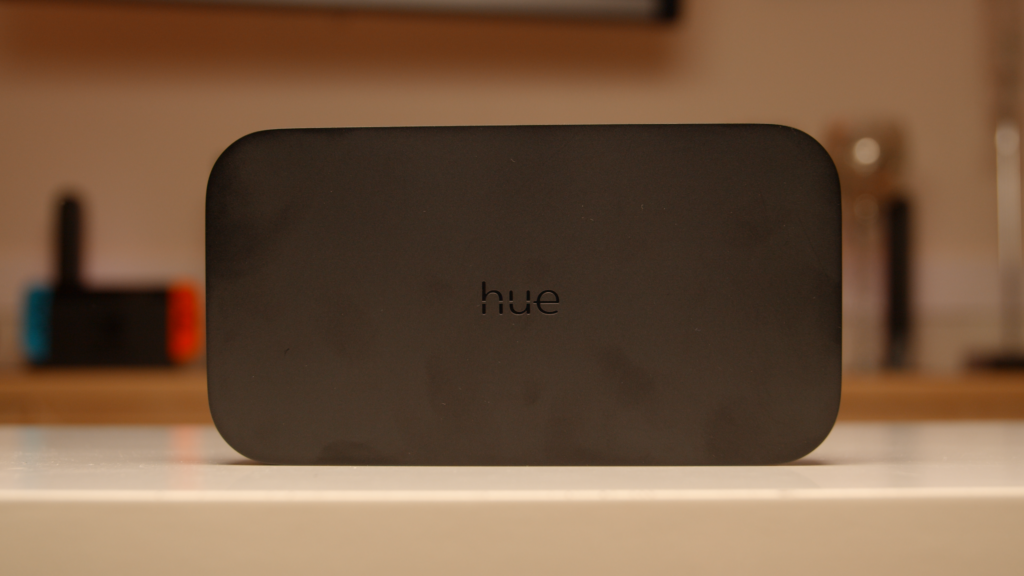 Price: $299 CAD Where to Buy: Philips Hue Store/ The Home Depot / Best Buy / Amazon
If you're looking for a gift for the ultimate entertainment, gaming, or music lover, then you have to get one of these under the tree!
The Philips Hue Play HDMI Sync Box is a unique product that gathers all your source devices like streaming sticks, game consoles, and even Blu-ray players, and gives them all the ability to use your Philips Hue lights to create a bigger than life experience. It does this by interpreting the content through the HDMI connection. Once the Play HDMI Sync Box is connected to your Philips Hue Bridge, you can then use the Hue Sync App to select existing lights in your setup and enlist them to sync with the content.
If the techie on your list loves movies and gaming, then this might be the product that impresses them the most. Netflix, Spotify and your matches on Halo Infinite, will be the most spectacular thing you might see in someone's living room.
Merry Tech-Mas To All!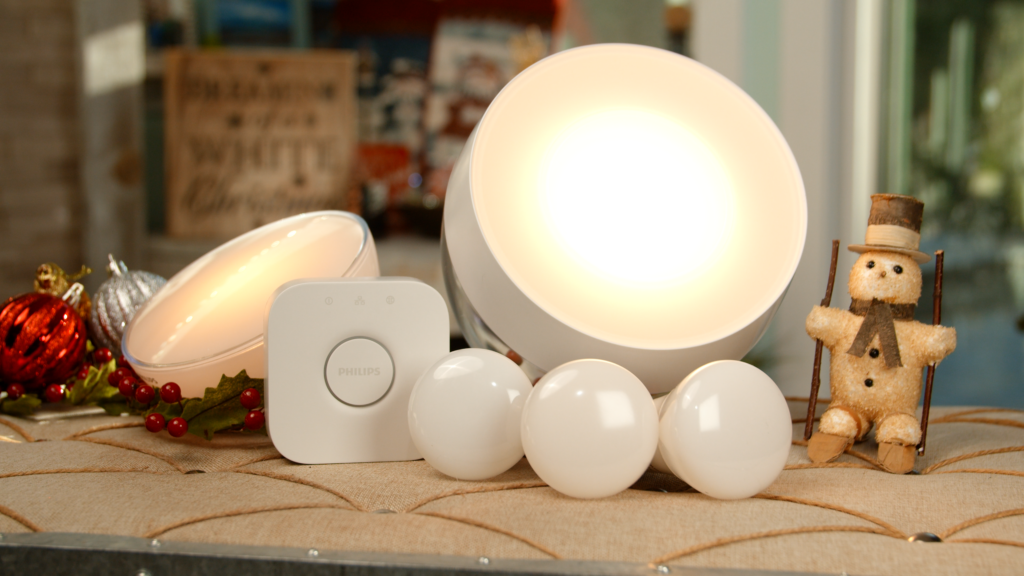 There is so much tech out there, but the most simple things, like the gift of a smart lighting system like the ones we've talked about from Philips Hue, might be what Santa ordered. The colours, ambience, and atmosphere that these clever smart lights create make anything better.
Whether it's for daily lighting, ambience, or entertainment, there will be something that will surprise and delight that special someone on the big day. And if you're still stumped for illuminating ideas, make sure you check out the Philips Hue online store.
Happy holidays!
More Gift Guides!