It's hard to compete with your neighbors. You know the ones. They've got the enormous inflatable pumpkins, tombstones, cobwebs, and smoke machines in their front yards. They might even have the Monster Mash cranked up to eleven. But there's another way to level up your Halloween, and it starts with Philips Hue.
Philips Hue has been offering their connected lighting products since 2012. They provide products that replace your existing lightbulbs allowing you to control them with your smartphone or smart assistant. From LED light strips that tuck effortlessly into tight spaces to lightbulbs that can add colour to any room, it's easy to get excited about the possibilities for Halloween.
We went to the Philips Hue website, where they offer an impressive array of products on their new online store. It's a great place to browse for ideas, and they're also available at retailers like Home Depot, Best Buy and Amazon. We selected a few products that would help us create a next-level spooky Halloween experience in the home.
Check out the video below to see how it all came together!
Isn't that an incredible transformation? With the ability to better control placement, colours, and even sync to music using Spotify, it's the ultimate way to make Halloween even more spooky.
Here are the products we selected to make it all come together.
Philips Hue Colour Ambient Starter Kit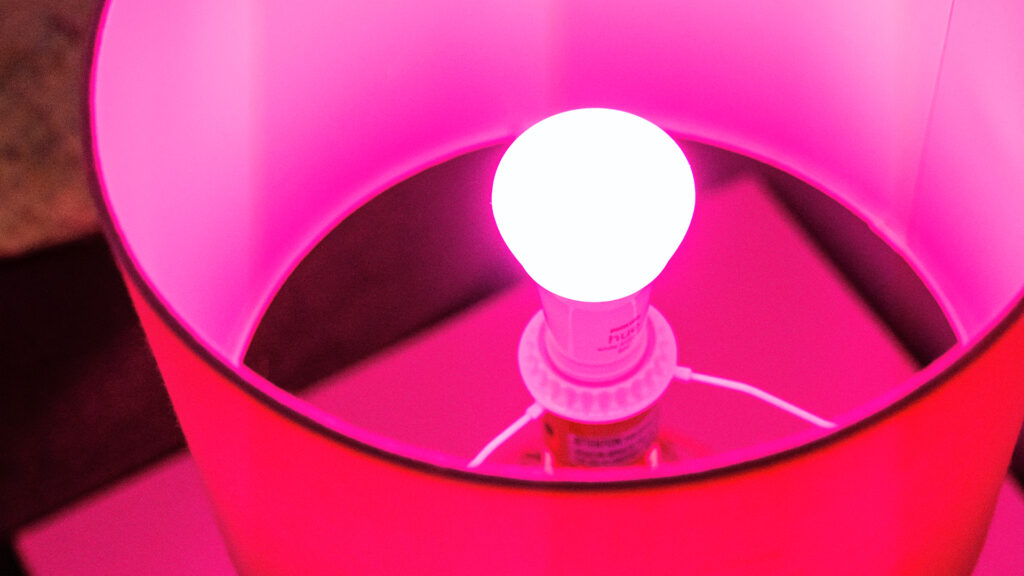 Price: $249 CAD Where to Buy: Amazon
The Philips Hue Colour Ambient Starter Kit is a popular way to get your feet wet in ambient coloured lighting. Philips gives you everything in the box, including four white and colour E26 bulbs that fit into your standard light bulb fixtures. The best part about this kit is the inclusion of the Philips Hue Bridge, which allows you to pair all your lights to it, giving you the maximum amount of control as you add more to your setup.
Philips Hue LED Light Strips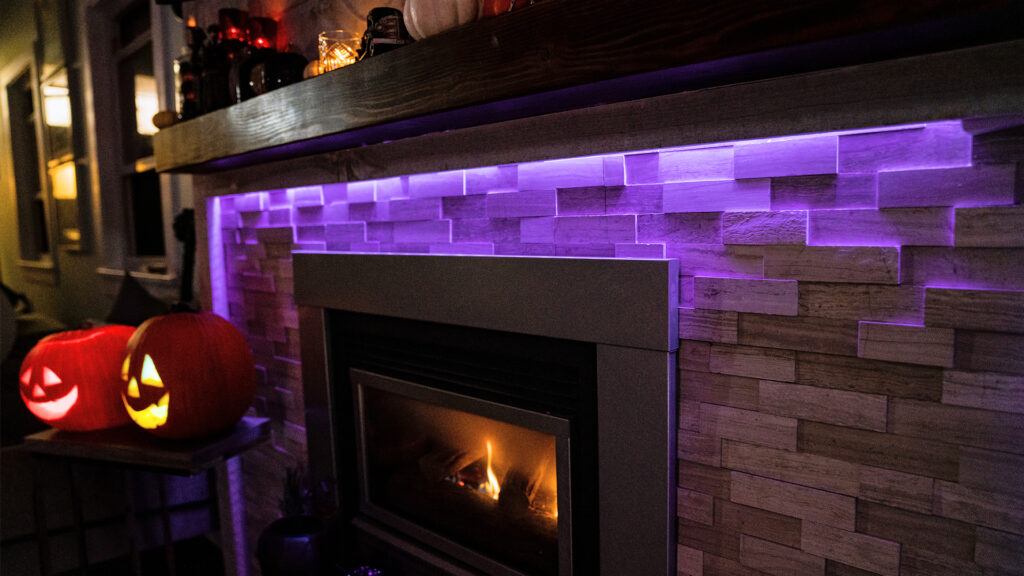 Price: $99 CAD Where to Buy: Philips Hue Store
Philips Hue LED Light Strips are a flexible way to add accent lighting to those tight spaces in the home. They are perfect for placement on shelving units and work well as an accent to your fireplace. Cut, shape, and extend them as needed. They dim instantly and are super bright at 1650 lumens. You can control the Hue LED Light Strips via Bluetooth, but they work best when paired with the Philips Hue Bridge, offering full configuration options.
Philips Hue Iris Table Lamp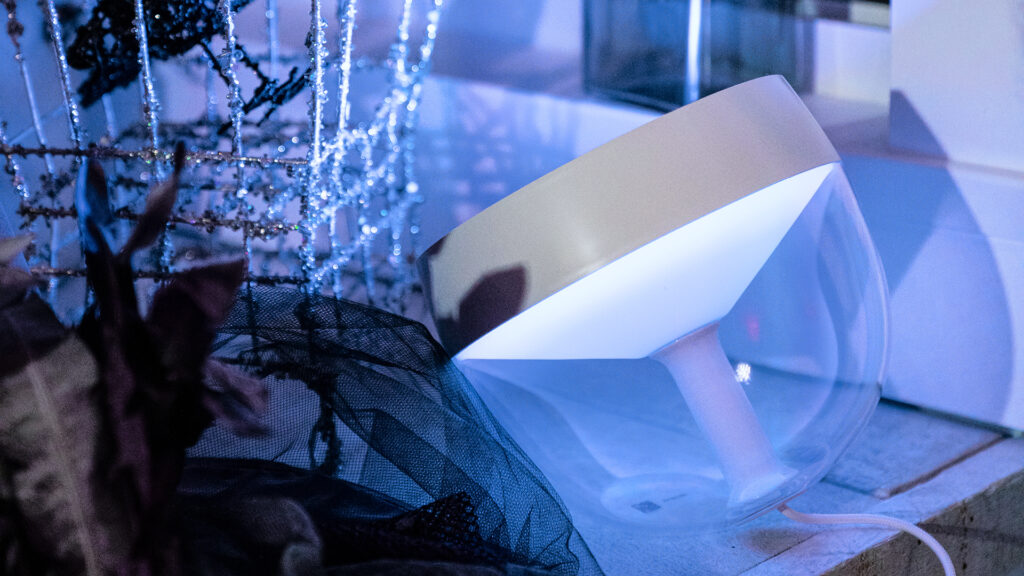 Price: $129 CAD Where to Buy: Best Buy
Accent walls are often used in homes to bring a splash of colour to the space. But what if you could have a new splash of colour anytime without painting? The Philps Hue Iris Table Lamp can accent a wall in any number of colours, and it also works excellent as a connected table lamp without the colour. It supports Bluetooth and is 100% compatible with the Philips Hue Bridge, letting you use the power of your voice or app for an even more fun experience.
Philips Hue Go Portable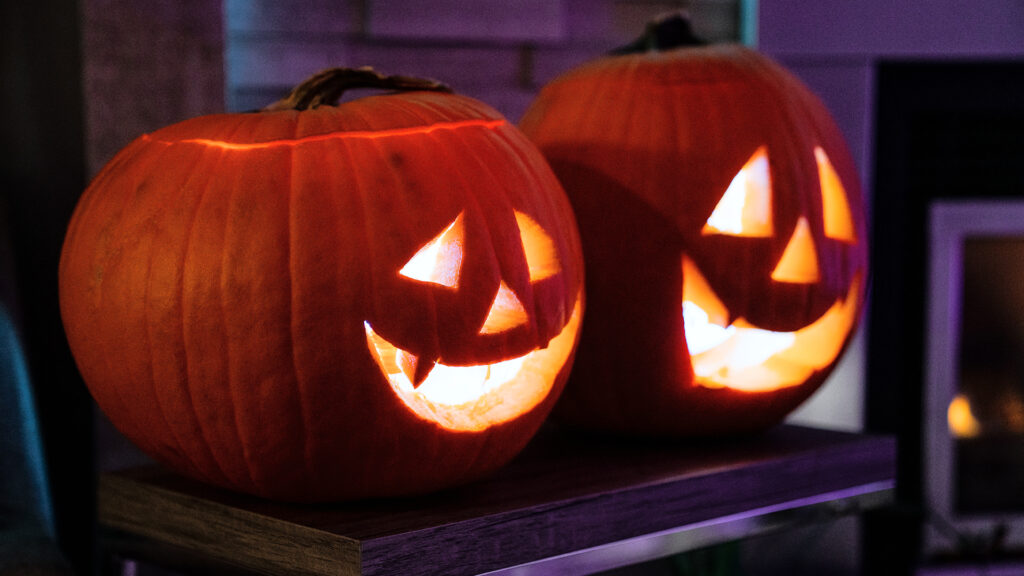 Price: $99 CAD Where to Buy: Philips Hue Store
Affectionately known as the pumpkin light, the Philips Hue Go Portable is a connected lighting product with many fun uses. Because it has a built-in rechargeable battery and a more compact size, we could fit it into a jack-o-lantern. Once there, we can customize the lighting from your conventional flickering candle orange to a multi-colour light show. Their portability offers creative experiences that we haven't even thought of yet. You can put them under your bed, your closet, basically anywhere that could use a splash of ambience.
Have a Spooky Halloween
It's incredible how we can transform a standard everyday space inside your home into something truly spooktacular. For us, it was as easy as one, two, three thanks to products from Philips Hue. From adding some flare to those jack-o-lanterns to giving your walls that burst of ambient colour, these Philips Hue products work so well together. With additional scenes and customizations in the app, you can make any setup your own.
Want to compete with that Halloween-obsessed neighbour? Philips Hue also offers a wide array of lighting products for the outdoors as well. You can find them all on the Philips Hue online store. Add some tasteful decorations, a fog machine, and Monster Mash synced to your Philips Hue products with the Spotify integration, and your neighbour will be no match for you.
Are you looking for more ways to put the scare into your guests? Go to the Philips Hue Halloween page for more inspirational ideas.