Talking to a voice assistant in your car isn't new, but Amazon's Alexa is finally starting to come built-in for certain vehicles.
One of those is the 2021 Chevrolet Trailblazer, which GM chose to be the first in Canada to get both Alexa and wireless Apple CarPlay and Android Auto. These features come as part of the Technology Package on the ACTIV and RS trims, which are equipped with the new Chevrolet Infotainment 3 Plus system. The system in the base LS and LT Trailblazers don't support Alexa.
It has already come built-in to some vehicles in the United States, finally debuting in Canadian variants this year. Mind you, drivers have been able to retrofit their cars with Alexa by using Amazon's Echo Auto. The big difference is that this is a full integration — no extra device necessary.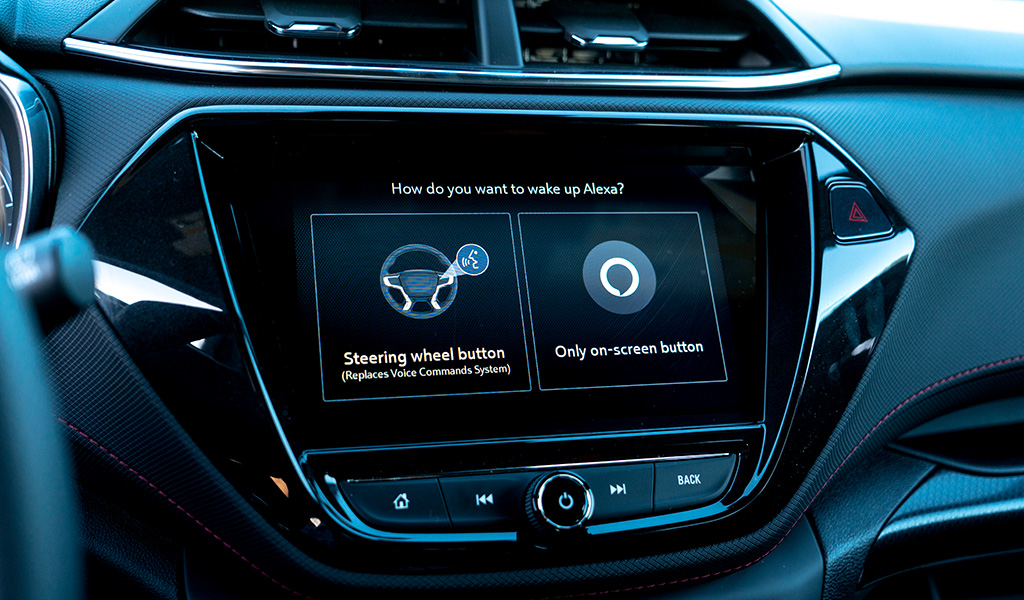 Setting up and talking to Alexa
To GM's credit, it made the setup process painless and foolproof. All I had to do was go to the App section on the car's screen, download the Alexa app and scan the QR code by pointing my phone's camera at it like taking a photo. Once I logged into my Amazon account it added the Trailblazer to my Devices list.
From there, its screen presented me with the option to either map Alexa to the voice button on the steering wheel, or access it from the screen instead. I tested both, and found the steering wheel more convenient because it was fewer steps than going through the screen. Moreover, you can't wake it up by saying, "Alexa," like you would at home on a speaker. That's why GM offers those two options.
Choosing the steering wheel voice button effectively replaces GM's own in-car voice recognition, which is by design. It's able to do the same things, like phone calls, tuning radio stations or asking for directions. Since the vehicle has a SIM card, this built-in Alexa can access the cloud like it could at home (over Wi-Fi), so on top of controlling certain features in the car, it also does much of what it would do at home.
For instance, I was able to control my Alexa-enabled smart home devices with ease. I turned on lights before arriving home, pushed music to a speaker and set reminders. If I had a smart slow cooker or some other appliance, I could get that going, too. With the Chevrolet Skill through the Alexa app on my phone, I could also remote start the car and set the climate inside before even getting in. Unfortunately, I wasn't able to test that part because I was missing a Chevrolet account, but GM says it is good to go for consumers who purchase the Trailblazer and register a free account.
It was nice to get weather reports, news bits and even access podcasts on-demand. There are a few limitations, however. This in-car Alexa iteration doesn't support Drop-in, meaning you can't use the car as an intercom to communicate with an Alexa speaker somewhere else. The same is true of phone calls, which you can normally do freely between Amazon Echo speakers.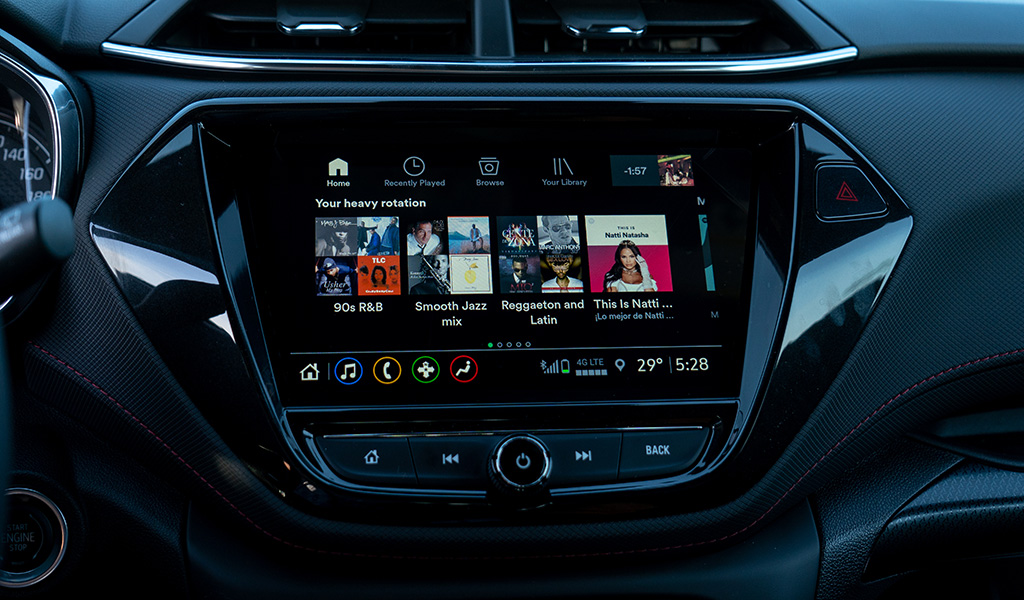 Alexa and Spotify
GM also includes a Spotify app in the new system, and a big reason for it is Alexa's presence. For a long while now, the voice platform has integrated well with the popular music streaming service, making it easy to verbally request a song, artist, album or playlist. Since 2018, it's been possible to also do that (to an extent) as a Spotify Free user.
For the most part, it worked pretty seamlessly. As a Premium account holder, I had an easier time using it, much like I often do at home. Super convenient to be sure, though I did run into an interesting snag.
Anytime I asked for a playlist that started with a number, it would never get it right. For instance, I said, "play '90s R&B playlist' on Spotify," only to hear it say, "playing 'Early R&B playlist" instead. This repeatedly happened with other playlists starting with numbers, so I tried renaming them by putting words in front. No dice. It always got them wrong, no matter how I renamed them. I then tried starting a brand new playlist starting with a number, and that didn't work, either. It was even stranger because all other non-numerical playlists played perfectly fine by voice.
A bizarre bug that defied explanation. Alexa always got these playlists right at home, so what was the issue in the car? I addressed the problem with GM and Amazon, but have yet to get a concrete reason for why it happened. I'll update this review once either company explains what's going on.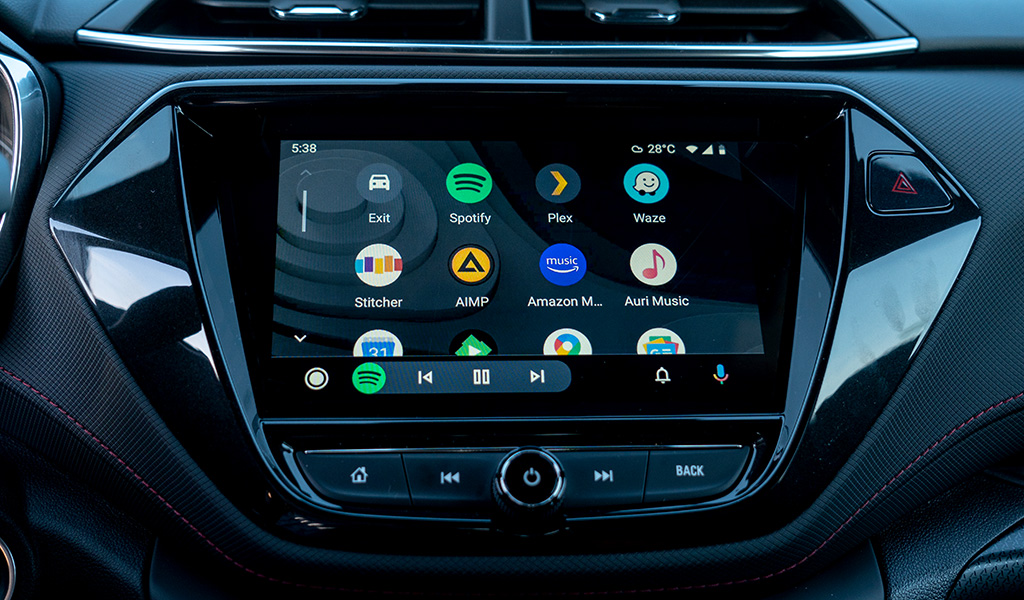 Wireless CarPlay and Android Auto
GM isn't the first automaker to offer wireless connectivity for either Apple's or Google's automotive platforms. Still, having it makes a big difference. It isn't just the convenience of not having to plug in via USB, but also the ability to make proper use of the Qi-enabled wireless charging pad inside.
Basically, when first setting up CarPlay or Android Auto, the Trailblazer paired with my phone via Bluetooth, and in the background, also set up a Wi-Fi Direct connection to create a wireless data pipe between them. The end result was an unfettered phone with either of those platforms running on the 8-inch infotainment display.
Unlike Alexa, you also get this functionality in the LS and LT trims. Nice of GM to not be frugal with the available features. As long as your phone can run CarPlay or Android Auto, you can go wireless in any 2021 Trailblazer.
There is one USB-A and one USB-C port, and either one works as a hardware input. In other words, if the driver is running CarPlay wirelessly from their iPhone, the passenger can plug in an Android phone to charge — and then run Android Auto from the car's home screen. It will bump CarPlay in that case, but it means there's some flexibility in whose device gets screen time.
Ironically, those Spotify playlists that gave me trouble with Alexa were no problem for Google Assistant and Siri. A long press of the steering wheel voice button triggers the corresponding voice assistant, and I had to resort to using them for those specific reasons.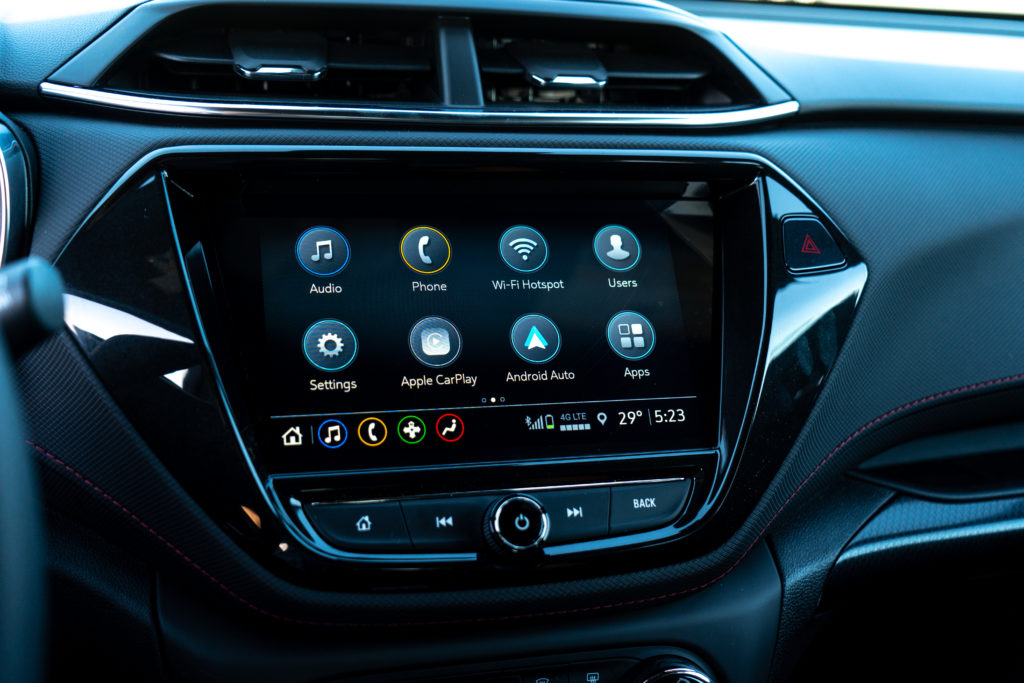 The in-car hotspot
There's also the in-car Wi-Fi hotspot for another convenient perk, except it won't really feel like it when you see what the data costs. The prepaid plans are $15 for 1.5GB, $35 for 5GB or $70 for 11GB. The data only lasts for a month. GM cut off an older plan that allowed drivers to buy 20GB that was good for up to 12 months. If you have kids you want to keep occupied in the back, paying these prices may be worth it for the sake of your sanity, but that's for you to decide.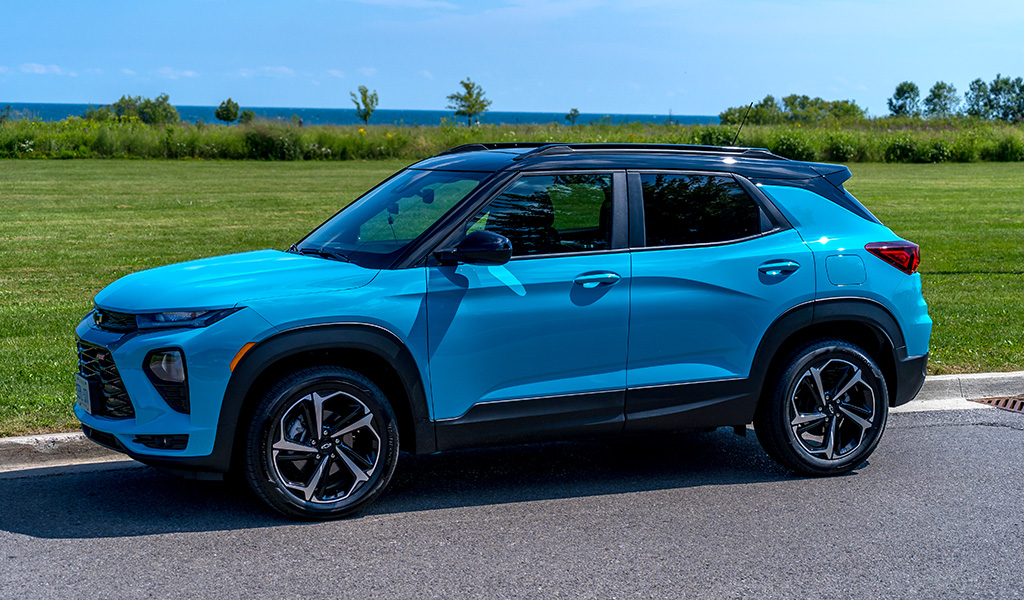 A sign of things to come
What GM did here isn't ground-breaking, but it is emblematic of where the auto industry is headed. Features like wireless CarPlay and Android Auto used to be for luxury vehicles. Now, the Trailblazer, which starts at $25,000, has it. Alexa does come with a premium, though it's Canada that was late to the party for Amazon's voice assistant. GM says it will put both of these features into more vehicles under the 2021 model year, so the Trailblazer will have lived up to its name by blazing that trail.