Whether you're running a small business with employees or doing it yourself as a sole proprietor, a good email host can be an important piece of the puzzle.
This is what Zoho Mail aims to be, and if you've never heard of it, it may be worth a look. The general idea is that you're going in a different direction than a typical Gmail, Microsoft, Yahoo or any of the other standard email hosts. Those all have their uses, but when you want to have a unique email address and mailbox all their own, it's better to look elsewhere.
I'm speaking from experience myself because I felt it better to have a unique email. As a freelance journalist, I'm not employed by any particular organization. So, there's no custom email address available to me. And even if there was, it wouldn't be ideal when communicating with different clients. I gave Zoho a chance back in 2014 and have seen an evolution along the way.

Trying out Zoho Mail
But first, what can you expect now? Zoho offers a 15-day free trial for its Mail Premium Plan, but before you commit to that, you do have something else to try first. The Forever Free Plan covers up to five users with up to 5GB of storage for each one. They can access their inboxes from a web browser or the mobile app on iOS or Android. There's also a desktop app for Windows, Mac and Linux if you want your email that way.
Zoho does point out that it doesn't support IMAP, POP and Active Sync under this plan. Nor does it allow for email attachments larger than 25MB. Moreover, email hosting is limited to a single domain, which is why I can't recommend it for those working in a business with others.
For that, the Mail Lite plan starts at $1.25/month per user and opens things up to include multiple domains, offline access, IMAP and POP syncing and attachments can go up to 250MB, among other features. If you expand storage per user to 10GB, then the price goes up to $1.57/month per user.
Mail Premium may make the most sense if your inbox tends to fill up fast because it expands storage to 50GB for $5/month per user. Attachments can go up to 1GB in size, there's email backup and restoration, as well as archival options. The best part is this is the plan you can test out for the 15-day trial.
If your needs are more substantial, you could try the Workplace plan at $3.75/month per user. It's a lot more extensive because it also includes an office suite of apps and tools.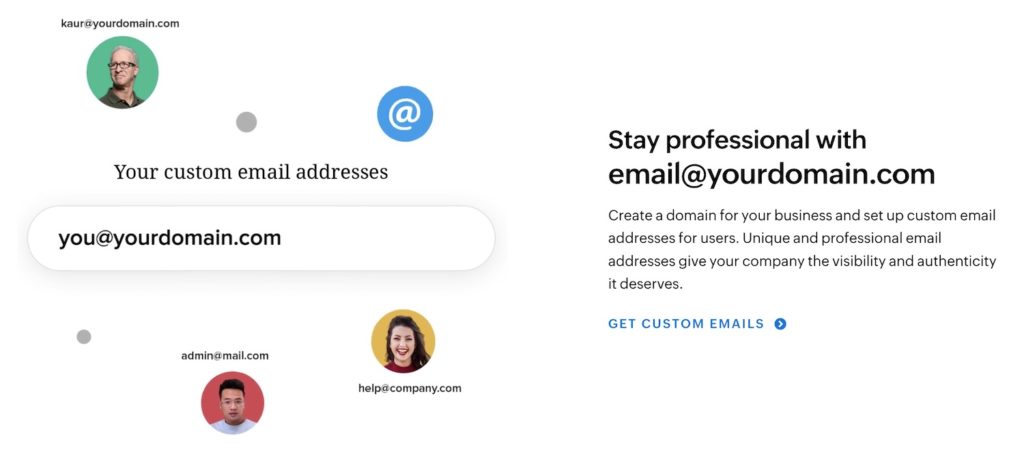 Getting started
To set up an email account, you do need to set aside some time to get things in the right order. For instance, when you sign up for an account, you do it with your domain name and certain details to establish a link between you and the account. You don't necessarily have to have a website to do this, but it does make the process a little easier. The reason why is because Zoho looks to connect with your DNS manager, which you would need to log into separately.
If it already sounds complicated, it's not based on how Zoho handholds the process. Step-by-step guidance simplifies things, and it's easier now than it probably was in 2014. The verification process does take a good hour to complete when factoring in Zoho's end of the deal.
Part of the reason for all the digital red tape is to ensure your email address isn't treated as spam when you start using it with contacts. The DomainKeys Identified Mail (DKIM) and Sender Policy Framework (SPF) act as keys to ensure that happens, but they also take time to verify, which is why your newly-created email may not be fully ready for a couple of days.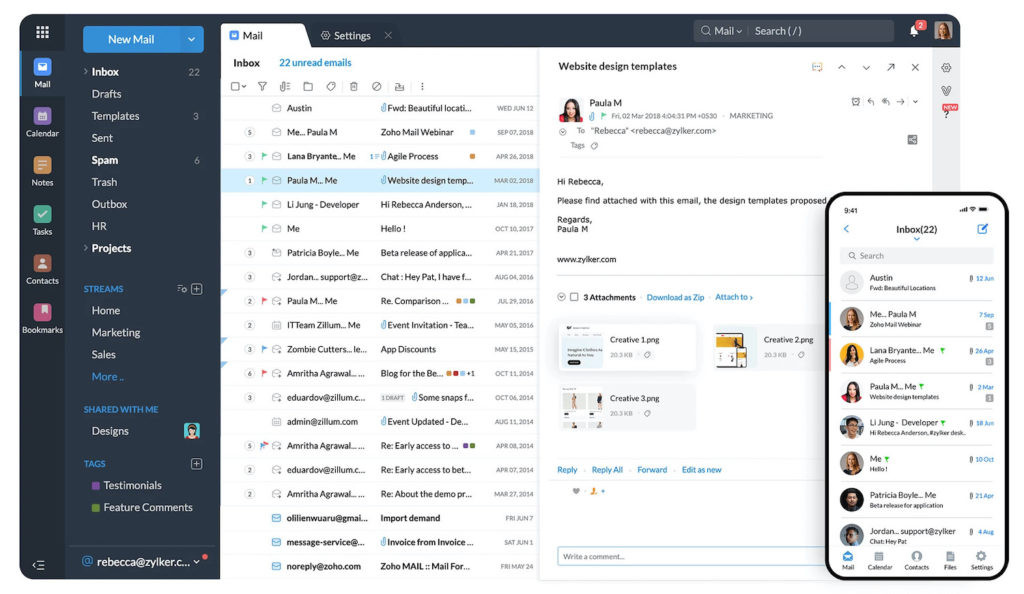 You've got Zoho Mail
One thing that works off the bat is that Zoho uses a familiar layout. If you've ever used webmail before, you will notice similarities in where everything is. The basics of reading, composing, attaching, replying, forwarding are all as you'd expect. Most things aren't hard to find, either.
To dig deeper, you do need to learn about some features. For example, the spam filter works, as is, but you can also expand it to look for more specific incoming messages. Once set, those messages will go to the folder of your choice. You could utilize this for more than just spam, but in any case, it's a tool that you may find useful.
There are also ways to collaborate should you be working with a team. Streams and Mentions use hashtags to include others into the mix without having to copy everyone on every email. Zoho's mail client also includes a chat section, plus channels to keep conversations separate when necessary. This way, whenever users are either on webmail, the desktop app or on their mobile devices, they can communicate in real time. It's no Slack or Microsoft Teams, but it's not bad once you get used to it.

Security
Zoho does offer a robust set of privacy tools that work in the background to stave off any would-be hackers. Nothing is bulletproof on the Internet, but since 2014, I've been fortunate not to experience any problems that way. It encrypts mail on the company's servers, including when messages are incoming and outgoing, so that malware doesn't snag anything in transit.
The company is also pretty proactive in recommending settings that help in that regard. If a new feature comes up that can strengthen privacy or security, Zoho might send an email to you about it.
I did mention spam already, and the thing about it is that it can miss what should be allowed through. This is oftentimes random, though may be a pattern if you notice it's emails from the same source. You can whitelist those to get them through, and I advise users to check their spam folders in case something went astray over there.
An email haven
It's not always easy to switch to a new email address and program, but if you are looking for something else, Zoho Mail is one of the best I've seen. It's independent of the Googles and Microsofts of the world, and has no ties to any other business but its own, which is business and enterprise software. Whatever your business is, a branded email address never looks bad compared to a generic one.
I didn't even go into the myriad of apps Zoho offers in its full suite, though will go over that in a future article. To me, Mail is one of the best forays into what Zoho offers. It's pretty user-friendly, widely accessible and offers a slew of custom features. If you like that, then you can always expand to the other Zoho apps once you've built trust.