Wearable technology is much more than fitness tracking and aesthetically pleasing subwoofers, it can also include clothing! On this week's...
Wearable technology is becoming more popular as we become more connected. Wearable jewelry is typically produced to look like jewelry,...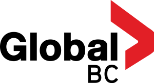 Every Wednesday on the Global News at Noon, and every other Monday on the Global News Morning Show, Get Connected and GlobalBC demonstrate new consumer tech and discuss what's going on in technology news.  
Watch Tech Talk for contest announcements, exclusive first looks at new gadgets, and even special discount codes for our viewers.