Recently, Mike and I went to Europe for the first product launch since the pandemic stopped pretty much everything.
Our correspondent, Ted, wrote about the products announced already, but I thought I'd share some thoughts about the event, travelling again and what we're looking forward to seeing. Mike and I summarized the product launch in a video, embedded below, to give you a flavour of what we saw.
As I mentioned in the video, it was interesting to see how Huawei's Experience Store was set up and despite being a retail store filled with product, still managed to be different than an Apple or the now defunct Microsoft Stores which would be the closest examples.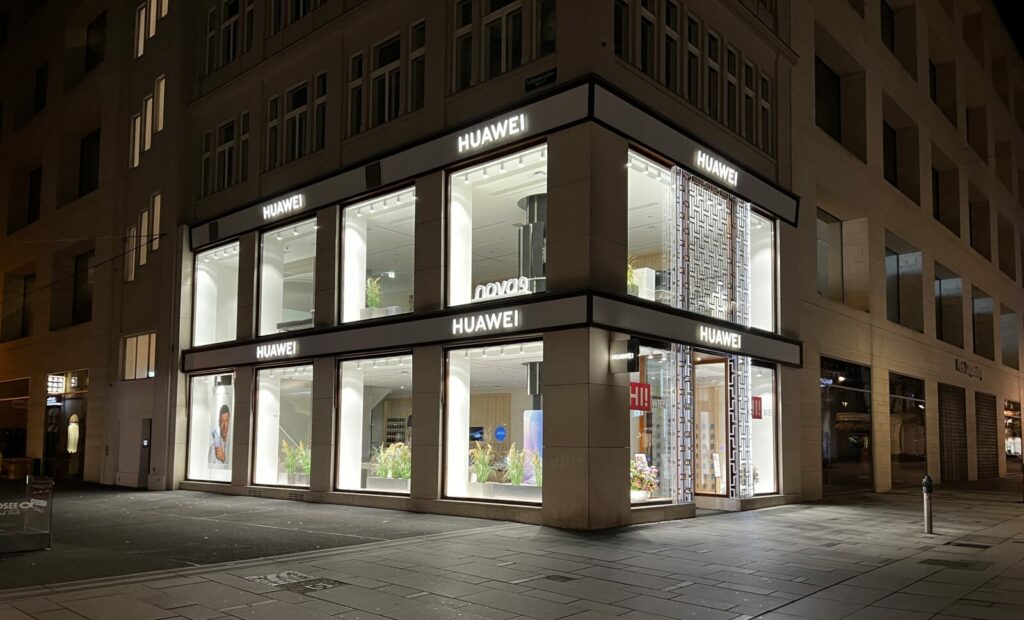 Aside from an array of products that aren't available in North America, they also featured a lot of other manufacturers products that run the Harmony operating system…products like smart fridges, stovetops, TVs and more.

I'm most interested in seeing some of the health related products come to Canada, including the smart scale. It's expected to be under $100 Canadian when it arrives and seems to be a pretty compelling scale in a space that has a lot of much higher priced competitors.
Travelling Again
This was my first trip outside of Canada since the pandemic hit in March of 2020. It's been hard to go from travelling literally every few weeks in 2019 to a full stop for over a year.
Aside from a few changes though, it felt great to be on the road again. The biggest change that a traveller has to deal with is wearing a mask for extended periods of time. The launch event was in Vienna, Austria which from Vancouver, BC is a 9.5 hour flight to Frankfurt, Germany followed by an hour long flight to Vienna. This meant we were wearing a mask for 12-15 hours on travel days, except when eating or drinking. A minor inconvenience for sure but something I haven't had to do for that long. The airlines are also very particular about the types of acceptable masks you're able to wear, with a FF2P (equivalent to an N95 style) being the minimum. So no comfortable cloth masks from Old Navy or similar which is what I've been wearing at home these past months.
Once we arrived in Germany (and Austria), we were also subject to vaccination status checks. This aspect of the trip was a little strange to me as, at the time of our travel, there was no internationally recognized vaccination passport. Everyone seemed to have a different set of paperwork or QR code to prove their status. Even Mike and I, both double vaccinated in the same province, have different paperwork. How any foreign government, airline or airport representative would be able to validate a seemingly random piece of easily edited/photoshopped documentation seems impossible. It's one thing to x-ray your luggage, it's an entirely another thing to verify your vaccination status is legitimate as things currently stand.
Of course, coming home also required some additional effort with Canada requiring a molecular or PCR Covid test, 72 hours prior to your return. Normally we would have done this in Austria shortly after we landed but on this trip, we extended our stay a few extra days to further explore Vienna and take the train and visit Budapest, Hungary for a further few days.
The PCR tests are readily available in most countries and we were able to get one for free through our hotel in Austria, but since we extended our trip, we had to use a lab in Budapest. We ended up spending about $70 Can to get the test. As well, we had to basically fill out a form in the ArriveCan app that the Canadian Government uses for travellers entering Canada. The app requires entering all your travel details (airline, dates/times, etc.) as well as uploading your vaccination passport (or proof of vaccinations) into the app. Strangely, you don't have to upload your actual test results, just check a box that you're carrying your test results when you travel. Our airline, Lufthansa, also required that we confirm all the same details before we checked into our flight home.
There was no shortage of people having challenges at the airport and trying to board a plane without having all these steps fully completed. Hopefully, some of these requirements will be dropped as the borders start reopening.
Like everyone, I'm just looking forward to things being 'normal' again.