Huawei unveiled a bunch of new products at its launch event in Vienna, including smartwatches, wireless earbuds and monitors.
Smartphones previously drove the company's Canadian presence, so the lack of handsets is certainly optically different. It's part of a transition phase, according to the company's executives, who say they're not only committed to smartphones, but are also likely to bring them back to Canada in 2022-23.
But the company, dogged by recent geopolitical tensions that aren't necessarily tied to its consumer products division, has continued rolling along in other markets, with steady European growth as a key driver. It's not just phones, but also accessories fueling that growth. And it all runs on the company's HarmonyOS operating system, which it is positioning to take on the likes of Android and iOS.
They have yet to truly fight that battle, and the event didn't delve into HarmonyOS at all. Huawei did lauch a phone for the European market (Nova 9), but otherwise, it was about accessories that will work with the (iOS, Android, HarmonyOS) devices users in Europe and North America already own.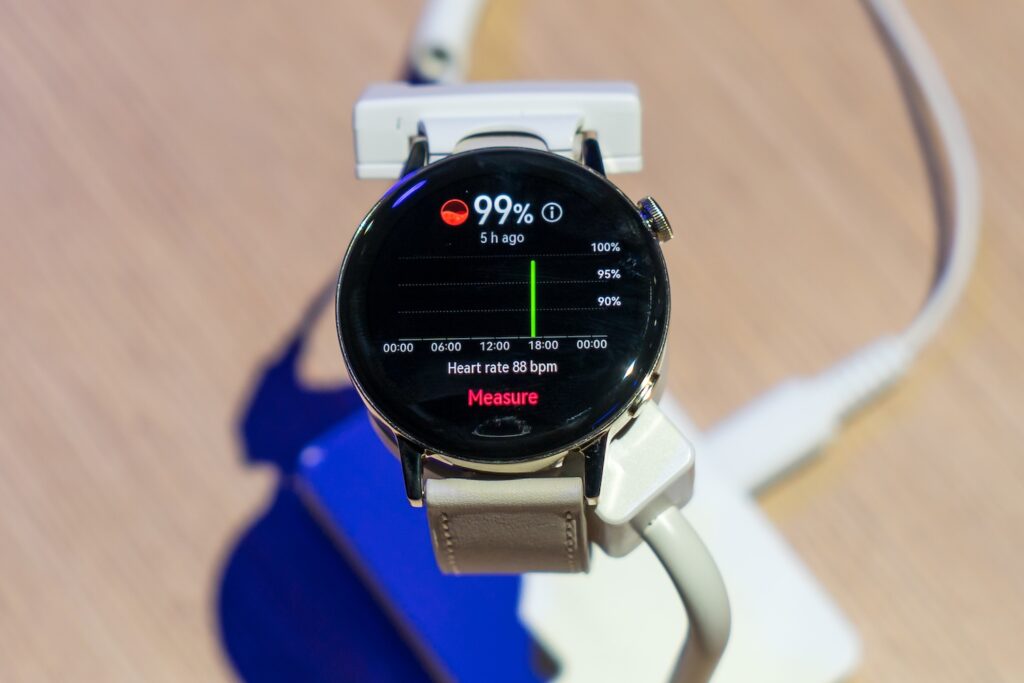 New Watch GT models
Huawei's smartwatches never ceased being available in Canada, and a new trio will be coming in time for the holidays. The Watch 3 Pro is a 48mm model that previously launched in other markets, so isn't entirely new, but will land in the Great White North, likely in November sometime.
It follows the same design language as its predecessor, though has a titanium body with sapphire glass screen. It also maintains the same lugs, so you can use previous straps. There will be new ones made of titanium metal, leather and rubberized silicone to personalize it further. Huawei rates battery life at up to 21 days, which is ridiculously good for a smartwatch, though there may be underlying reasons, particularly as it relates to the sparse app selection.
The brand new models are the two Watch GT 3 variants that come in 46mm and 42mm. The latter is geared more toward female consumers with its cleaner aesthetic that also reduces both girth and weight. The larger of the two retains the classic design of past models, and from a functional perspective, may not perform all that differently from the GT 2. Without testing it, there's no way to know for sure.
Huawei still has to finalize Canadian pricing, but to get a sense of what these watches may cost, the GT 3 (46mm) will be €349, whereas the GT 3 (42mm) will be €329. The Watch 3 Pro has been selling in Europe at a starting price of €399.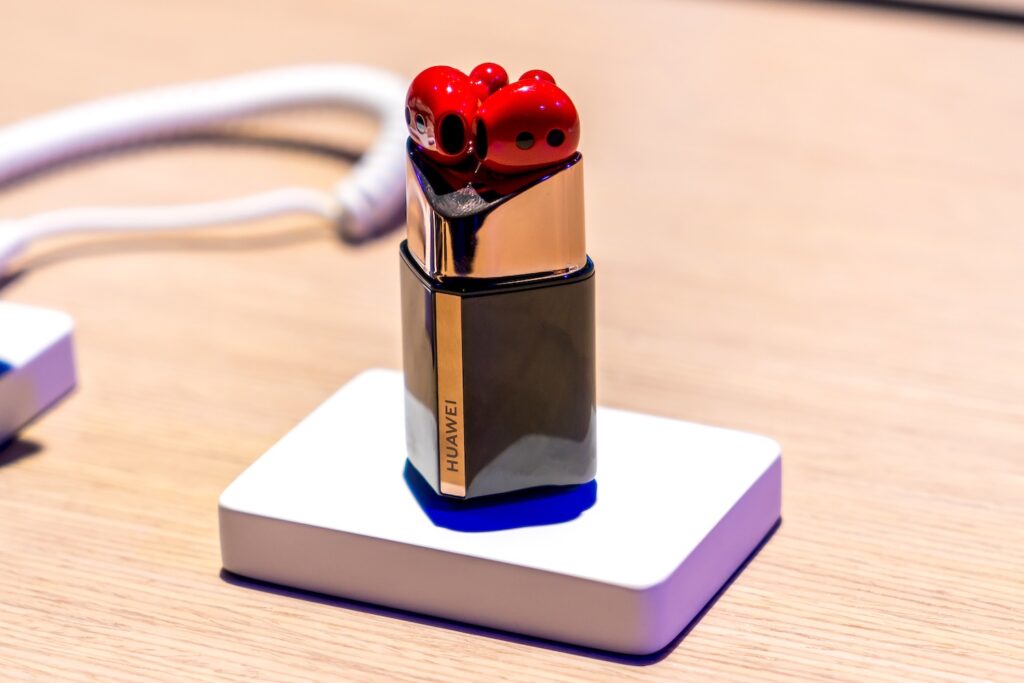 'Lipstick, Lipstick, Lipstick!'
Huawei's newest earbuds inspired by lipstick cases may have stolen the show, to some degree. The new FreeBuds Lipstick were clearly inspired by classic red lipstick, with a stainless steel charging case that opens at the top to reveal bright red earbuds. It's not clear how good they sound, as there were no demos or review samples provided, but the open-fit design makes custom fit negligible because there are no ear tips. Their design and functionality suggest they're repurposed FreeBuds 4, so it will be interesting to see how they measure up against other competitors in spite of that.
Another caveat is the case itself, where the cap is wholly separate from the base. Anyone using the FreeBuds Lipstick would have to be weary of not losing it, considering wireless earbuds rarely, if ever, have caps that come off. The case does charge wirelessly in its upright form, and has a USB-C port at the bottom as well, keeping the veneer on all other sides uniform.
Huawei also says the earbuds themselves will come in other colours, with silver already confirmed as one of them. The company has yet to clarify what the other colours are, or which ones would be available in Canada.
What we do know is that engineers packed larger 14.3mm drivers inside, so there should theoretically be considerable power, including what Huawei calls a "bass-enhancing engine." They do have active noise cancellation (ANC), along with an equalizer through a companion app. It rates battery life at 22 hours total coming from the case + the earbuds, but the more important number is per charge, which measures up to four hours with ANC off, and a mere 2.5 hours with it on, assuming you're listening at a default 50% volume. Not great numbers compared to what competitors currently offer.
You'll have to pay a little extra for the unique design. Huawei announced pricing for Europe at €249, so expect them to be somewhere in the same ballpark in Canada.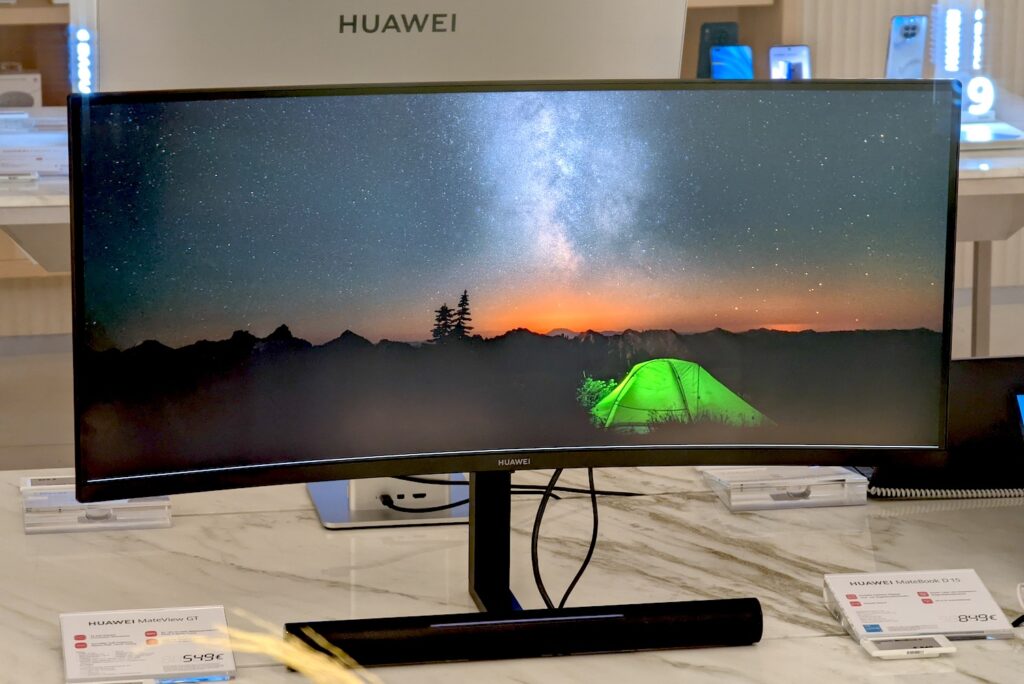 Huawei gets into monitors
The company also unveiled its new lineup of monitors targeting both working professionals and gamers, alike. This is a curious move, but not altogether surprising, given Huawei has been making laptops and tablets for years now.
The MateView is a 28.2-inch display that the company claims can do 4K resolution "or better." It's just hard to be sure exactly what that means in real conditions. The deeper connection with HarmonyOS means it will work more seamlessly with Huawei phones, tablets and laptops. There will even be a method to turn a compatible Huawei phone into a PC via the MateView's docking station.
Ports on the monitor itself include USB-C, HDMI 2.0 and Mini-DisplayPort. Huawei built two 5W speakers into the stand rather than the frame, and built-in microphones also enable voice chatting with a dual-array setup. It's not entirely clear how good the audio will perform relative to external peripherals, but they're there, in any case.
The MateView GT is a 34-inch curved monitor aimed primarily at gamers. Its ultra-wide 21:9 aspect ratio fits with what most curved gaming monitors generally offer. Its resolution is also on par, but not 4K. At 3449 x 1440, it's basically a 3K screen supporting HDR 10 and a faster 165Hz refresh rate for smoother action, including other features catering to gamers' needs.
Huawei also throws in a 5W speaker SoundBar built into the base of the MateView GT to add some audible flair to the whole setup. Whether it sounds good enough for gamers is hard to tell, as gaming soundbars aren't hard to find. Like the MateView, it's also not clear what the MateView GT will cost once it hits Canadian shores. The company says it will announce those details in the coming weeks.