Are two screens always better than one? LG thinks so, as the V60 ThinQ marks its second attempt at a smartphone sporting a second functional display. Dual-screen phones aren't common, and this isn't the same as what Samsung has done, but it is still interesting, nonetheless.
To be clear, this is a standalone phone you can dock into a case that flips out to a second display. It's a similar design to the previous G8X ThinQ, a device LG launched in 2019 as its own answer to making a handset easier for multitasking. It's got a lot of the functional points down, but the trade-offs mostly lie with the aesthetics and 'wieldiness.'
A Unique Design
The P-OLED screen is big at 6.8-inches, made to feel even bigger when juxtaposed with another of equal size right next to it. Big phones aren't uncommon these days, yet they are mostly considered "big" because of their screen size, not their width of thickness. The V60 ThinQ is big in both senses since it is a little thicker when separated from the second screen.
This was also the case with the G8X, which sometimes felt like using a phone with a bulky OtterBox case on it. While LG managed to trim a little fat in spite of the larger screen dimensions here, the V60 is still going to feel hefty no matter where you take it.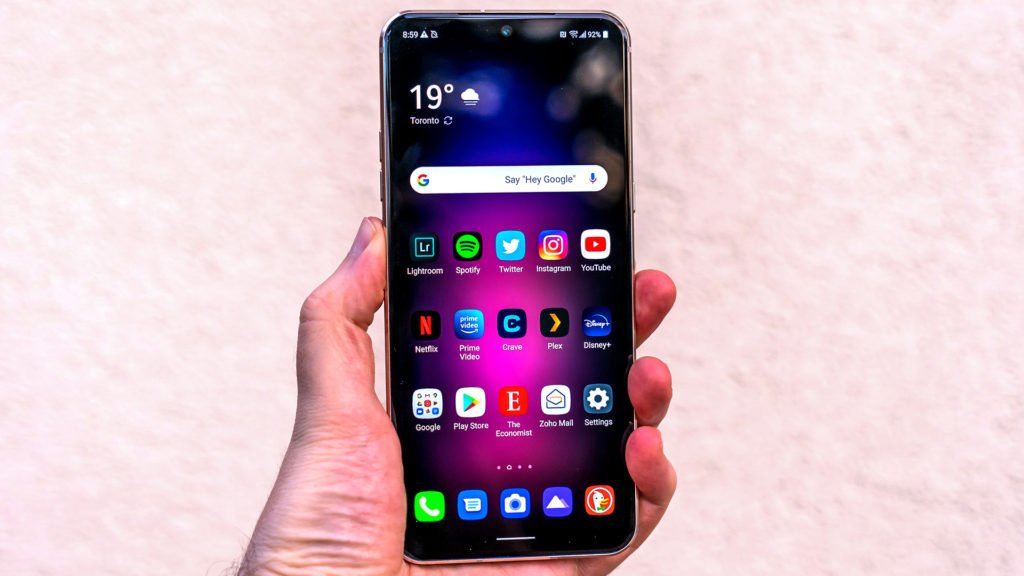 Naturally, the second screen isn't a must to take with you when you don't need it. Spending time outside with friends and family may not necessitate bringing it with you, for example. As a standalone device sans dual-screen, it's much more manageable. Just don't drop it, unless you want to get a separate case to protect it for those solo outings.
Internally, the V60 is a in flagship territory, though missing a couple of key features. The Snapdragon 865 processor, 8GB of RAM and 128GB internal storage (up to 2TB with the microSD slot) are decent specs. You may not know it, but this is also one of the best phones available for audio fidelity. LG has been doing it for years, and with a built-in DAC (digital-to-analog converter), listening to music through the headphone jack can give you noticeably better sound.
Unfortunately, there is no 90Hz or 120Hz refresh rate. It's a shame because it's one of those things that makes using a phone more enjoyable. Who doesn't want a smoother navigation experience? You'll have to settle for standard 60Hz here, which is fine, but if only it could faster.
Multitasking Maven
The V60 is a dual-screen phone that sometimes brings the screens together. Wide View, which combines them together to spread out the same content, only works with select apps, and they all currently come from Google. It's very cool to use Google Maps or Chrome this way, and even YouTube has its moments, but I'd like to see more widespread support for the feature. Without expansion, it will feel like something's missing.
Otherwise, both screens can function independently, and they can shine doing that, too. Much like I did when I had the G8X, I was using two web browsers or social media apps at the same time. I could handle email or tweet something while watching a video on the other screen. The combinations are really endless when you think about how to make it productive.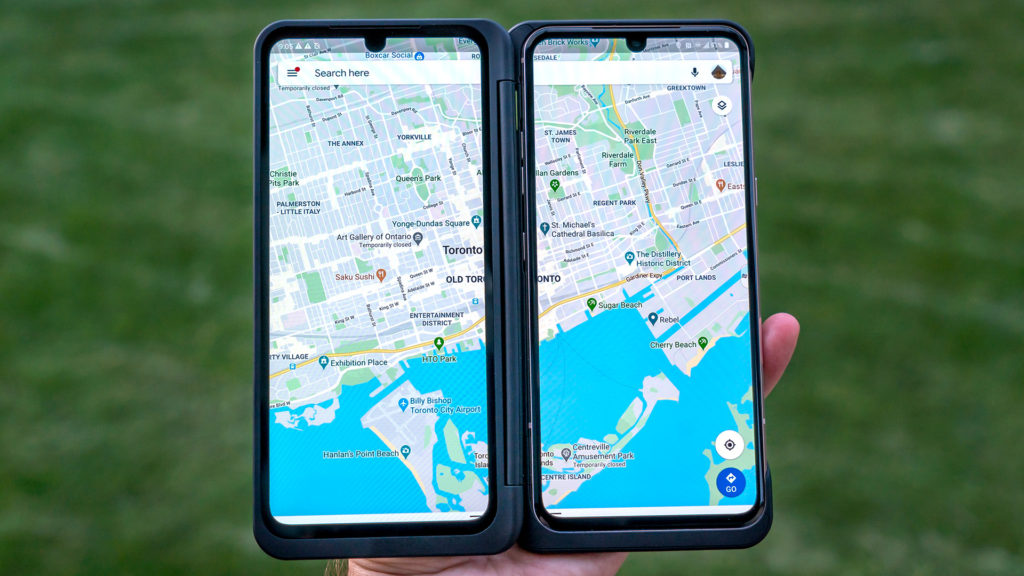 For example, copy a link on one screen and paste it into a text message in the other. Edit the same photo on two different apps at once to gauge the difference in output. Research something on one screen and take notes on the other. Even now, I keep finding new ways to utilize them, and I suspect you would as well. Multitasking is already inherently personalized, and with two screens, the possibilities do greatly increase.
That's not even getting into how cool it is to play games where one screen has the controls, while the other handles gameplay. Even the camera has its benefits, where taking a photo will display the captured image in the second display. Not to mention that articulating the second screen all the way back means you can pitch the device like a tent and prop it up to watch something on either side. You can't play two videos at once, mind you, but it's still pretty convenient.
I'm still not a huge fan of LG's Android overlay, but it is better than it used to be. And the optical fingerprint sensor is a definite bright spot. Apart from the operational aspects, the aesthetics could use some work. When I look at the V60 next to something like the OnePlus 8, for example, the visual gap is obvious to my eyes.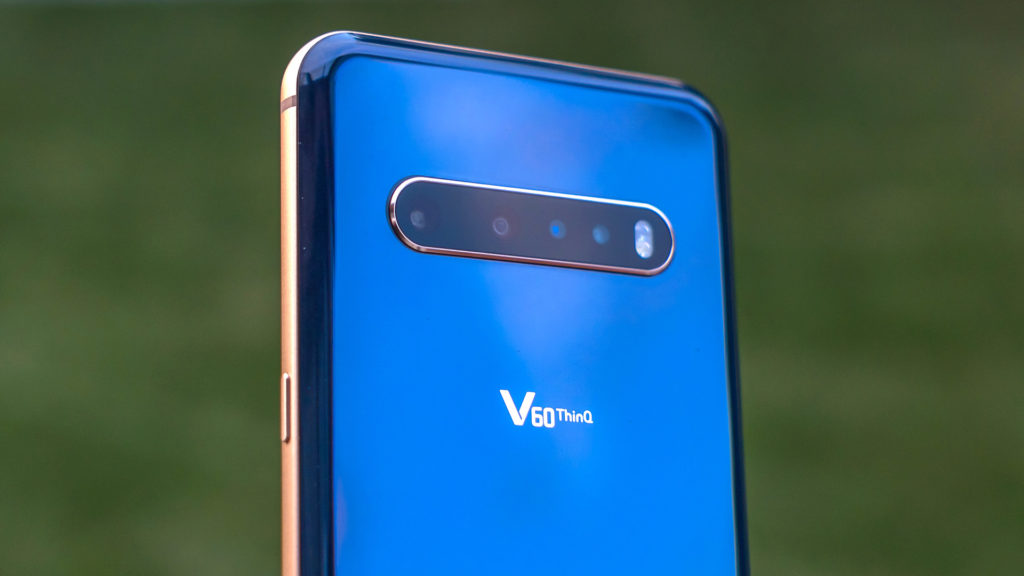 Camera
The camera array in the rear includes a 64-megapixel main shooter, 13-megapixel ultra-wide lens, and Time-of-Flight (ToF) sensor to help capture better depth of field. There's no telephoto lens because LG opted to just digitally crop from the main sensor at a lower pixel count.
While a serviceable shooter in most respects, LG doesn't match what the likes of Google, Samsung, Huawei and OnePlus are already doing. The issue for me was dynamic range and low-light shots. LG believes its AI algorithms are good at producing good HDR (high dynamic range) to bring out more detail in the highlights and shadows, but not when compared to the competition.
Moreover, the company's Night view mode doesn't quite match up with them. Those night modes emulate long-exposure photography, making it possible to capture high levels of detail and light without much effort. It's decent, but I find night or low-light shooting is better with Manual mode.
Long considered (by me, at least) as one of the best on any smartphone, this mode puts composition in your hands. You set the shutter speed, ISO, white balance and manual focus. The best part in the latter is focus peaking — a green haze overtop the screen showing you where the focal points are. It's awesome, and a wonderful tool for learning how to handle focusing yourself.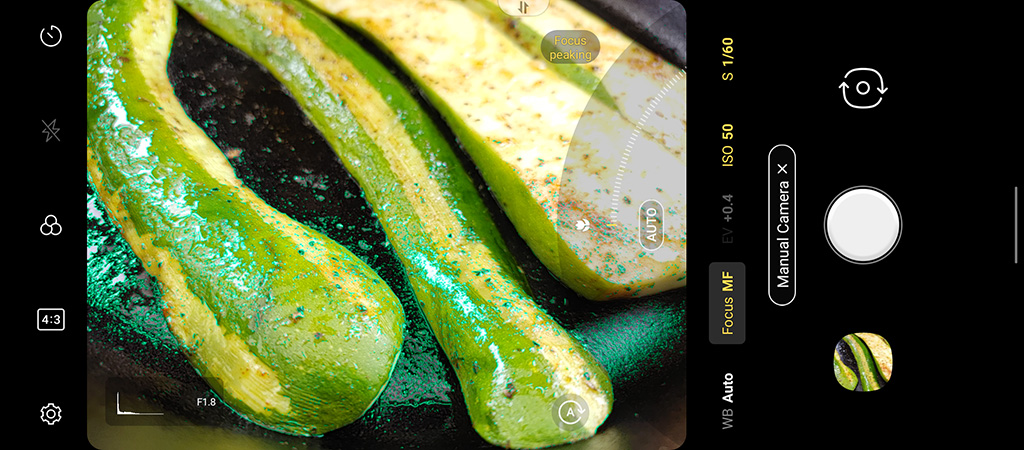 It gets better. Tap the 'Q' icon and you get a number of presets you can use as a base to shoot with to match the scene you want to shoot. It takes a lot of the guesswork out of what settings work best.
Manual Video is also excellent, giving you the same manual controls, along with various options for resolution and framerate. A lot of phones don't offer 24fps, for example, but this one does. It can also shoot in 8K resolution, though I'm not sure it's all that useful if you don't have a TV capable of displaying it.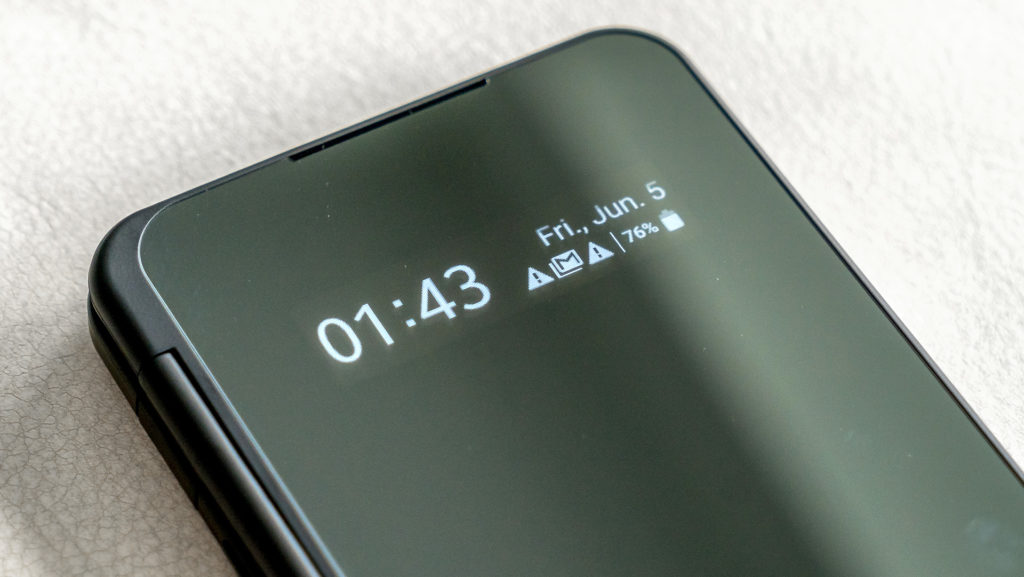 Battery Life
You might think two screens would kill the battery quickly, but that's not the case. With a 5,000mAh battery onboard, the V60 packs a fair amount of juice to rummage through a day. I easily breezed past a day consistently playing video and keeping up on the latest news, among other tasks related to my job.
The phone itself charges through USB, but the dual-screen case doesn't because it uses a MagSafe connector. That adapter comes in the box, but make sure you don't lose it. It's also different from the one for the G8X, so no interchangeability there, either. You can wirelessly charge the phone — even through the case — so that's always an option if you have a pad or dock.
Niche or Riche?
At $1,100, the LG V60 ThinQ is a 5G-enabled phone that seems like it has some bang for its buck because of that second screen. But even if it seems like a bargain compared to the terribly expensive choices from Samsung and Apple, it's not an easy sell. The design isn't the issue, it's the features that needed to make a difference, like the camera, screen refresh rate and user interface.
It's not like LG isn't close to its competitors. Its take on a dual-screen setup works, especially because it's elective. You don't have to take it with you if you don't want to. But when you do, it serves more than one purpose. Hard to argue with a phone that does something differently and executes it pretty well.
Still, if you're on the fence, wait a bit. The price may very well start to drop in the short-term, making this a more attractive purchase next to what it's up against.