You may have seen ads for a website called ThatSuiteMoney.CA recently. It claims that Microsoft has settled one of the largest class action lawsuits in Canada (specifically with BC, Ontario and Quebec courts) but it applies to the entire country).
The settlement amounts involved seem very large with over $400 Million set aside for consumers (and $117 Million for legal fees) as part of the anti-trust lawsuit that Microsoft denied any wrong doing but has agreed to the settlement.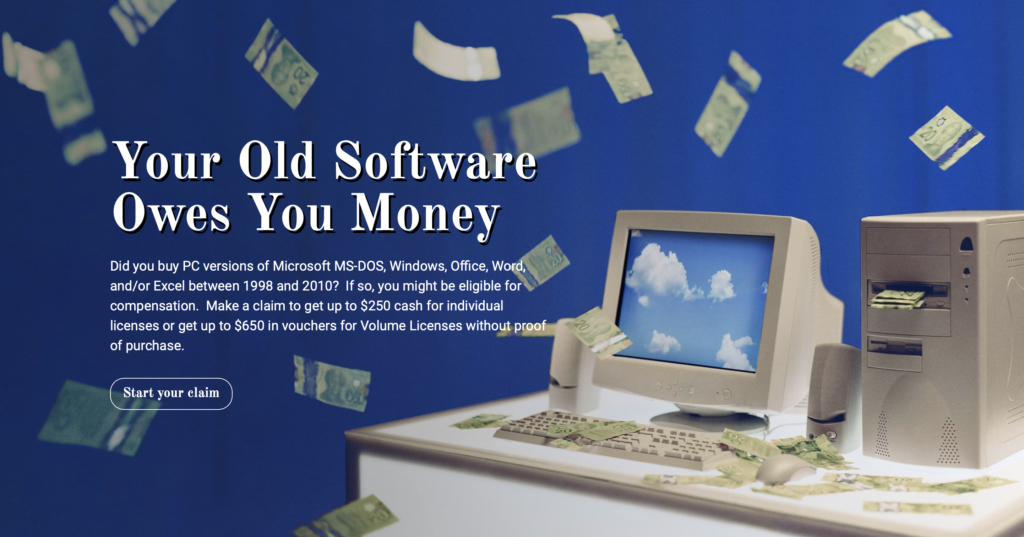 If you had purchased various Microsoft products between Dec. 23, 1998 and March 11, 2010, including MS-DOS, all versions of Windows up to Windows 7 and Office products, you can submit a claim for up to $250 without needing to provide receipts.
But is it real?
It's good to be skeptical of this as the tv ad and even the website appear somewhat cheesy and there are no shortage of scams out there on a daily basis. But it appears to be legit. Thanks to some sleuths on Reddit, you can view the legal documents filed as part of the settlement.
The CBC has also done some digging into the lawsuit.
Keep in mind, you do have complete an entry for each license you are claiming on the submission form which includes details about which product, where you purchased it from and when. Proof of purchase is not required unless you're claiming more than the $250 for individual licenses or up to $650 for volume licenses. An operating system will get you $13 per license and a software product will offer $6.50 per individual item or $8 for a complete suite. You can keep adding additional license claims to the same submission and it will keep a running total of what you're entitled to receive.
It's also worth noting that this only applies to Windows versions of the products – Mac versions are not eligible.
You have until September 2021 to file a claim. You likely won't get any money until 2022.
We'll be discussing the lawsuit this weekend on the App Show radio program. We'll update this post with our conversation as soon as it's available.