Telus Health is now live with its Virtual Pharmacy service, giving Canadians another way to get their prescriptions for themselves and loved ones.
What is it, and how does it actually work? The gist is that it's a free app-based service to let people automatically refill prescriptions and speak with a live pharmacist via video, and the idea is to negate forcing them to visit a local pharmacy in person when there's no need to do so.
Telus says it developed the Virtual Pharmacy in response to a survey indicating a need for better efficiency. It found one-third of Canadians didn't pick up prescriptions on time in 2021, mainly because of a busy lifestyle. All of the respondents enjoy a full or partial benefits plan, and the reasons for missing out were largely avoidable. A key element to this service is to deliver prescriptions directly to homes.
How it works
The Virtual Pharmacy follows in the footsteps of Telus Health's MyCare app for one-on-one virtual doctor's visits. It is, however, a separate service, and you can download the app for free on iOS or Android. It's also available to every province except Quebec. Telus will launch a French-language version of the app in the coming months. While aimed at individuals and families, employers can also set it up for their workers as part of a benefits plan.
Going through the initial setup process doesn't take too long. You respond to some questions and fill out a pharmacy profile, including any health coverage details. You can book a one-on-one consultation with a licensed pharmacist where you can officially request to transfer your existing prescriptions over to the Virtual Pharmacy. If you'd rather do it by phone call, you can do that instead.
When you do so, you have three ways to go about it. Doctors don't have to refer anything if there's an existing prescription. They can send it directly to the Virtual Pharmacy via eFax, ePrescribing, or regular fax. In case your doctor can't (or won't) fax it over, use snail mail to send it over to Telus Health. You can also use the app to have Telus Health transfer a current medication therapy from your regular pharmacy location to the Virtual Pharmacy service.
The service doesn't connect you to your own doctor, or even your local pharmacist. You won't be able to arrange virtual appointments with specific personnel. If you need a prescription for a new or different medication, a doctor must refer it for you, like usual. That doctor can be anyone, like your family doctor or one you speak to on the Telus Health MyCare app.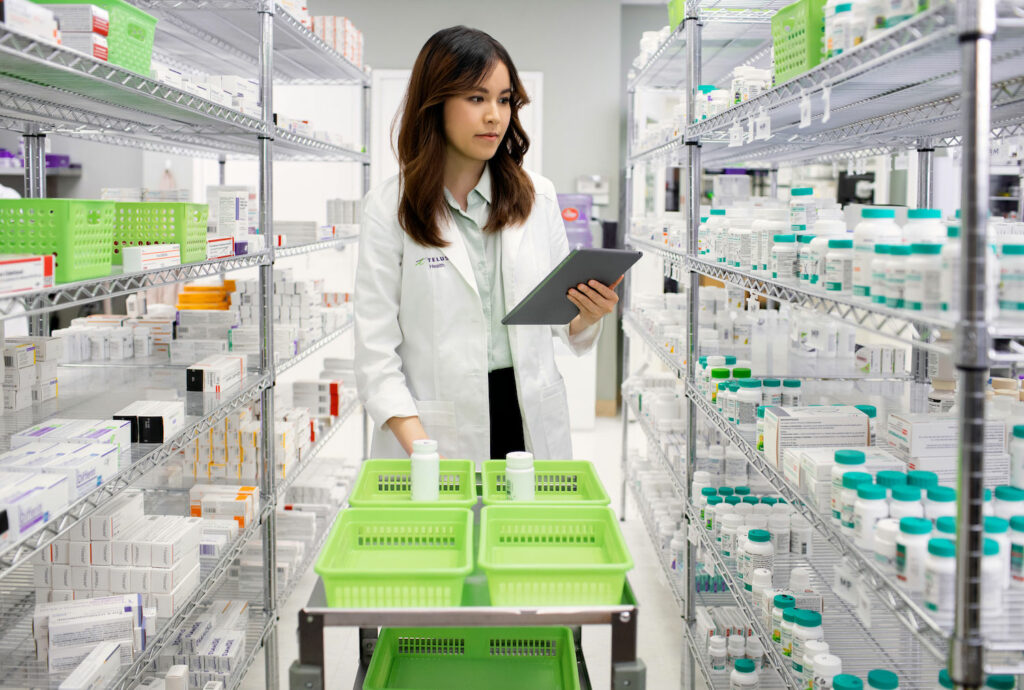 Adding family members and more
The Virtual Pharmacy requires every adult to set up a profile, though secondary profiles can link to the primary user. The app has an "add a family member" option to bring in, say, an older parent who may not be tech-savvy or use a smartphone. For family members acting as caregivers, it gives them one platform to order refills as needed, and stay up to date on the status of whatever prescriptions are active or upcoming. In addition, they can arrange for the pharmacy to deliver a refill to their home for free.
This way, everyone is presumably on the same page and in the know so that medication stays consistent in dealing with an illness or chronic condition. If you have any questions about the medication and don't necessarily need to confer with a doctor, that's where setting up a virtual one-on-one with pharmacist can come in handy.
What's unfortunate is that pharmacists can't provide any new medication when you know what you need. For example, if you've got an infection that you've had before, and you know exactly which antibiotic you need to clear it, the pharmacist can't just give it to you. You need a doctor to send the referral first — a piece of red tape that could theoretically change under this kind of a virtual setup if each province's system allows it.
Consult with a doctor or nurse practitioner, including through Telus Health MyCare, and you can get it done. Telus says it's a seamless process for a doctor in MyCare to send a referral to the Virtual Pharmacy when that is your preferred method to receive the medication you need.
What's not covered
It doesn't cost anything to use the app, and shouldn't cost anything for a doctor to transfer your prescriptions. Double-check because there is no rule or law against them charging a fee for such a practice, though.
You can't use the app to make appointments with a local pharmacy for services, like vaccinations or other tests. The main focus here is prescriptions.
As for data privacy, Telus details all that here. It stores patient record data on servers based in Canada, albeit anonymized to some degree. Data doesn't store solely on your device, so you pick up where you left off when switching to something new.
Getting a refill
If you do take three or more prescription medications, Telus says its MedPack will organize them by date and time to help keep them filled. The Virtual Pharmacy can also contact doctors directly to get a refill going. If budget matters, you can also see options that may be more affordable.
For situations with multiple insurance plans, Telus says it handles all the red tape on that, consolidating them together in the app and billing insurers itself. You can pay any costs that it won't cover in the app with a credit card, regardless of whether you're insured or not.