Robot vacuums have one job to do, and that's suck up all the dust and crumbs sitting in their way. It's what the Dyson 360 Heurist is built for, and it's an expensive step up from what came before.
The 360 Heurist isn't a brand new product — it's been out on the market going back almost a year now. But when a gizmo is this pricey, and a successor isn't likely coming for another year or two, it's worth looking into how well it stands up.
Design and setup
Dyson's first kick at the proverbial can with robot vacuums came in 2016 with the 360 Eye. That model had its upside but wasn't a cut above the competition in spite of its bigger price tag. The 360 Heurist wasn't just about innovating the robotic concept behind it, but also to correct the mistakes of the first go-round.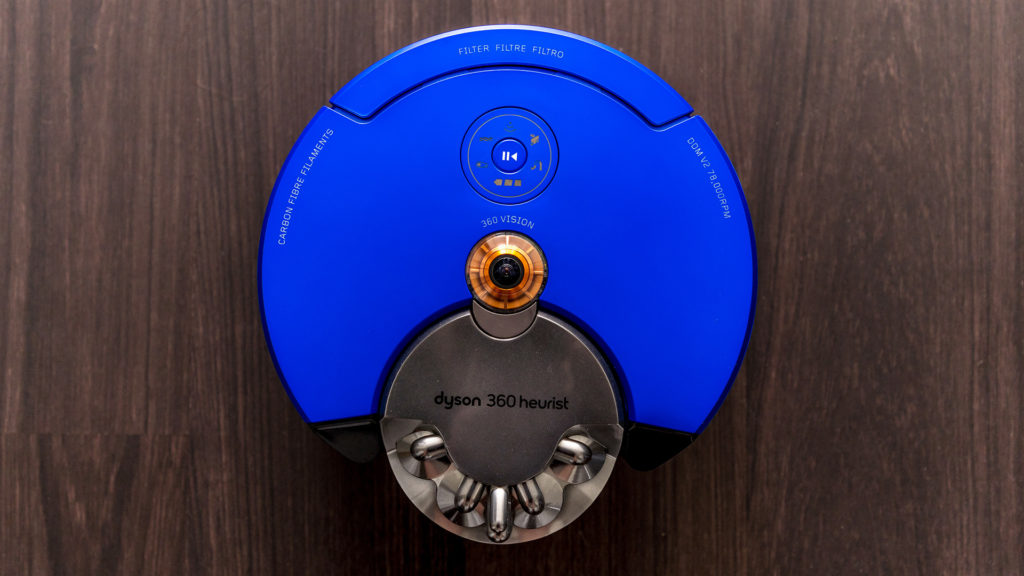 Key to this was making it smarter by way of a fish-eye lens at the top that would guide its location relative to the size of the room and obstacles within it. Dyson calls it Simultaneous Localization and Mapping, or "SLAM" technology. With that lens, it remembers different points and references to help it navigate in a room, like corners, lights, picture frames and furniture. It also knows its way around in dimmer lighting because of the SLAM module.

This particular piece plays a critical role, but so does the Dyson Link app (iOS and Android). It's the app that helps set up the vacuum and tell it to map a room as it makes its first sweep over it. When finished, the app presents a basic diagram of the room and what the vacuum covered.
With built-in Wi-Fi, the 360 Heurist is a connected device, both from the app and from voice activation. There's an Alexa Skill specific to Dyson products to work with anything running Amazon's popular voice assistant, though no support yet for Google Assistant.
Cleaning up
It's worth noting that the charging base is well-conceived, though may have been more effective if the bottom half was heavier. There were moments where the 360 Heurist would return after a cleaning and take three attempts to dock itself because it was accidentally bumping the base. For that reason alone, it's best to line it up against a wall.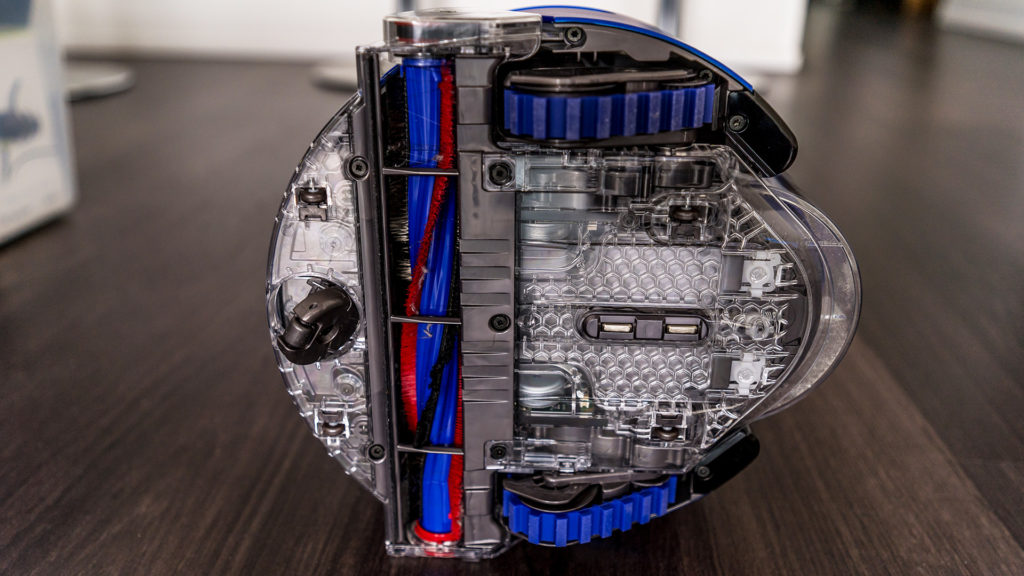 One of the critiques of the previous 360 Eye was its height getting in the way of slipping under chairs, cupboards and furniture. That issue carries over here, even though Dyson's ability to shorten the vacuum's diameter makes it easier to squeeze into tighter corners. The brush bar underneath spans the vacuum's width, so it covers wherever it rolls. The tracks underneath maintain a sturdy grip, and are a clear step up from using wheels.
Suction is as advertised, for the most part. I found the areas the 360 Heurist passed through were sufficiently clean, and since it takes distance measurements every 20 milliseconds, it repositions often. Rather than long straight lines, it also moves in square rotations, essentially cutting the room down into blocks as it goes along.
It was particularly effective on rugs and carpets, evidenced by the dust and debris it picked up from both. If a small area rug was part of a room's map, it would almost surely result in the waste bin filling up before the room was done.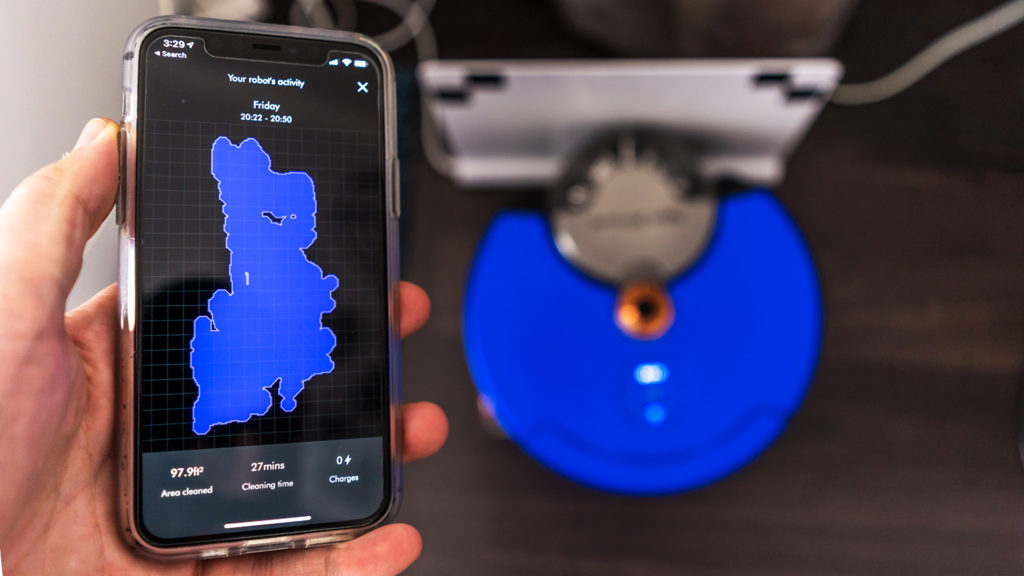 The app has an excellent manual to explain and visualize maintenance procedures, like cleaning the filters and brush, along with how zoning and mapping work. While it had its finicky moments, the app was an effective tool to complement the vacuum.
Avoiding obstacles
The challenge is that performance comes with sacrifices. I chose to use the 360 Heurist when I was home just in case it got stuck somewhere, which it did more than once. Any obstacles strewn on the floor, like loose cables and tassels from a rug, were also problematic because the vacuum didn't know they were there.
Dyson claims battery life up to 75 minutes in quiet mode, which is a light clean. The reality is much shorter in the other modes where, for example, I managed 27 minutes cleaning a room just shy of 100 sq. ft. The vacuum also needed manual intervention to empty the waste bin before it could finish the job.
The mapping is important, as is creating zones to split your home into smaller rooms. Dyson makes it possible to schedule cleanings for specific rooms, though I would argue this piece of the puzzle is still a work in progress. For instance, I found it hard to get the 360 Heurist to clean one room, go back to charge, and then proceed to another room right after it was done. I had to intervene to bridge the gap and set it on the right path.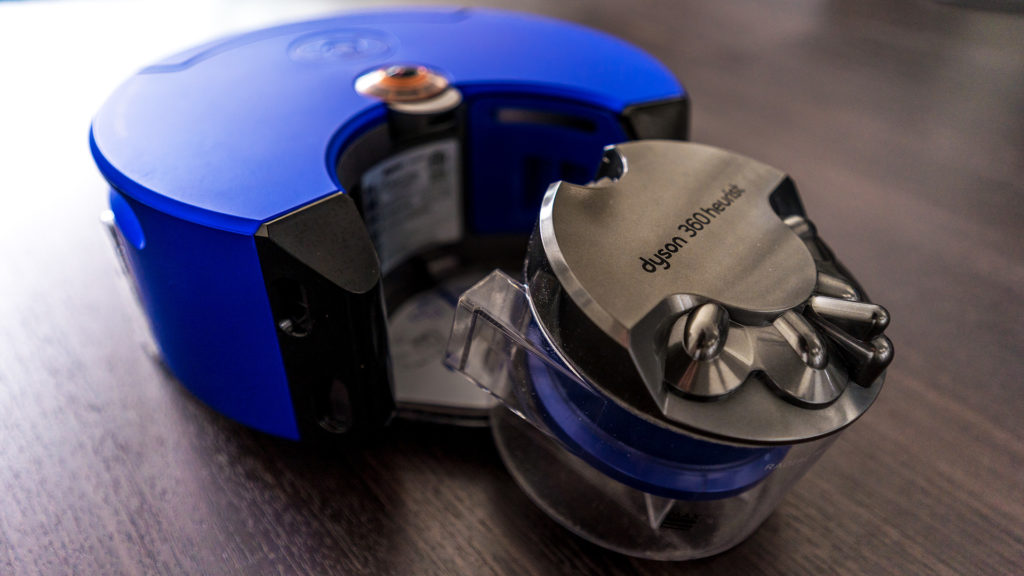 And then there's the potential for damage. Replacing the filters is easy enough, but should something break on the tracks or internal components, repairing them is no easy feat. Dyson can do it, but a product like this calls for a more modular approach to repairs, should the company's engineers be able to pull it off.
Smaller doses
The Dyson 360 Heurist is a hefty $1,200, which is a lot for a robot vacuum that needs hours to clean a small condo, much less the time necessary to cover a house more than double the size. Unless this is for a specific portion of a house, it's better suited to smaller confines where it can roll with greater efficiency.