ASUS brand Republic of Gamers (ROG) announced one of the first WiFi 6E (802.11ax) router to the market at the virtual CES 2021 show. The ROG Rapture GT-AXE11000 takes advantage of the new 6 GHz band and is estimated to have up to 3X more bandwidth than the current 5 GHz band, adding up to seven 160 MHz frequency bands to the existing two in WiFi 6. WiFi 6E will have lower latency and will only support devices using this standard. Backwards compatibility is provided by the WiFi 6 radios inside.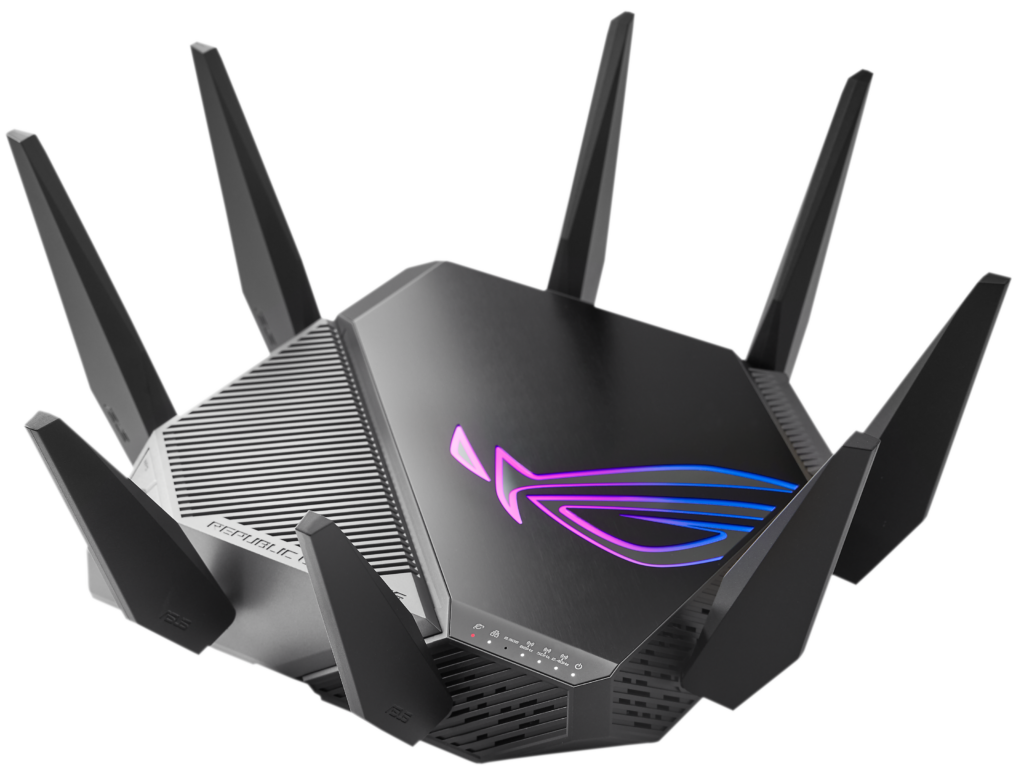 The ROG Rapture GT-AXE11000 features a 6 GHz power amplifier to boost the connection to your devices. Behind that is a 1.8 GHz 64-bit quad-core CPU with 1 GB RAM. The extra RAM and CPU power can really be an asset on heavily congested networks like ones that have multiple smart home devices attached. Every device takes a bit of bandwidth and requires a bit of the CPU to deal with it.
Impressive Hardware
ASUS also tweaked the ROG Rapture GT-AXE11000 with new antennas that minimize the space between the connection points and the motherboard, optimizing the signal strength in every direction on each of the eight antennas. They've even added extra thermal solder points, precision cut-outs in component shielding to accommodate thermal pads, and on top of that, added large aluminum heatsinks to every major component. The vents on the top and sides of the router casing even align with the heatsinks to optimize ventilation.
The ROG Rapture GT-AXE11000 is a gaming router, including a dedicated Gaming Port that prioritizes any wired device connected to it. Software inside called Game Boost (adaptive QoS) allows gamers to prioritize gaming packets within their home network. Want even more performance for games? There's a 90-day free trial of Outfox™ gaming network, a paid software that is said to give your connections to popular games an even greater edge.
Security and Mesh Network Ready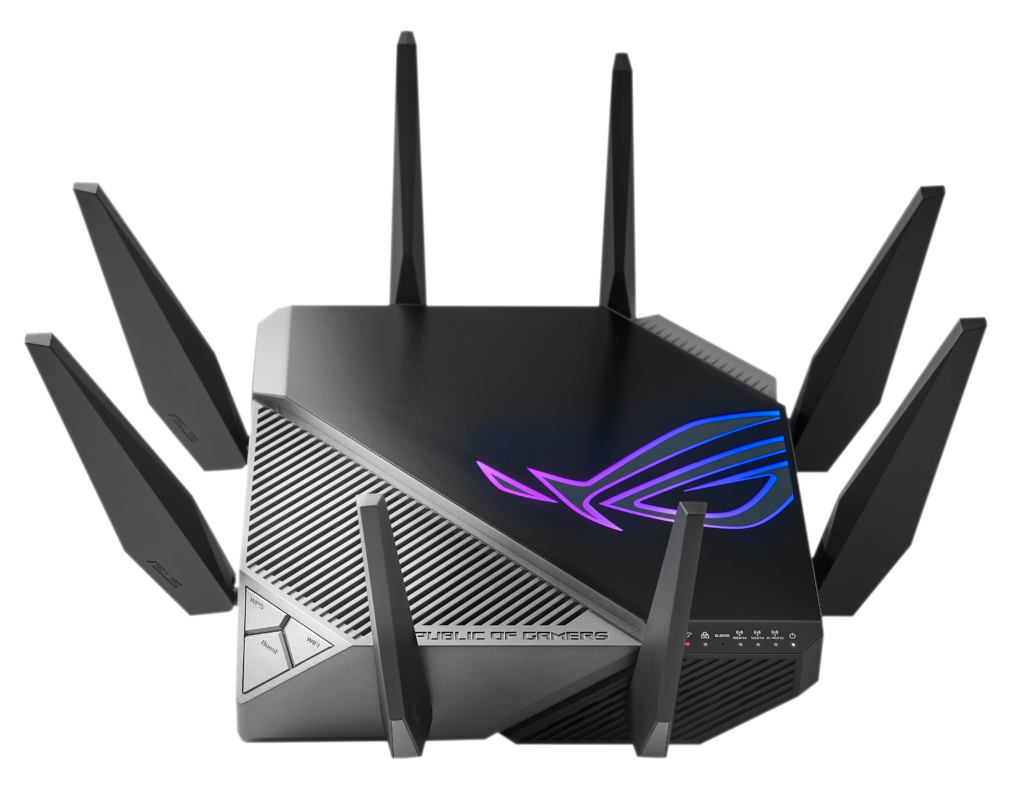 While this is an extremely powerful router, the ROG Rapture GT-AXE11000 also benefits from the ASUS AiMesh technology's inclusion. With compatible ASUS routers, you can connect other routers to cover your home in WiFi seamlessly.
To top it all off, the ASUS ROG Rapture GT-AXE11000 includes a lifetime free AiProtection Pro. This is a commercial-grade network security solution powered by Trend Micro that protects all connected devices in the network with regular automatic updates.
This is one impressive router with absolutely impeccable attention to detail. Even though it is marketed as a gaming router, it would probably be a fantastic upgrade for any home overloaded with smart home devices, smartphones, tablets; you get the picture. The ASUS ROG Rapture GT-AXE11000 WiFi 6E router will cost $549 US. But it will be available by the end of January 2021 at select retailers.
CES 2021 Virtual Coverage Continues
Virtual CES 2021 coverage continues all this week. Come back every day for the latest news from the show. Check out our CES 2021 video playlist below for more tech to talk about.