Not all music streaming services are like SoundCloud, where the huge music library is as much about indie tunes as it is about all the commercial hits.
Music streaming has a number of players, and some of them try to carve out their own piece of the growing pie. SoundCloud started out as a sharing platform, allowing musicians and DJs to create, produce and publish content on it. With that as a foundation, it became a unique option to play music not easy to find elsewhere.
Now boasting over 150 million tracks, its sheer library is larger than its competitors, but its real value comes in the kind of music available. There is content on it that isn't available anywhere else, and it's still very much an avenue for aspiring artists to post their latest songs and build an audience.
Devices SoundCloud works with
Particularly with iOS, SoundCloud won't work with anything older than iOS 13, whereas with Android, compatibility goes back all the way to version 5.0. That leaves out older iPhones and iPads running on legacy versions, but most users shouldn't have a problem. Unfortunately, that mobile app support doesn't extend to CarPlay and Android Auto. You can play music from your phone, and be able to play/pause, skip or repeat a track, only that you need to start from your phone first, and won't be able to navigate any playlists on the car screen.
It supports the most popular web browsers, and there is a Windows desktop app (in beta) that's also ready to download. There's no dedicated Mac app, though you can find unofficial alternatives. SoundCleod, Soundnode and DaftCloud are worth checking out, and they may have Windows versions as well.
Beyond that, Sonos integrates SoundCloud into its supported music services for easy playback there. Chromecast and AirPlay also support it, letting you push content over to any compatible device using those protocols. Those two prove to be vitally important because the streaming service is conspicuously absent from smart TV and streaming boxes. Neither Roku, Android TV, nor Fire TV have SoundCloud apps, forcing you to stream it from another device over to a TV.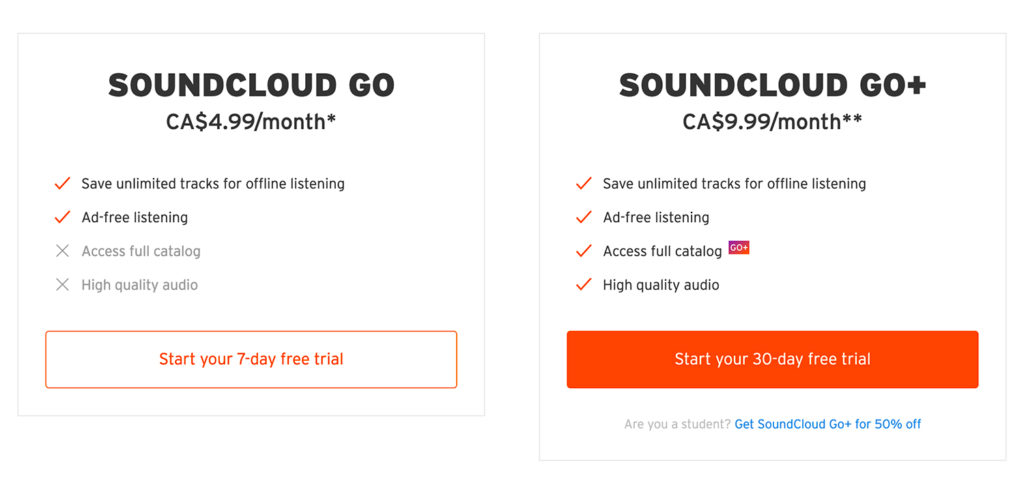 What you get for free
SoundCloud takes a different approach to what it offers for free. Unlike other services, it doesn't limit how many tracks you can skip through. A lot of music is readily available, selective as it may be. For instance, a known popular artist's album might have only a few tracks free to stream. Some tracks will show up as 30-second previews, giving you a taste of what it sounds like.
Ads will pop up here and there while listening to playlists. There's also no way to listen to music offline. Once you lose your Wi-Fi or cellular connection, the music dies.
What you get with SoundCloud Go
It's free to sign up for an account, though there are two paid tiers. SoundCloud Go specifically removes the ads and allows for offline playback, but doesn't open up the entire library. You can do a 7-day trial for that, where it then costs $4.99/month to stick with afterward.
It's the rights holders who determine whether a song is available in full under the various tiers, not SoundCloud itself, so there may be situations where an artist has opened up some, but not all of their music. That's why the service points to its Go+ subscription as the truly unfettered option. You'll know that's the case when you see a Go+ icon next to a track, indicating that it's behind that paywall.
The free and Go tiers also relegate streaming quality to a lower 128kbps bitrate. That's not especially good by today's standards, but you might forgive it for the access you get to indie music.
What you get with SoundCloud Go+
Moving up to Go+ costs $9.99/month, removing all the restrictions to the library. It's a 30-day trial to test it out, so you get a good opportunity to evaluate it before you sign up. SoundCloud does offer a Student Plan, cutting the price in half to $4.99/month. Both Go and Go+ trials aren't available in Quebec, so when you sign up, you're immediately on the hook for the subscription fee.
Go+ also ups the audio quality to a 256kbps bitrate with the AAC codec for better overall sound. When you download music for offline listening, you can also keep it at the same quality. The app lets you see how much storage the songs take up, and you have the choice of setting a limit in case you're tighter on space with your phone or tablet.
No matter which tier you go with, you can't listen to two streams simultaneously. Once one device plays tunes, and you start on another, it will stop the first one. You also can only be signed in on up to three devices at once. Sign in with a fourth, and it kicks out the first device in the chain. It's not altogether different from how some other services are.
Uploading music
As I noted earlier, SoundCloud was largely built on user uploads, and that's why it has a separate subscription for that. It's called Pro Unlimited, and costs $15/month to access a variety of tools to upload, post, promote and monetize content. If you do want to upload masters, you get up to three for free each month, and a one-time $3.99 fee for each one thereafter.
The free version lets you upload up to three hours of music, with each file limited to 4GB in size. Repost is a separate tier at $2.50/month that especially focuses on the distribution and monetization elements for those who don't need everything Pro Unlimited offers. If you do upload a track, you can apply a Creative Commons licence to it that stipulates what others can do with it, including if they wanted to create a remix out of it.
How much data SoundCloud uses
SoundCloud doesn't approximate how much data streaming takes up, but there are clues to get a decent gauge. The 128kbps bitrate is more data-friendly, so assuming you were to stream an hour's worth of tunes at that quality level, you're probably not cracking more than 100MB. Move up to Go+ and 256kbps bitrates, and that number fluctuates higher, but either way, it won't be as much as others, like Spotify or Tidal.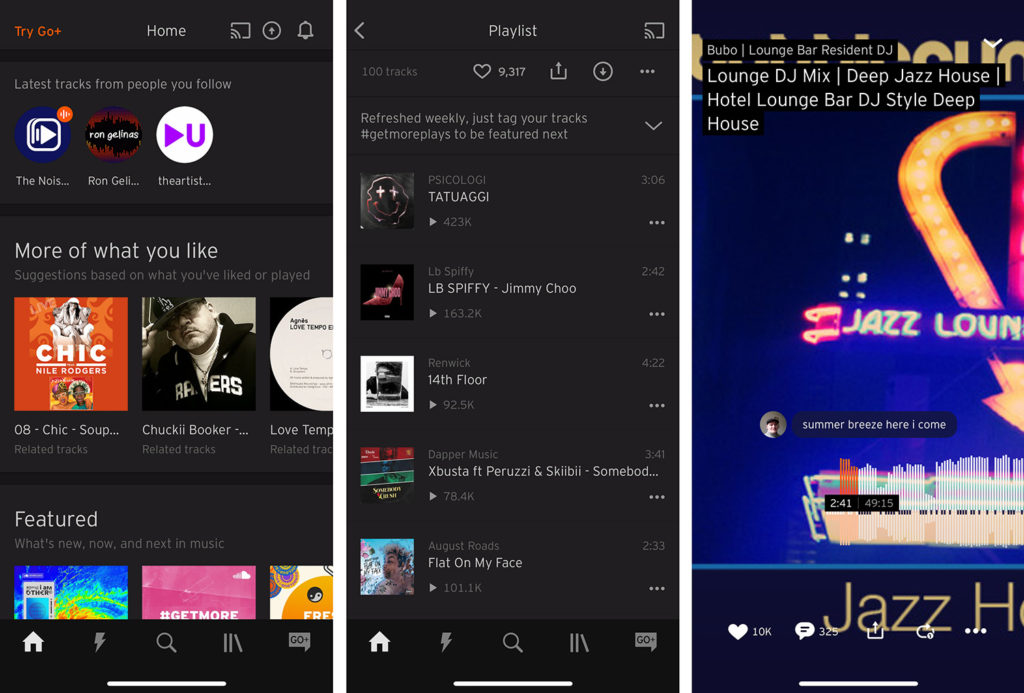 Assessing the value of SoundCloud
Much like YouTube Music, SoundCloud's real cachet is in the music you can't find elsewhere. Its strength isn't in the most mainstream artists and ready-made playlists featuring the hottest tracks. In fact, it actually takes more steps to find those songs because the search function pops up with all kinds of remixes, covers and DJ sets that may bear a particular artist's name or song.
I've heard remixes and covers on here that I haven't heard anywhere else. That doesn't mean they aren't available somewhere else, just that there's a real convenience to saving cool remixes and listening to them almost anywhere. YouTube Music has a major advantage with live performances, whereas SoundCloud has one with remixes, compilations and medleys. Not to mention all the indie music that's waiting for you to discover.
That's why SoundCloud also plays up its social side, with the ability to follow artists and get notifications on when they've dropped new material. There are embed links to add to posts or websites, plus the chance to share what you're listening to with others. Whether you're a listener or creator, you may like how unique the whole experience actually is.