You have an important interview, meeting, lecture or speech that you'd like to both record and transcribe all at once. Otter is an app and service that does just that, but should you start paying monthly to get all its Premium features?
Otter is one of those apps that you should want to know about if speech-to-text transcription is something you could use. Recording audio is easy — any phone can do that — but it is a tedious job to then transcribe it into notes afterward. Sure, there are services out that do it for a fee, though it may not be in your budget.
What Otter does, in a nutshell, is record and transcribe simultaneously. Using its artificial intelligence (AI) technology, it's supposed to continue improve its speech-to-text recognition. The catch is that the transcription requires a cellular or Wi-Fi connection because the data interpreting the audio comes from the cloud. Without that, all you can do is record.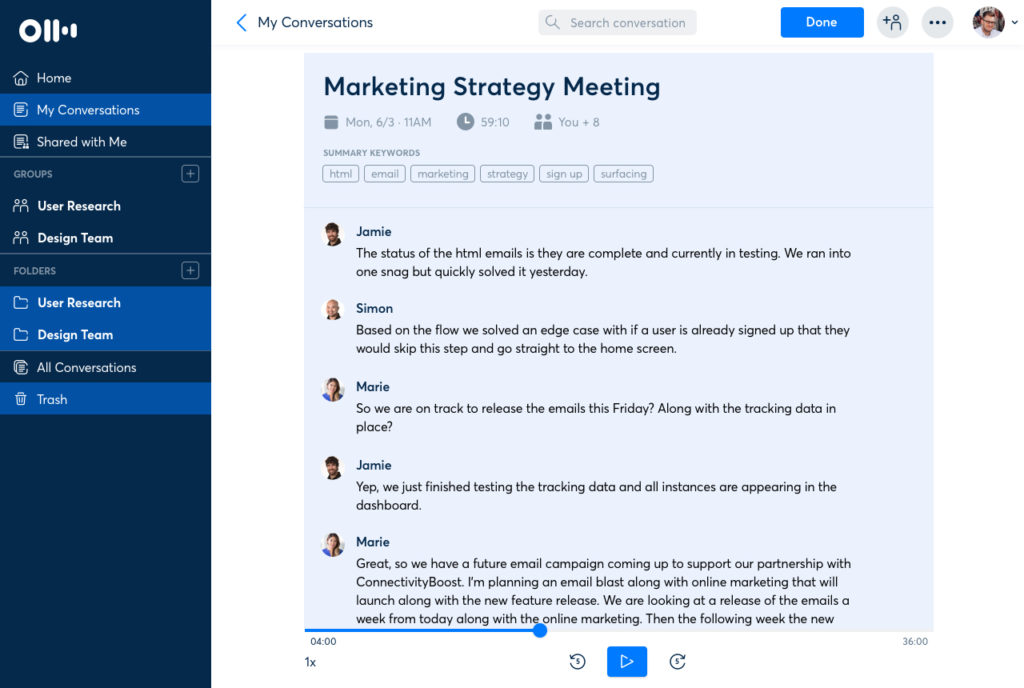 Devices Otter works with
Being a mobile app, first and foremost, Otter runs on both iOS and Android, along with a version on any desktop web browser. Its requirements aren't especially demanding, so even if your phone has some years on it, you shouldn't have an issue running the app. You need to be running at least iOS 11 on an iOS device, or Android 5.0 on an Android device.
Same with a computer, where your Chrome, Firefox or Safari browser needs to be reasonably up to date. Other browsers will work just fine, so it's not exclusive to those. Since your account ties everything together, you can access the same features on the app or browser.
What you get for free
It's free to set up an Otter account, which you can do with an email address, or using your Apple, Google or Microsoft accounts. You can do this directly through the mobile app or on the browser.
Off the bat, you're able to record up to 600 minutes of audio every month. Otter does cap each recording session at 40 minutes, so once you hit that limit, you have to start recording a new "conversation," as the company calls them. Your monthly 600-minute limit then resets from the day of the month you first joined. Unused minutes don't roll over, so there's no need to ration them.
You do get a fair bit on top of that. You can search for specific words, edit at will, slow down or speed up playback, share with others, export text and generate summary keywords. The app is also capable of recognizing when different speakers talk, helping to separate the transcribed notes. And if you want to export the audio into its own offline file, you are allowed to do that.

What you get with Premium
Otter breaks Premium down into a monthly fee of USD$9.99/month or USD$8.33/month if you pay for a full year. That's a bit steep for an app that really does one thing, but if you need the extras, you may grudgingly pay it.
Premium ups your limit to 6,000 minutes per month, with a cap of four hours per conversation. It lets you import audio and video files to get those transcribed, which is big if you use a more advanced digital recorder for the sake of clarity and quality. If you've done an interview where connectivity wasn't available, or used a microphone with a dedicated app to record the audio, you could upload those files to Otter and get the text from there.
It lets you export text (including in bulk) into more file formats, including popular ones like, PDF, DOCX and SRT, among others. Custom vocabulary works in reverse, where you can input jargon, titles, acronyms, terms and other lingo into Otter, so that it recognizes it later when you use it. There are also more playback speeds to utilize, and an option to skip periods of silence.
Otter will also give Premium members priority access to support staff whenever they need them. And if you use Dropbox, there is an integration between the two as well.
What about Otter Teams?
Teams goes beyond Premium, and at a cost of USD$20/month per month, it only covers a single user. The more people you add, you cough up another $20. That's perfectly fine if you're running a business that needs this as a useful and collaborative tool, but only the most demanding sole proprietors would need to go this route alone. Much of what this tier offers is aimed at groups anyway.
Assessing the value of what you pay for
For me, Otter was a huge shift in any workflow that included transcribing notes, interviews or presentations. As a journalist, it's the kind of tool that became indispensable. Mind you, I could get similar transcription results from certain Google Pixel phones. They have Google's excellent Recorder app that transcribes even when offline.
The problem is that it's not as advanced in other ways. It doesn't really separate speakers, has no editing capabilities within it, and lacks many of the supporting features Otter offers. Plus, Otter's cloud-based approach does pay dividends over time because its speech recognition improves.
Only using it on a regular basis would warrant paying for Premium, and even then, it would depend on what you needed from behind the paywall. To my mind, this is routinely one of the best apps of the year for its sheer brilliance, and is worth a download any day of the week. But paying for it will have to be a judgment call after you've tried it under the free tier first.