When my dad brought home a Buick LeSabre back in the 80s, it was our first taste of pure luxury! It was state of the art back then, sporting a computer-controlled climate and stereo system. Compared to our 76′ AMC Pacer, riding in the LeSabre was like driving the future.
As I hopped into the 2022 Buick Enclave Avenir seat, those fond feelings and memories started to fill my head again. I was once again surrounded by luxury, warm wood trims, chrome accents, and, most importantly, some of the latest technology. The full moon-roof with the fixed rear glass helped set the mood too.
Yes, this vehicle is easy on the eyes. It doesn't scream technology. You can have 18″ or 20″ wheels, it's got a cool handsfree power liftgate that projects the Buick logo on the ground, and it's got those sporty and slim LED headlamps that cut through the night. But it's what's inside that counts.
A Vehicle For the Future
The word "Avenir" is French for the future. Indeed, this generously appointed mid-sized SUV with three rows of seating must have some technology that lives up to the trim level. Certainly, it does!
With the ability to carry up to seven passengers and their gadgets in style, the 2022 Buck Enclave Avenir is perfect for road trips. Passengers will enjoy the power sunshades. An available Wi-Fi hotspot supports up to 4 devices from up to 50 feet away from the vehicle, making it easy to provide access to those who might not have a robust data plan. I rely on the data plan on my phone and would be curious how many people use the optional service.
For the driver, real-time maps, turn-by-turn directions, speed limit information and more are available with Connected Navigation. While a built-in heads-up display, aka a HUD, lets you keep your eyes on the road. I've seen this in other vehicles, and I did find that Buick's implementation was very good. It was bright and legible even in direct sunlight.
But if you do need to ask for something, don't look at the screen, say it, with Amazon Alexa built right in. Stream your favourite music, get directions, make calls, change radio stations, and give your smartphones a break as it charges on the built-in wireless charging pad located on the entre console.
Prefer to take your own route to connectivity? Apple CarPlay and Android Auto are also built right in. Just set them up and connect wirelessly.
One fun thing that I learned about the 2022 Buick Enclave Avenir was that it includes ParkWhiz. Built right into the infotainment system, ParkWhiz can locate, book, and pay for your parking right from the interface. I didn't have a chance to use it since I didn't have trouble finding parking these days. But in places where spaces are at a premium, this should help out. With a vehicle this size, you'll want to have a space that can fit it.
Like all vehicles in the General Motors family, the 2022 Buick Enclave Avenir has access to the full suite of OnStar safety features, from Automatic Crash Response to Roadside Assistance. That also means that.
Teched Out to Keep You Safe On The Road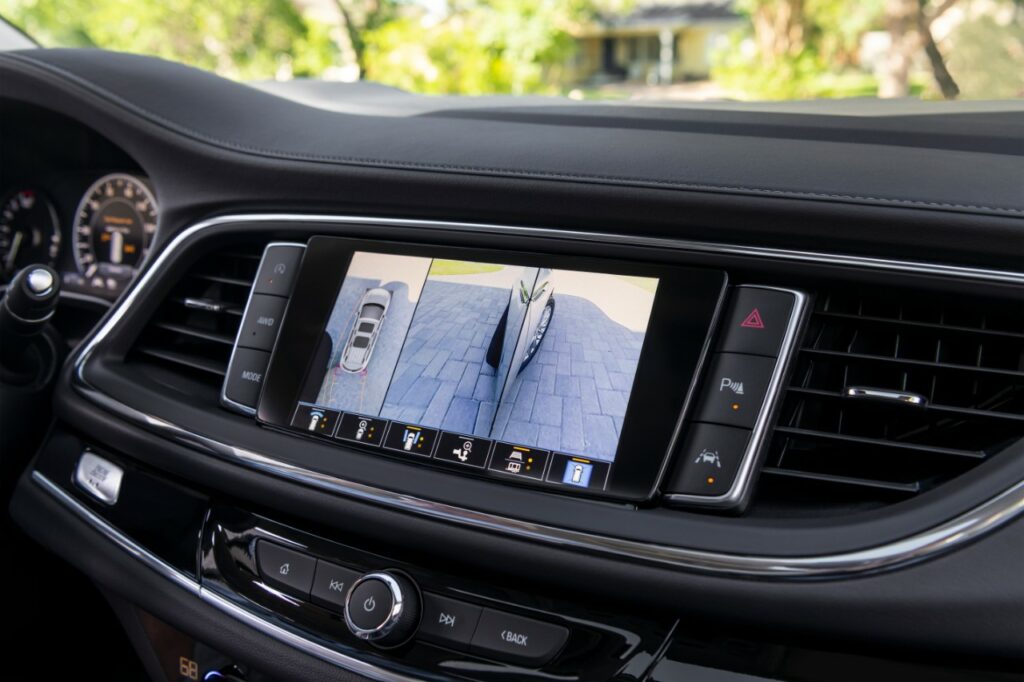 My dad's old Buick LeSabre had a rear-view mirror, but parking mainly was about feeling, for better or worse. Luckily, the 2022 Buck Enclave Avenir has all the latest driver-assist technologies that make piloting a larger vehicle like this more relaxing.
Take, for instance, the HD Surround vision camera system. It uses multiple cameras to display a digital overhead image of the area around your vehicle. Whether creeping into a parking spot or reversing in, it helps you park like a pro. Plus, you can select additional views on your camera display. Combined with the cross-traffic alert system, you can leave like a pro, too, as it alerts you to anything coming from the left or right as you back up. It's hard to park anything else after being spoiled like this.
I loved the rear-view camera mirror. It looks like a regular rear-view mirror, and then you switch the camera on, and it provides a broad, less-obstructed view right behind the vehicle while driving. Combined with blind-spot detection, you feel that you can see entirely around the car. There's even a washer nozzle to help keep the grime off. I wish more vehicles would have ways of keeping their vision systems clean.
The most impressive technologies are the ones that help you when you aren't paying attention—called the Buick Driver Confidence Plus suite, standard features like automatic emergency braking, following distance indicator, forward collision alert, and front pedestrian braking. But somehow, they managed to improve upon these seemingly regular features by integrating a rumble seat. Like an Xbox controller, if you get too close to pedestrians or other vehicles, the seat will rumble, letting you know you're getting too close. It scared the hell out of me the first few times, but it works!
How is it to Drive?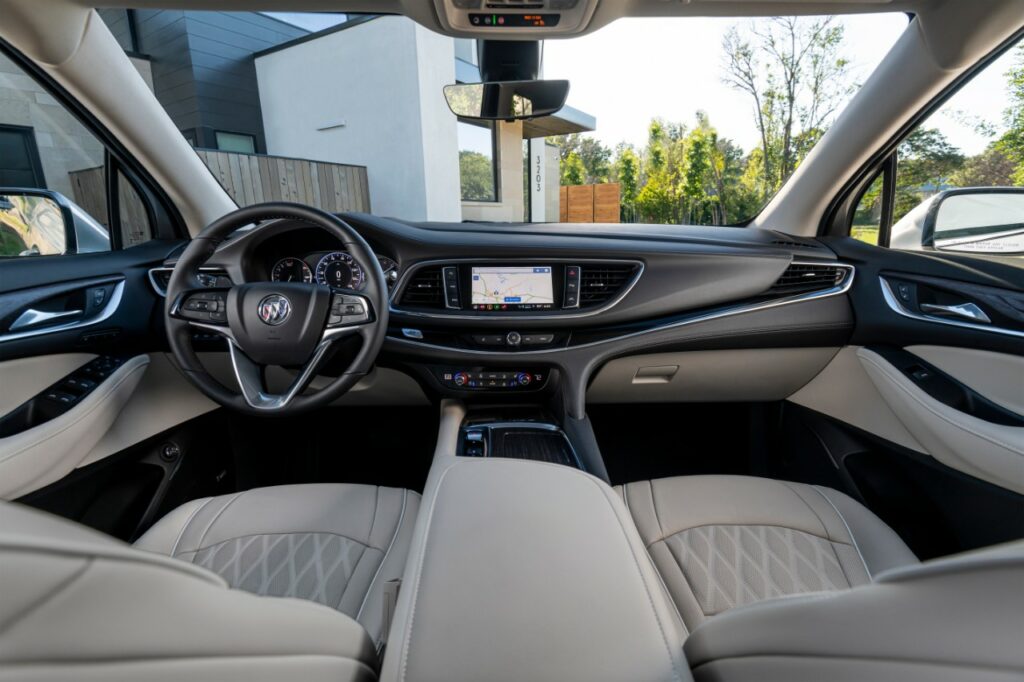 For those that want to be in the driver's seat all the time, the adaptive cruise control smartly detects the vehicle ahead and increases the gap if needed, reducing the need to frequently brake or accelerate. It's nice to keep the feet on the floor and off the accelerator. It might even save you some gas. IntelliBeam Auto High Beams light up the darkest parts of your drive without flashing the drivers in front of you. Did we mention it has heated, ventilated and massaging seats as well?
With a 3.6L V6 putting out 310 HP and available AWD, the 2022 Buick Enclave Avenir can also move. Mated to a 9-speed gearbox, it steps through the gears effortlessly. It also does it quietly thanks to Buick's QuietTuning technology, which incorporates noise-cancelling technology and acoustic laminated glass and tripled sealed doors. Everything stays firmly planted to the asphalt with a five-link rear suspension and a Continuous Damping Control active suspension.
The 2022 Buick Enclave Avenir should be available to order in showrooms now. Pricing and trims may vary, so check with your local dealer for details.