NAD has long been a name is high-end Canadian Audio. Their latest press release shows they are taking the traditional stereo amplifier to the next level. The Master M33 BlueOS Streaming DAC Amplifier claims to be everything you love about audiophile amplifiers with the touch of technology you have been craving. This technology of course comes at a price. The MSRP for this beauty is $4,999 USD.
According to Cas Ooostvogel, NAD's Product Manager, "The NAD Masters M33 has created tremendous excitement since its preview at CES. As the first amplifier to utilize Purifi Eigentakt™ amplifier technology, its performance must be heard to be appreciated.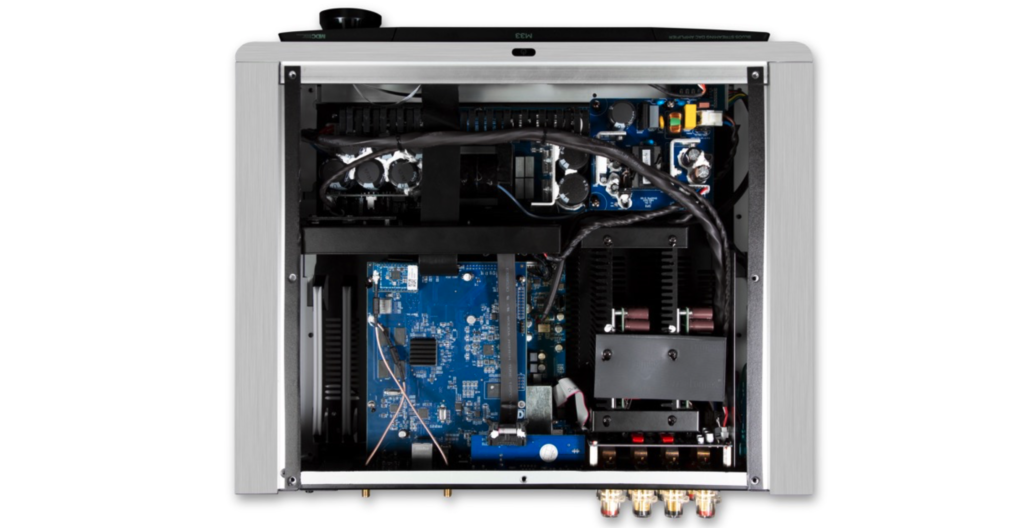 The Purifi Eigentakt™ is a hybrid digital amplifier technology. The amplifier puts out a minimum of 200W per channel which is enough to bring any pair of speakers to life. According to NAD the M33 is a state of the art stereo amplifier in a traditional sense, however, it brings something new to the table. There is a 7" TFT touchscreen built right into the front of the amplifier.

Touchscreen
The 7" touchscreen has many functions. The first of these functions is the ability to stream audio directly from the unit. There is the ability to stream high-resolution music services such as Tidal, Deezer, Qobuz, and others. Music services such as Spotify, Amazon Music, Slacker, TuneIn, nugs.net, and many others are also supported. The touch screen also has the ability to speak to other wireless NAD amplifier units around the house to bring you one of the best whole-home wireless solutions on the market.
Inputs
The M33 Master comes with a good number of input options. 5 digital inputs and 3 analog inputs, including XLR Balanced, MM and MC phono are all on there to be able to fit most audiophile's needs. At the back of the unit, you will find two sets of speaker outputs capable of bi-wiring and a stereo Subwoofer Output with a fully configurable Digital Crossover. Airplay 2 and Bluetooth AptX-HD allow for local wireless streaming from a phone or tablet.
In case you are looking for things like a headphone jack, then look no further. The M33 has a high-quality MM/MC Phono Input that rivals specialized outboard units. Accurate RIAA equalization, a clever phase canceling infrasonic filter, and a huge overload margin combine to bring out the best in LPs.

Smart Home
The BluOS gives you full integration with any Alexa or Google Assistant device. AipPlay 2 is also supported with functions from Siri. Smart homes brought to you by Apple, Crestron, Control4, Lutron, KNX, and many others are also fully integrable.
Here is a quick overview of the specs as per NAD
BluOS Streaming DAC Amplifier
HybridDigital™ Purifi Eigentakt™ Amplifier Technology
Continuous Power: 200W into 8/4 Ohms
32-BIT/384kHz ESS Sabre DAC
Dirac Live Room Correction
Colour TFT touch display
BluOS multi-room Integration
2 x MDC Slots for Future Expansion
Wireless control with AirPlay 2 and aptX HD Bluetooth Integration
Comprehensive digital and analog connectivity including HDMI eARC
Integrates seamlessly with leading smart home control systems